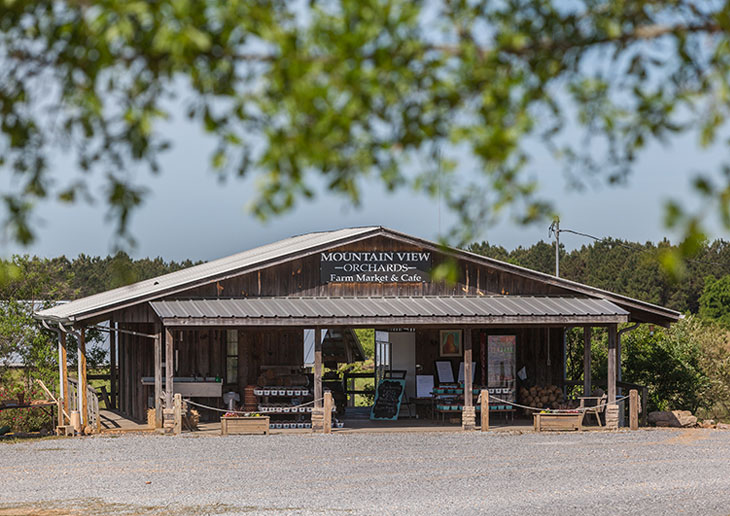 ---
For generations, Chilton County, Ala., has been a "must stop" destination for summer travelers on I-65 between Birmingham and Montgomery.
The county is home to some of the South's best peaches. And Alabama Ag Credit customers Andy Millard and his father-in-law, Steve Wilson, helped build that reputation.
Many years ago, they operated a large orchard and popular roadside market catering to tourists along the interstate highway. These days, Millard and Wilson have a different niche — selling peaches, strawberries and apples at their Mountain View Orchards farm store to customers seeking the freshest fruit possible.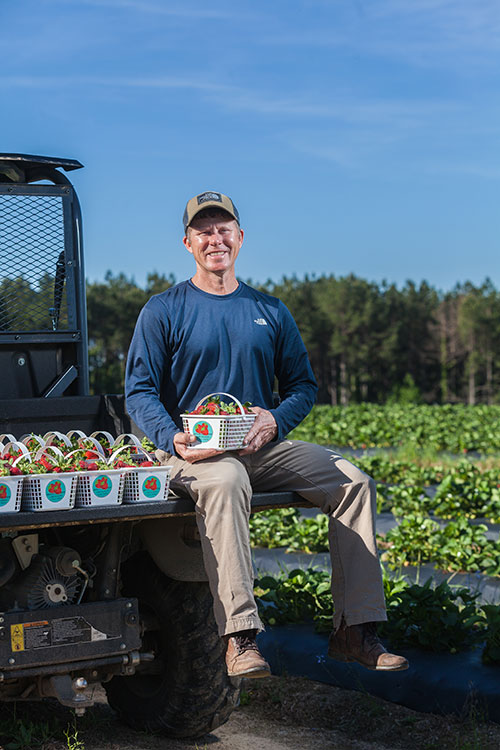 Sweeter Taste, Better Color
Mountain View Orchards' peaches and apples are tree-ripened. This means the fruit receives extra days on the tree to develop a sweeter taste and better color.
The shorter shelf life is ideal for local roadside stands and farmers markets, such as their own on-farm market.
The store opens in April and offers fresh-picked strawberries through May. Peach season begins in May and continues through mid-September. Mountain View Orchards offers 15 freestone varieties of peaches. Eight varieties of apples are available from late July to October.
A Local Clientele
The orchard attracts a local clientele: families who come out to enjoy the farm experience, and "produce peddlers" — Millard's term for fruit resellers.
"We have a lot of schoolteachers that this is their summer job, selling out of the back of a truck, and they come and pick up produce from us a few times a week," he says.
According to Millard, apples also grow well in the area. He and Wilson produce dwarf rootstock apple varieties that grow on trellises. The orchard has 4,000 peach trees, 2,500 apple trees and 2 acres of strawberries.
Faithful to Farm Credit
When the family decided a few years ago to make improvements to the orchard and farm store, Wilson knew to call Alabama Ag Credit for financing help.
Before getting into the fruit business in 1983, he worked for the local Federal Land Bank Association — now Alabama Ag Credit. 
"They know how to deal with farmers, unlike some commercial banks," Wilson says. "They know how to look at our operation with a realistic view."
A Three-Generation Family Business
Mountain View Orchards is a three-generation family operation. Millard's wife, Christy, operates a food truck on site, serving lunch and pastries featuring homegrown fruit. The couple's three daughters work at the farm market during the summer and on weekends.
"More people are coming out to see where their food comes from," Millard says. "They want to deal with us as the farmer and ask questions about the product. They like knowing it came from a family business."
– Staff
For more information and store hours, visit mountainvieworchards.com.
---