Farm Credit Launches New Website
Interested in learning more about the story of Farm Credit? Visit the Farm Credit System's newly designed website, FarmCredit.com. Visitors can learn how the System works, who it serves and what the structure is like, as well as read about the history of Farm Credit.
In addition, the site includes a multimedia gallery with videos and historical photos, recent press releases and a section on career opportunities from coast to coast throughout the System.
While you're online, stop by FindFarmCredit.com, as well, to locate a local Farm Credit lender, search for rural property, read blog posts and enjoy more articles from Landscapes.
Lending to Young, Beginning Farmers Is Up
In spite of a general decline in the number of young, beginning and small (YBS) farmers and ranchers nationwide, lending by the Farm Credit System to YBS operators has nearly kept pace with the System's strong loan growth since 2001, according to the Farm Credit Administration (FCA).
The FCA noted in its 2009 annual report, that the total volume of YBS loans outstanding increased for each of the three borrower categories during the 2009 calendar year, as it has for the past nine years.
Farm Credit loans outstanding to farmers and ranchers in the young and beginning categories increased in both dollars and numbers from year-end 2008 to year-end 2009. More than 47 percent of all loans made in 2009 were made to small farmers.
Overall, the volume of Farm Credit loans outstanding at year-end 2009 increased over year-end 2008 by 4.7 percent to young farmers, 3.4 percent to beginning farmers and 0.2 percent to small farmers.
However, consistent with an overall decline in all Farm Credit loans made last year, there were fewer YBS loans closed in 2009, compared to 2008, and the total volume of YBS loans made in 2009 was lower, as well.
The FCA is the Farm Credit System's regulator.
Young Leaders Visit Washington and New York to Learn About Farm Credit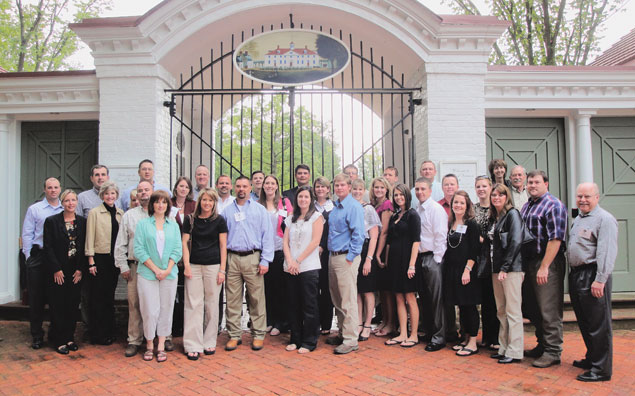 ---
Farm Credit Bank Issues $300 Million of Preferred Stock, Achieves Favorable Ratings
Following favorable ratings reports from Fitch Ratings and Moody's Investor Services, the Farm Credit Bank of Texas (FCBT) recently issued $300 million of perpetual non-cumulative preferred stock.
"Farm Credit Bank of Texas is extremely pleased to have completed this transaction in the midst of a challenging market environment," said Larry Doyle, FCBT chief executive officer. "The strong level of interest shown by investors demonstrates that there is demand for high-quality preferred stock from healthy companies and signals that the capital markets are opening up."
In July, Fitch Ratings affirmed the bank's high investment-grade long-term Issuer Default Rating (IDR) of AA-, a short-term IDR of F1+, a subordinated debt rating of A+ and a preferred stock rating of A+. Moody's affirmed the Aa2 issuer rating, A1 subordinated debt rating and A2 preferred stock rating.
The ratings actions reflect continued stable operating performance and adequate capital levels of the Farm Credit Bank of Texas, which is the source of funds for 18 Farm Credit financing cooperatives in Alabama, Louisiana, Mississippi, New Mexico and Texas.
---