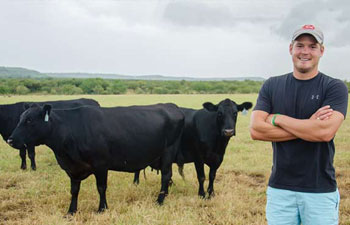 ---
From the front porch of his barndominium, Lance Helberg surveys the darkening skies over his gently rolling farmland north of Brady, on the western fringe of the Texas Hill Country. Toward the north, a storm's brewing. Soon, a light shower begins to fall.
"We need rain so badly," Lance says. "Looks like we're going to get some."
Only time will tell if there will be enough rainfall to green up the pastures and shore up water wells, which in some places are barely flowing. Whatever may come, Lance accepts the gambles ahead.
"Farming is high risk," he admits. "But it's also highly rewarding."
At age 26, Lance is well aware of the risks and rewards, having worked on the family farm alongside his father, Ronnie, since he was a youngster. Business partners since last year, the pair grows wheat, canola and coastal hay, and runs 120 registered Angus mother cows on 4,500 acres of leased and owned land. They also own and operate Lotex Grain Inc., a crop storage and fertilizer business with four grain elevators.
His Own Boss
Ronnie says that he had little to his name when he started farming near Abilene in 1971.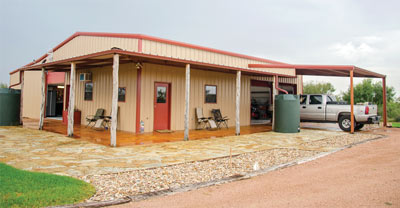 "I didn't like working in the oil field and wanted to be my own boss," he says. "So I leased some land and baled hay. When I could afford one, I bought a tractor and baled more hay. With my GI bill, I bought a small piece of land."
In 1981, Ronnie and his wife, Laura, moved to Lohn, an unincorporated farming community of about 150 residents near Brady in McCulloch County. Daughter Haylie was born the same year, and Lance arrived in 1987.
"I just kept working my way up in farming," Ronnie says. "Lance rode with me on the tractor from the time he was itty bitty."
By the time Lance graduated from Lohn High School in 2006, he'd grown tired of farming.
"When I started at Texas A&M University, I wanted to be an anesthesiologist," he says. "But then I realized I couldn't be cooped up inside a hospital all day. So instead I earned a double major in entomology and agronomy, and graduated in May 2010."
After university, Lance spent three years as a precision agriculture specialist with Helena Chemical Co., working with southwest Texas farmers in the communities of Uvalde, Pearsall, Hondo and Jourdanton. On the job, he scouted their fields and helped them with their soil fertility needs. In return, he learned about various farming techniques from his customers.
Yet a piece of him yearned to return to farming.
"Since I'd always worked just for Dad, I wanted to try 'the other side' and work for someone else," Lance says. "I'm glad I did, because I found out that, like Dad, I prefer to be self-employed."
Returning Home
Meanwhile, back at home, Ronnie and Laura needed help to keep the farm and other businesses going.
"I realized that if something happened to either of my parents, I wouldn't know how to run anything," Lance says. "So I resigned from my job in October 2013 and returned home to Lohn."
The timing proved to be perfect. Ronnie developed some health issues and had to pull back from the day-to-day farming operations. At the same time, some rental land that they'd been farming for 10 years came up for sale.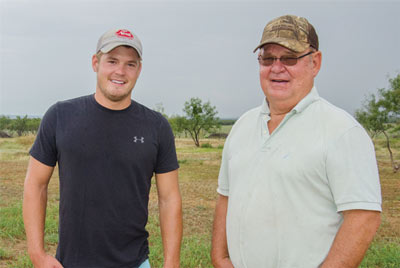 "The owner asked if we'd like to buy it," Lance says. "We contacted other lenders, but nothing worked out. So I calledCentral Texas Farm Credit when I saw one of their 'Financing Available' signs hanging on the gate of the place we wanted to buy."
Jeff Bedwell, vice president of lending in Central Texas Farm Credit's Brady office, put a loan package together for Lance.
"You just don't find many 20-somethings who've done the legwork before they come in to talk," Bedwell says. "For his age, Lance's management skills are amazing."
The 364-acre farm included a 2,000-square-foot barndominium, which essentially is a dual-purpose metal building. With help from his parents, Lance renovated the barn's 20-by-20-foot apartment, where he now lives. Four rainwater collection tanks, installed by the previous owner, provide water for the yard.
Lance gave his new spread a unique name.
"If you look at an aerial map of this property, you can see how it's shaped like a tomahawk," he explains. "That's why I named it Tomahawk Farms."
Combining Strengths
As partners, Ronnie and Lance make a strong team because of their respective strengths and knowledge. Ronnie's contribution to the operation is 43 years of experience and time-tested methods. Lance brings the latest in agricultural technology and advances.
Joining with his father also enabled Lance to get established in farming, without taking on heavy debt for land and equipment purchases.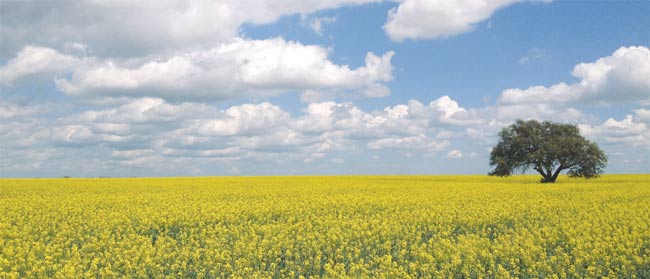 "Since I'd always worked just for Dad, I wanted to try 'the other side' and work for someone else. I'm glad I did, because I found out that, like Dad, I prefer to be self-employed."
- Lance Helberg
"I couldn't have farmed otherwise," Lance says. "Dad definitely mentors me, too. I often ask him, 'What would you do?' He's still the boss. But I'm the one who knows about computers, test plots and yield mapping. I test different seed varieties, chemicals and seed treatments to find out what's cost-effective. If you don't test something, you can't compare results."
Like his father, Lance practices no-till farming to conserve water.
"Everyone thought Dad was crazy when he stopped tilling 18 years ago," he says. "When you don't till, the stubble shades the ground and holds in the moisture, while the roots hold in the soil. So the dust doesn't blow around here like it does in other farming areas."
Toward the north, lightning streaks from one dark cloud to another. Seated in a canvas chair on his porch, Lance watches as raindrops continue to fall.
"As a farmer, you just have to keep a positive attitude," he says. "You've got to leave everything up to the good Lord and have faith in what you do. I try to do all three."
- Sheryl-Smith Rodgers
---