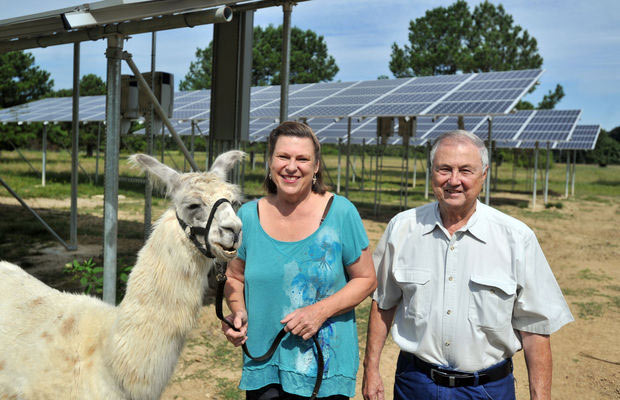 ---
In a peaceful valley at the base of Keel Mountain just east of Huntsville, Ala., the sun casts a warm glow over the open fields that meander along the Flint River.
Looking up at the surrounding mountains and the light shimmering on a pond not far from Little Cove Road in Gurley, you can understand what inspired Tony and Cozette O'Neil to make this place their home.
But there's something a little different about their Cozy Cove Farm.
Out in the fields, more than 100 alpacas and llamas lower their long necks to graze on the lush grass, while nearby in one corner of a pasture, 208 solar panels tilt toward the sun, silently generating enough electricity to power about five homes.
The O'Neils, who used to pay up to $500 for electricity each month, now make $15,000 a year selling energy.
"We grow hay and electrons," Tony says proudly.
Space-Age Inspiration
Tony has always kept one eye on the sky.
A retired NASA engineer, he helped harness the power of the sun in his first project with the agency, Skylab, a solarpowered observatory and space station in the early 1970s.
Later, when he was mission manager for the ATLAS program in the early 1990s, it was his team at NASA's Marshall Space Flight Center in Huntsville that was responsible for the laboratory used to conduct atmospheric research from the space shuttle's cargo bay.
"We mapped the entire Earth's atmosphere in nine days so we could determine how badly we're polluting," Tony says. "It took years to write the papers."
When that mission found rising levels of chemicals in the atmosphere from cars and power plants, he recognized that if we didn't change our habits back on Earth, there could one day be a heavy price.
Seeking practical ways to reduce emissions and use renewable energy in daily life, he installed solar-powered lighting in some barns that had no electricity. Later came an electric John Deere Gator for the farm and an electric Chevrolet Volt for driving in town.
He saw new possibilities in 2012 when his car club met at Redstone Park and Energy Demonstration Area in Huntsville, where solar panels do double-duty providing shade for parking and power to charge electric vehicles.
"I got to thinking," he says. "What's going to constantly go up over my life? Utility bills. I don't think my NASA retirement is going to go up as much as the utilities. That's when I really got serious."
He had long believed in solar technology's future, and a recent drop in the cost of equipment and an increase in financial incentive programs told him its time 
had come. Once he found out that utility customers could sell renewable energy to the Tennessee Valley Authority (TVA) at above-market rates, it didn't make sense not to go solar at the farm.
Working with Outpost Solar, the company that built the demonstration center, the O'Neils came up with a plan for their own 50-kilowatt solar array in a 100-by- 100-foot footprint. That was a small nook on the 54-acre farm, but big enough to generate $15,000 a year at 22 cents per kilowatt-hour through a 10-year contract with the TVA.
There were a few headaches, like a new 100-year floodplain that required last-minute design changes, raising the equipment 7 feet high and the installation cost by 16 percent. But with enough incentives to pay for more than $112,000 of the $160,000 project, there was no reason to stop. Available programs included a federal income tax credit for 30 percent of the cost, a USDA rural business grant for 25 percent, state funding through AlabamaSAVES, and a small renewable energy grant from a Huntsville nonprofit organization.
Finding a Good Lender
What they still needed was financing. To their surprise, a commercial bank and their credit union showed no interest, despite the project's safety and income potential.
That's when they turned to Alabama Farm Credit , where they had been members in the past.
The solar project was a first for Jason Thomas, vice president and Athens branch manager for Alabama Farm Credit. He was impressed with the couple's research, and with such strong farm collateral, he saw no problem financing the system with a mortgage on the land.
"We thought this was a good project," Jason says. "Everything they planned was thoroughly studied.
"It's like any other loan. Anybody in a similar situation — who has land, plenty of equity, good credit and a good relationship with the association — should not have any trouble getting financing."
On Feb. 28, 2013, after a few months of construction, the O'Neils flipped the switch: Electricity started flowing from the solar panels through inverters, changing from direct current into alternating current, and up to a transformer on a pole. Once in the utility grid, it made its way toward the light sockets and power outlets of the farms down the road.
"My neighbors don't know where their power is coming from," Tony says, "but during the daytime, it's coming from me."
Putting Down Rural Roots
On this sunny farm, solar panels are a value-added product in more ways than one.
"They're like big carports," Tony says. "The animals can walk underneath them and rest in the shade."
SUNNY PROSPECTS FOR INCENTIVES
Incentive programs reimbursed the O'Neils for about 70 percent of their 50-kilowatt photovoltaic system, which will quickly pay for itself through the sale of electricity.
| $160,000 | Total installed cost |
| --- | --- |
| – $48,000 | IRS tax credit |
| – $40,648 | USDA Rural Energyfor America grant |
| – $20,500 | AlabamaSAVES grant |
| – $3,000 | Nexus Energy Center grant |
| $47,852 | Out-of-pocket cost |
| ÷ $15,000 | Projected annual incomefrom electricity |
| 3.19 | Years to break even |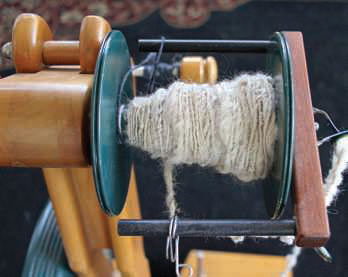 It was a love of animals that first inspired the O'Neils to buy this property almost 20 years ago, when they were living in an elegant golf course community six miles away.
Cozette says she had never thought about animals much when she was working or raising their sons Daniel, also a NASA engineer, and Chris, facilities project manager for the City of Huntsville. But that was before she discovered horses.
"I just looked at everything differently," she says. "I started thinking barns were pretty, and cows in the field were pretty. People thought I'd get over it, but I never did."
The couple bought their first American Saddlebred from Belle Reve, William Shatner's Kentucky horse farm, and soon bought a small farm, making frequent trips to repair the barn, replace barbed-wire fencing and tend to a growing variety of livestock. It wasn't long before they bought three adjacent farms and traded their large suburban home for a small but sweet farmhouse under centuries-old oaks.
Their next life-changing experience was discovering alpacas, South American camel relatives prized for their soft, warm fleece. Because alpacas were recent imports at the time and cost about $22,000 apiece, the O'Neils opted for their cheaper, larger llama cousins, later bringing alpacas into the growing herd as their cost came down.
At first a novelty, the smart, trainable creatures became the farm's main focus.
"I decided they were cleaner, calmer and more fun than other animals," says Cozette, a lifelong knitter who learned how to shear, process and dye the fleece, making her own yarn and felt.
Discovering a New Craft
Each animal's fleece has a unique color and texture, and both llamas and alpacas can have a silky coat or a dense, woolly coat. Because the fiber contains no lanolin, it is hypoallergenic and easy to work with.
"I think that's why they're such cleansmelling animals," says Cozette, who knows their 110 llamas and alpacas by name. "Sherman, my first llama herd sire, smelled like baby powder when I sheared him."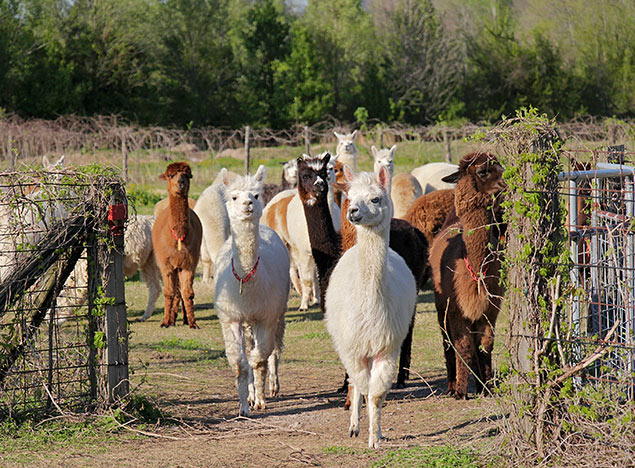 ---
Under a portrait of Sherman that hangs in their sunroom, she pulls out her spinning wheel and transforms a bundle of soft alpaca fiber into thick art yarn that she will later knit or sell at a fiber fair. She also makes felted rugs and pillows using an industrial needle felting machine that compacts the fiber and adheres it to a fabric backing.
Availability and the economy have now tipped the scale, and alpacas far outnumber llamas at the farm. Although the O'Neils still see some show alpacas selling for $11,000, they also rescued registered alpacas at no cost during the downturn, and say there's no longer a difference in price for a backyard llama or alpaca. When Cozette markets animals, llamas — good pack animals and defenders against predators — are the bigger seller.
"Llamas are gentle," she says. "A lot of retired people and 4-H kids want them. They might think it's just for a guard, but they end up loving the animal."
But it's not marketing that motivates her.
"You have to love what you're doing. That's all there is to it," she says. "People ask if I make money at this. I might make $30 for a scarf that I've processed, I've dyed, I've spun, I've knitted.
"But I tell people nobody my age is as happy as I am. It changed my life."
Tony adds that for small ag producers, there's no easy way to turn a profit.
"The solar system is the best part of the farm," Cozette replies. "Every day the sun shines, it makes money, and nobody has to feed it."
– Staff
Sunniest Parts of the US
Image courtesy of National Renewable Energy Laboratory
The Southern states are among the sunniest parts of the country. Here, a south-facing 1-square-meter flat solar panel can generate 4.5 to 6.5 or more kilowatt-hours of electricity per day, averaged over a year.
Putting the Sun to Work for You
Photovoltaic (PV) systems that convert sunlight into electricity can bring power to previously inaccessible areas, lower energy expenses or even generate income. The energy can be used on-site, fed into the grid, stored in batteries or a combination of these.
Utility customers with renewable energy systems can receive credits for the electricity they provide to the grid, paying only for any net energy that they consume, or in some cases can be paid for surplus energy. Policies vary by state and utility.
Solar technology is most cost-effective in the South, where households receive more sunshine and consume up to 39 percent more electricity than the national average, according to the U.S. Department of Energy (DOE). Panels for a typical 5- to 10-kilowatt residential PV system can be mounted on a south-facing roof, shade structure over a deck or carport, or ground-level rack. Total installed cost runs about $3,000 to $5,000 per kilowatt. You can estimate the best system size for your energy needs using an online calculator such as PVWatts, pvwatts.nrel.gov.
Elsewhere on a farm or ranch, solar panels can easily power off-grid equipment such as:
lighting
gate openers
electric fence chargers
water pumps for livestock or irrigation
pond aerators
exhaust fans
refrigeration units
"What's really great for rural people is there are now wonderfully engineered packages that are reliable and relatively inexpensive," says Leslie Libby, solar project manager for Austin Energy, the municipally owned utility in Austin, Texas. She recommends sizing an off-grid system based on the shortest day of the year and making sure batteries can store enough energy to make it through a few weeks of overcast weather.
Increasingly affordable, PV systems cost less than half what they did three years ago, according to the DOE's SunShot Initiative. Much of the price can be offset by incentives such as grants, utility rebates and federal and state income tax credits, shortening the payback period. Businesses also can claim accelerated depreciation on federal taxes.
Leasing is another popular option, providing positive cash flow with few up-front costs, Libby says. Whether you buy or lease, she recommends getting multiple bids from experienced contractors.
Once you go solar, you might think you have it made in the shade: Most components will produce energy for about 30 years with little maintenance. Only the inverters will need replacing once or twice.
"That's the promise of solar. The life is long, and the amount of energy is substantial," Libby says. "When it makes financial sense, it just does."
– Staff
---