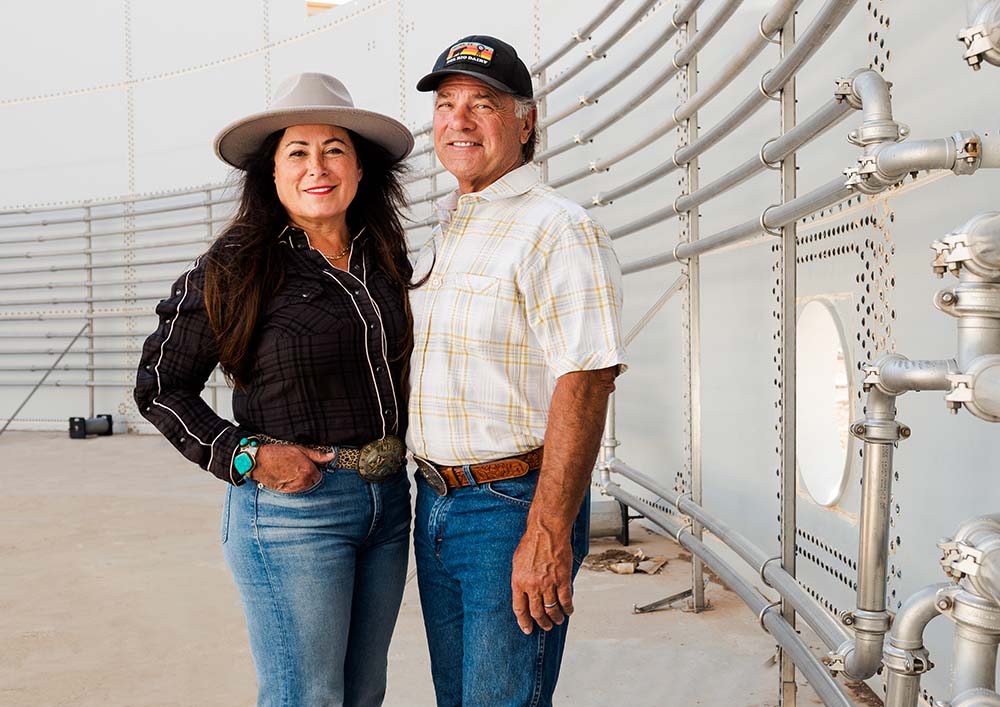 ---
Dairyman Rocky Gingg and his family have weathered the milk market's ups and downs since 1982. So, when dairy colleagues told them about their methane digester, the Ginggs decided their operation could turn cow manure into revenue. At the same time, they'd be doing their part to ensure a healthier future for both the environment and their grandchildren.
In November 2021, Gingg and his partners — Clean Energy Fuels Corps and TotalEnergies — broke ground on the Del Rio Renewable Biofuels project near Friona in the Texas Panhandle. The multimillion-dollar biomethane plant, which will go online in early 2023, is projected to generate more than 1 million gallons of renewable natural gas annually. It will also qualify the dairy to sell carbon credits.
"We're always looking for ways to support our customers with sustainable innovations. It's about preserving the land and environment as best we can, and Farm Credit is all about that."
– Gerrod Salyer, AgTexas Farm Credit
"Our digester will provide another source of income when the dairy business isn't doing well," says Gingg, whose 8,000 milk cows produce 113,000 gallons of manure daily at his family's Del Rio Dairy. "It should also make this operation sustainable if our grandchildren choose to get involved in the future."
As part of the agreement, the Ginggs allocated 13 acres of land to accommodate the biomethane plant. The complex project was brokered on their behalf by Peter Drasher, a developer and investment banker with Black Bear Environmental Assets, which works as an agent for dairy owners.
Compost, bedding and biogas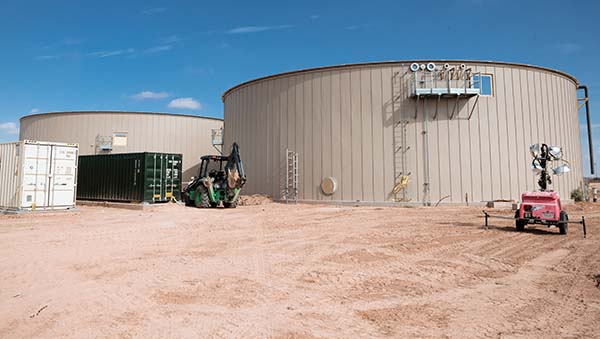 Del Rio's anaerobic digester will use two complete mix digester tanks. From the digesters the wet mixture, called digestate, will go through a screw press to separate fibers that the dairy will recycle into compost and bedding. Biogas harnessed in a covered lagoon will be upgraded into renewable natural gas and injected into a distribution pipeline. 
Del Rio's existing barns and location enhanced its viability to make and sell renewable natural gas.
"Our cows are housed in open lots with Saudi barns that cover the feed lanes," says Justin Pitsch, farm manager. "That keeps the manure concentrated in one spot so we can vacuum it up. Another plus is that we're 4,000 feet away from an existing natural gas pipeline. So, fortunately, we didn't have to pay $1 million a mile to build a high-pressure line."
Early on, AgTexas Farm Credit, which provides an operating line of credit to the dairy, gave the project a thumbs-up.
"Economically, it looked to be a great deal for them, and it was also the right thing to do," explains Gerrod Salyer, AgTexas vice president, lending, and branch manager. "We're always looking for ways to support our customers with sustainable innovations. It's about preserving the land and environment as best we can, and Farm Credit is all about that." 
— Sheryl Smith-Rodgers
---