---
Nurturing a pecan orchard to mature production takes patience, focus and passion. For two businessmen with little agricultural experience but plenty of business acumen, so, too, does uncovering the right agribusiness opportunity.
Jose "Pepe" Guevara and Eduardo "Lalo" Medina are the first to admit they aren't your typical pecan growers. But their methodical, thoughtful approach to the pecan business is setting roots for what they intend to be a lifelong investment in the industry.
Unlike many urban professionals who are drawn to agriculture as a weekend hobby or recreational escape, Guevara and Medina weren't seeking a lifestyle farm or sideline business when they became pecan growers. Both had been exposed to the nut industry in different ways through other business experiences, and knew it was a niche with great potential.
Guevara, a partner and managing director of the Boston Consulting Group (BCG) based in Dallas, first met and worked with Medina, a BCG senior associate, a decade ago.
About 15 years ago, Guevara had the opportunity to invest in a former consultant's teakwood operation in Mexico, his first foray into agribusiness. When the company's stock went public three years ago, he says, "I needed a place to invest some of those proceeds, and immediately focused on nuts, which appealed to me — non-crop farming, resistant to inflation, multigenerational investment. The pecan industry, unlike almonds and pistachios, is very fragmented, and we thought we could bring a new approach."
Guevara's first call was to Lalo Medina. "We spent a few hours talking. I was looking to get into farming, and had done farming studies in Mexico and Australia," Medina explains. "From my studies, I knew that the nut industry was a good business."
A Five-Month Job Interview
The two began researching orchards to buy. "Here we were, two Mexicans, young, new to the industry," he laughs. "We got leads on every bad orchard in the state." Over the summer of 2011, the pair enlisted the help of another BCG alumnus in identifying prospective orchards from Eagle Pass to Joplin, Mo.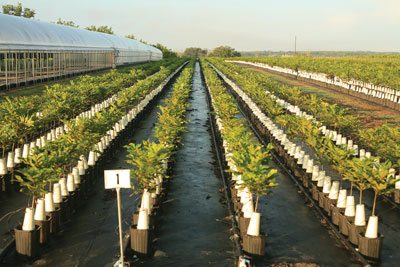 Along the way, they sought and received guidance from industry experts. "People were very friendly. We haven't found a single person who hasn't offered to help," says Medina. Among them was Tim Montz, the outgoing president of the Texas Pecan Growers Association, who hosted them many times. In one of their conversations, Montz suggested they meet Hal Berdoll, whose Bastrop, Texas, pecan operation is renowned for its quality and success.
That first meeting, a seven-hour conversation, was the first of many that would take place over the next year. "We came down every Sunday for six months and worked, and at the end of the day, we would sit down and talk — but never about him selling his business," says Guevara. "We laugh that we had basically a five-month job interview."
Not surprisingly, when Berdoll eventually expressed interest in selling, he had many interested parties — including Guevara and Medina. The two quickly went to work assembling an investor group, with themselves as managing partners. "While we were taking the lead and had brought in many others from all walks of life, we still needed some debt financing," says Guevara.
The Best Credit Source
They considered commercial and private bank financing, but ultimately landed on Farm Credit. "It is evident that Farm Credit is the best provider for this type of operation," says Guevara.
Just six weeks before the closing, they approached AgriLand Farm Credit. "That made a world of difference. Troy Lopez (AgriLand loan officer) understood the nature of the solution was speed," says Guevara.
Within two working days, Lopez had gathered the key AgriLand representatives in his office with Guevara and Medina. Understanding the complexities of the financing needed, Lopez engaged the expertise of Stacy Whitener, AgriLand's nut financing specialist.
"My background includes experience in pecan financing, and I jumped at the chance to work with Lalo, Pepe and Hal Berdoll. They are all very hardworking, prideful farmers — which is typical of pecan growers," she says.
AgriLand quickly provided Guevara and Medina a letter of approval with loan terms and structure tailored specifically to their operation and cash flow. With financing in hand and closing complete, Guevara's and Medina's Pecan Groves Farms and Nursery was in business on April 1, 2012.
Berdoll Still Considered Boss
Two farm managers, Carl Thompson and Travis Britt, oversee the daily operations, which include a 520-acre orchard and nursery that sells four tree varieties to other commercial growers. Hal Berdoll continues to be actively involved as much more than a consultant. "He is considered the boss. When he calls, that is a phone call I always take," Guevara laughs. "We were lucky to find the orchards, but blessed to find the Berdolls."
Despite a statewide drought, the team expects a good year for the orchard. A combination of drip and sprinkler irrigation drawn from shallow wells is used to supplement rainfall. "We are fortunate in that we had 34 inches of rain, and need 55 inches for a crop, so we don't have a huge need for water," Guevara says.
Consistency and uniformity have been the mainstays of the operation's success — two areas the new team will continue to value.
"On the nursery side, our trees are very special and very sought-after from New Mexico to Oklahoma," says Medina, noting that sales come through reputation, not marketing. "Growers have found that Hal has really high standards. Hal has been doing this for 20 to 25 years, and the guys that work here are good; they have been here 15 years or so themselves."
While labor accounts for their biggest expense and about half of their total operating costs, it is a worthwhile investment, the new owners say. "We want to maintain uniformity in the nursery — there's no secret sauce to what we do other than uniformity," says Guevara. "Our container trees get fed 10 times per day, by a large crew. All day, all year, they are tying, pruning, weeding, grafting. There's really an art to it."
Goal — To Help Stabilize Market
There's also an art, they say, to building a stronger model for the pecan industry as a whole. With their own on-farm cold storage capacity, Pecan Groves Farms and Nursery can ride out low-price years, rather than being at the mercy of fluctuating markets, a service they foresee offering to other smaller producers in the future.
"We have the financial fortitude to ride out lower prices for a while; that's part of the industry leadership we want to establish — to help small farmers ride out the hard times," says Guevara. "We see an opportunity for Pecan Groves Farms and Nursery to work with the industry players to help organize ourselves better, to grow," just as growers of other types of nuts have done successfully.
The vision of the two new pecan farmers, according to Medina, is to continue Hal Berdoll's commitment to quality and service, and to welcome his continued active involvement and guidance.
"We would like to help the industry to grow and collaborate, to be part of the example of success, and see this as the first step in a series of investments in the industry. It will take a lot of hard work. It's a target, and we hope we can get close to it," Medina reports.
---