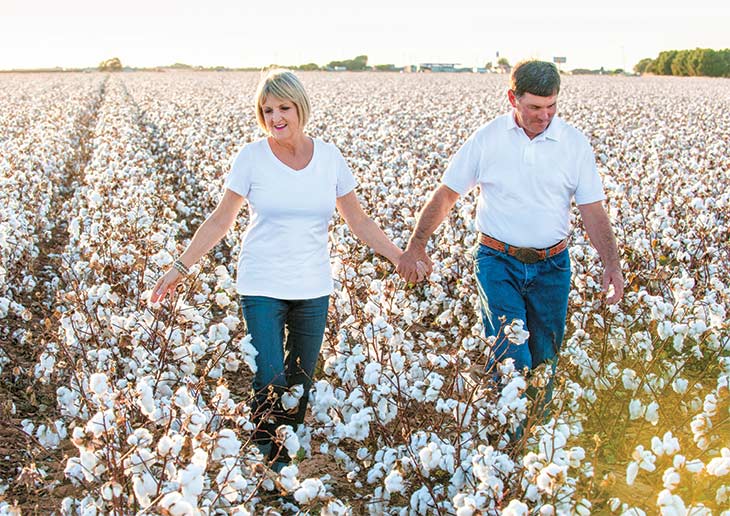 ---
When Valerie Jones met Doug Hlavaty while they were students at Texas Tech University, she knew very little about cotton.
Sure, her father had picked cotton as a child, but by the time Valerie was born, he owned a heating and air-conditioning business and had left the fields behind.
The fashion merchandising major soon fell for Doug, who had recently decided he wanted to join his dad on the family's cotton farm south of Lubbock after graduation.
Now 40 years into their marriage, the couple is combining her love of fashion with his passion for growing cotton in a venture that could prove good for the entire industry — homegrown cotton clothing and textiles that tell a story.
T-Shirt Idea Takes Hold
Valerie still recalls the first time she read about a fellow farming family that turned its cotton into T-shirts.
"I was totally intrigued," she says.
No wonder. She had worked in corporate advertising for the Hemphill-Wells department stores for many years. Later, she taught marketing at Lubbock's Cooper High School for 10 years, before becoming an instructor in retail management at Texas Tech University, a position she still holds, while also assisting Doug with the farm.
For more than three years, Valerie researched the field-to-fashion idea, reading everything about cotton manufacturing that she could find and talking to those already involved in the process. Someone advised her to visit with the seed and chemical companies that Hlavaty Farms did business with, to gauge their interest and work out logistics.
---
"At the time, we were growing a lot of FiberMax," Doug says. "So, I called my guy at Bayer to find out who we needed to talk to about such a thing. It turned out I'd already met him through a 'Walk to Emmaus' retreat."
The Hlavatys and the Bayer representative began chatting about the prospect of following Bayer FiberMax seed all the way through to its final form. Before long, they were proceeding with a plan, visiting a textile mill and sewing companies in South Carolina. Together, they created 2,500 Texas Tech University rally towels for FiberMax from sustainably grown e3-certified FiberMax 1830.
Taking on Synthetics
Still, the wheels continued to turn. When Valerie went looking for Texas Tech–branded cotton polo shirts to wear to the university's annual Celebrate Cotton football game and discovered there were none, she recognized an opportunity.
"Under Armour is just dominating that market," she says, referring to a manufacturer that relies on synthetic fabrics, "even here in the South Plains where we grow 3.5 million acres of cotton — and it's some of the highest quality in the U.S."
Doug agrees.
"No doubt," he says, extolling the strength and softness of their e3 cotton. "We're inching closer and closer to Pima in quality."
"What they are doing has the potential to diversify their business in the future and create marketing opportunities for other cotton producers, as well."
– Jason Gandy, Capital Farm Credit
And yet, most of the cotton they work so hard to grow — and for which they are paid 68 cents per pound — ends up in products overseas instead of in local stores. This is despite ballooning consumer interest in locally grown products.
While the prospect of producing an American-made shirt that consumers could connect all the way back to the farm interested Doug and Valerie, they weren't 100 percent sold on the idea until their grown children endorsed it.
"What really got us excited," Valerie says, "is our children got excited. And not only are they millennials — the target market — but if this grows into a successful business, it's something they could take over one day."
The Hlavatys emphasize that they weren't motivated by business possibilities, however, but by pride in their product and the opportunity to advocate for the cotton industry. 
Homestead Cotton Co. Is Born
Once a plan was formulated, Doug and Valerie, along with their children Brint and Shay, formed Homestead Cotton Co. as a sister company to Hlavaty Farms. Son Blake and his wife, Ashley, who live in Allen, Texas, serve as advisors. Next, they started working directly with Craig Industries Inc. and White Plains Knit Fabrics Inc. in South Carolina to develop premium textiles and clothing for custom orders.
This past summer, they designed and sold their first batch of shirts to a major corporation that will use them as a promotional tool.
"They'll give them to their employees and customers to showcase the high-quality product made from the cotton in this area," says Doug.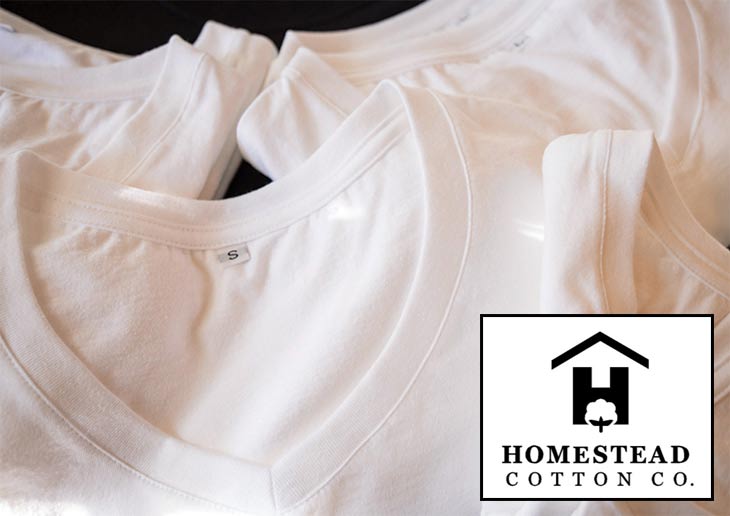 ---
"I think we've progressed pretty far in a year and a half," Valerie adds.
The Hlavatys' loan officer, Jason Gandy, vice president and branch manager of Capital Farm Credit's Lubbock branch, shares their enthusiasm.
"They are outstanding cotton producers and very forward-thinking in how they market their products. What they are doing has the potential to diversify their business in the future and create marketing opportunities for other cotton producers, as well," Gandy says. "With Doug's farming expertise, Valerie's marketing know-how and their combined energy, they are the perfect couple to take on this project."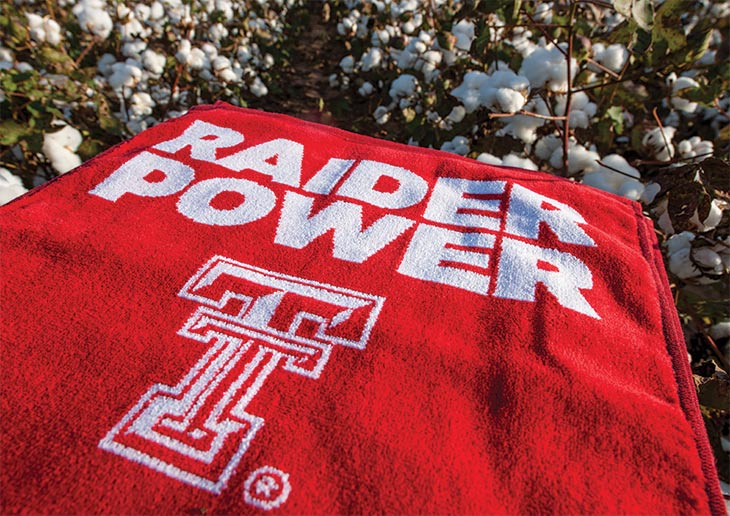 Long-Range Goal: Sell Retail
At the present time, the Hlavatys are focused on marketing their shirts and towels to allied industry partners, such as seed companies, chemical companies and equipment suppliers, but they hope that someday their cotton products will be offered by local and online retailers.
"I love going into retail stores," Valerie says. "So, I've been stopping in, visiting with my friends and learning more about particular brands that they think might be interested in us."
And while it's exciting to have a big order to fill and numerous prospects, Doug and Valerie are most excited about the potential to share the story of cotton with a wide audience.
"The American farmer is just so hardworking and passionate, and such an amazing steward of God's land," she says. "We want the world to know that."
– Katrina Huffstutler
---