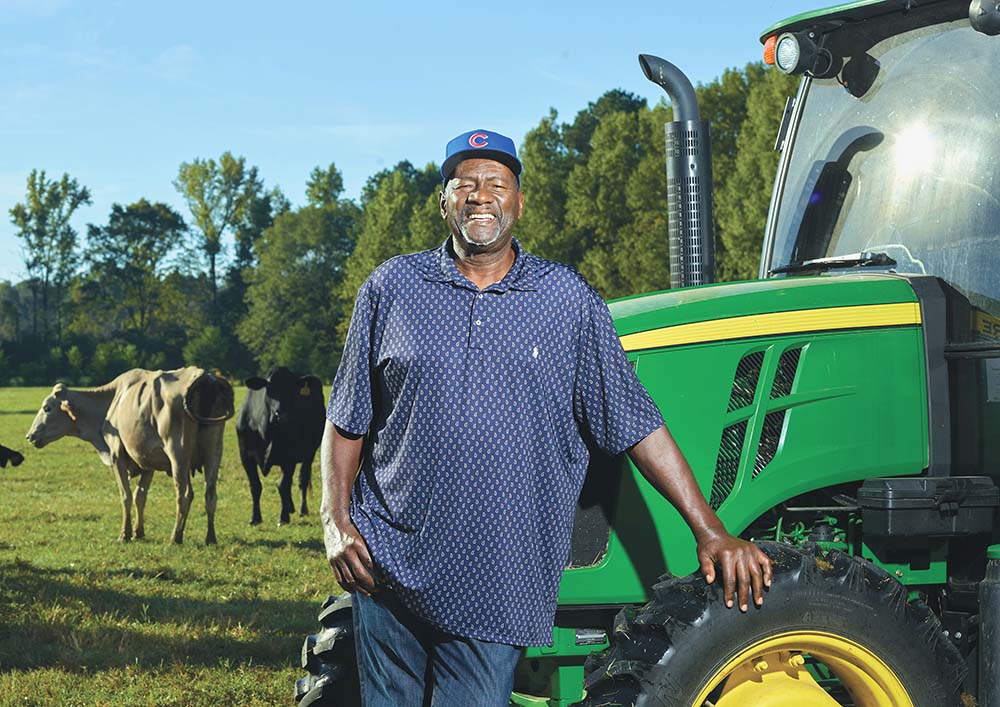 ---
Big. Tough. Intimidating.
For more than 18 seasons, National Baseball Hall of Famer Lee Smith struck fear in the hearts of opposing players as one of the game's most dominating relief pitchers. After his retirement in 1997, Smith's Major League Baseball record of 478 saves stood for almost a decade — and he still ranks No. 3.
With a menacing scowl and blazing fastball, 6-foot-6-inch Smith was formidable at best, downright scary at worst. He was the template of the overpowering closer.
Off the mound, Smith is the exact opposite.
With a quick smile and an infectious laugh, the 64-year-old is a good-natured, small-town Louisianan. Today, even with all the accolades related to baseball, Smith says he would rather be on his John Deere tractor working his 300-acre farm than almost anything else.
"There's nothing more peaceful than listening to the radio and cutting hay," Smith says with a chuckle. "I've even developed a preference for country music over the past few years. I love that Keith Urban. And Tug McGraw's boy, Tim — he's great, too!"
"I think that growing up on the farm built a work ethic in me and the notion to always give people their money's worth."
– Lee Smith
Rural roots
Rural living comes easily to Smith. He grew up hauling pulpwood for his family's lumber business and fishing for bluegill and bass in the many ponds and lakes around tiny Castor, about 50 miles southeast of Shreveport. His farm, which he refinanced with Louisiana Land Bank two years ago, includes a cattle operation and 100 acres of planted pines. It's bordered by the railroad tracks where he loaded lumber onto boxcars as a child. His old homeplace is only 3 miles away.
"Back in those fields are the remains of an old dairy farm," he says. "My buddies and I used to go over there and clean out the stalls after school."
The memories of his growing-up years are important to Smith. As a professional athlete who could've opted for a flashy, urban lifestyle, Smith's connection to home was just too strong to ignore.
"I am where I am today because of my community," he says. "There's no other explanation for it."
Preference for basketball
As a teenager, Smith focused on basketball with the intention of playing at nearby Northwestern State University and, hopefully, in the NBA. But a local businessman named Bobby Gray — the late grandfather of Louisiana Land Bank's Joel Gray — encouraged the rangy youngster to switch sports.
"He kept after me to play baseball," Smith recalls. "He was persistent about it, and I finally gave in, but for a long time I wasn't really committed to baseball.
"I'd take the bus home from school on game days and, if I wasn't working, I'd go fishing. Meanwhile, Mr. Gray was making up excuses to stall the ballgame. He'd come find me and drag me back. I don't know what, but he saw something in me that I didn't see in myself."
Young talent recognized
Joel — a loan officer at Louisiana Land Bank's Shreveport branch and close friend of the Smith family — says his grandfather used baseball as a ministry.
"He influenced many young guys to become men of character and faith," says Gray. "Lee was a direct product of this."
By the time Smith was 17, his athleticism and raw talent on the mound were attracting attention. He was visited at home by legendary baseball player and Chicago Cubs scout Buck O'Neil.
"That got my dad's attention," Smith says, laughing. "Buck O'Neil played with Satchel Paige and signed Lou Brock. After he came to the house, Dad said, 'Well, I guess the boy's pretty good.' That was his stamp of approval."
A farmer's work ethic
After signing with the Cubs in 1975, Smith would go on to a stellar career, but always referred to his rural Louisiana upbringing as his foundation.
"I think that growing up on the farm built a work ethic in me and the notion to always give people their money's worth," he says. "My mom also taught me to treat others the way I wanted to be treated. These things have served me well."
During his nearly two decades in the major leagues, Smith kept one foot in Castor, supporting Bienville Parish and helping with community projects where possible. He even built a full-size gymnasium where local kids could not only play basketball, but also practice hitting and pitching. The gym is still in use after 30 years.
Nowadays, when not "fooling" with his small herd of Brangus and Charolais cattle, Smith can often be found visiting with locals at a nearby general store.
"There's a couple of old guys still left from back in the day," Smith says with a broad smile. "I have to buy them breakfast, because they remind me that I owe them for all those rides to baseball practice. I figure that's a pretty good bargain!"
— Mark Johnson
---