Crawfish and rice go together like dancing and Mardi Gras in Iota, La., in the heart of Louisiana's Cajun Prairie.
Acadia Parish, the state's top rice and crawfish producer, is a patchwork of ponds that give life first to the grain, then to the crustaceans that feed on the rice stubble. By late winter, the crawfish are at their best just in time for the big party on Mardi Gras, which wouldn't be complete without étouffée over Louisiana rice.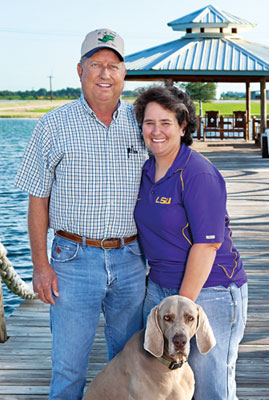 The two foods are also the foundation of a burgeoning business for Iota farmers Gerard and Dana Frey, but they can see the balance swinging.
"I just brought in my 34th rice crop, and when I started farming, crawfish was just a lagniappe on the side," says Gerard, using the Louisiana French word for a little gift or bonus. "Now it's our No. 1 income source."
Crawfish in High Demand
Demand for D&G Frey Crawfish is growing. Customers started asking for it by name at meat markets and grocery stores in the region, so last year, the Freys introduced frozen crawfish cakes and pies that can be baked or fried. This year, they're increasing crawfish production by about 20 percent, and soon they'll add étouffée to their lineup.
The brand recognition is possible because of a plant they built five years ago where they boil, peel and vacuum-pack 80,000 pounds of tail meat a year, equal to about half a million pounds of live crawfish.
If you've ever stopped at Fezzo's, a popular Cajun restaurant along Interstate 10 in nearby Crowley, you might have had some. The menu says it all: "Proud to serve Louisiana crawfish."
"They wanted to promote a Louisiana product and provide it year-round," says Dana, who runs the plant and delivers the meat to Fezzo's every week. "We can do that, and it helps us, too. It helps our industry."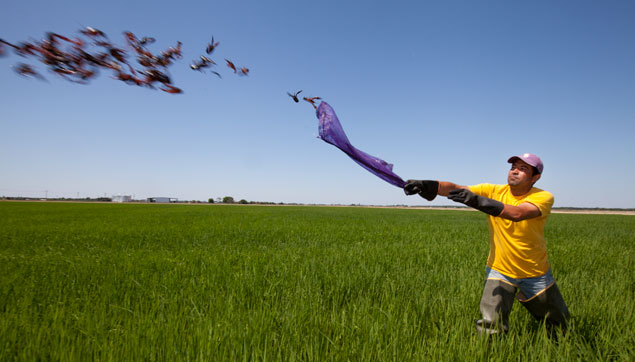 ---
Peeling Crawfish, Packaging Alligator
Mothers and daughters, siblings and married couples work side by side in the plant, filling the 2,000-square-foot building with laughter during crawfish season, when the payroll at the farm triples to more than 100 workers.
The crawfish are harvested in handmade wire traps, then washed, graded by size and boiled. Once cool, they're peeled at long steel tables, and the tail meat is vacuum-packed, chilled and sold fresh or frozen to restaurants and buyers.
Crawfish is typically sold live during a limited season, but by processing about a third of theirs, the Freys have opened up a bigger market. Their D&G Frey brand lets them showcase its quality, which they say starts with clear, fresh water and well-managed ponds.
"You get good taste and good fat content," Dana says, "and it makes a difference when you peel."
To increase their use of the plant and provide employment to their workers, once hot weather brings an end to crawfish season, they package another popular Louisiana food: alligator meat.
For this product, they're just the processors, deboning, trimming, tenderizing and vacuum-packing another farmer's young gators. A skinned, 3- to 4-foot carcass comes in one door, and clean-tasting white and dark meat goes out another, destined for fish markets around Boston, Mass., where it's considered a delicacy.
"It's win-win for us," Gerard says. "We have no investment — just get paid for freezing and processing. It works out well for us and for our people."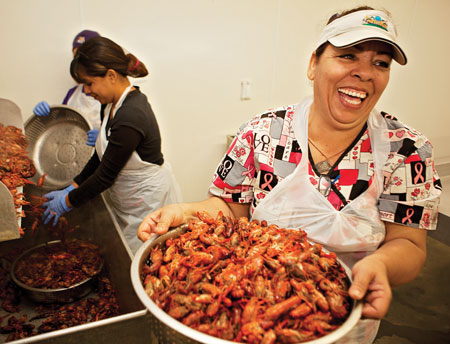 Diversified in Farming, Laser-Leveling, Trucking
The plant fits in with the Freys' philosophy of self-sufficiency, and one look at their sign will tell you there's a lot going on: G.A. Frey Farms, LLC. D. Frey GPS Mapping. G. Frey Lazer-leveling. Frey Rentals.
Early in Gerard's career, he took the advice of a speaker he heard say it's the diversified farmers who would be the survivors.
He'd started farming in high school, renting the cropland he now owns. He gradually bought land, working nights and weekends at the sheriff's office during what he says were tough times. Later, he added drying and storage bins so he could save on rent and sell rice when the time was right. Paying to transport rice ate into profits, so he bought 18-wheelers, created some jobs and leased trucks back to the mills. Equipment he used to build ponds and level his land was expensive to leave idle, so he started doing the same work for others. He even found time for politics, and at 27 was mayor of Iota.
By the time he met Dana, he was farming 4,500 acres. She had grown up around equipment in Morgan City, known for its seafood and oil industries, so when they married in 2003, it was natural for her to operate the tractors while he ran the combines.
At her office, where the rockers on the porch are decked out in Louisiana State University (LSU) purple and gold, Dana now designs GPS elevations that they download into their tractors to laser-level agricultural and commercial sites. She also manages work visas and health regulations for the plant.
Gerard is the bookkeeper for the farming and dirt work. Meticulous about details, he waxes the combine before and after it goes to the field, which he says keeps it cleaner.
The couple has a true partnership, but they say a third person is pivotal to their operation: Tony Douget, Gerard's loan officer for 25 years.
"Tony helped me build my operation, and knows it as well as I do," says Gerard. "You can have the work ethic, but without a good banker, you go nowhere."
"Building the plant is one of the best moves they've ever made," says Douget, vice president of lending at Louisiana Land Bank's Crowley branch. "They have a good-tasting product, and every pound they harvest, they can sell."
Work Hard, Play Hard
The Freys put in 15-hour days, longer during crawfish season, but they say that's what it takes to run a business. They're always thinking about their next move.
In 2013, they'll grow an aromatic rice developed by LSU called Jazzman, and they're considering building a small mill. They're also setting up a packaging area for Cajun products, including crawfish and rice, that they'll sell on a website to be called La Cajun Things.
"There's only one place where success comes before work: the dictionary," Gerard says, quoting a friend. "It's not a job if you love it."
Twice, they've had Louisiana's highest rice yields, and Gerard was named state Conservation Farmer of the Year in 2005 and parish Conservation Farmer of the Year in 2006. Three of those honors came after he had a kidney transplant in 2004.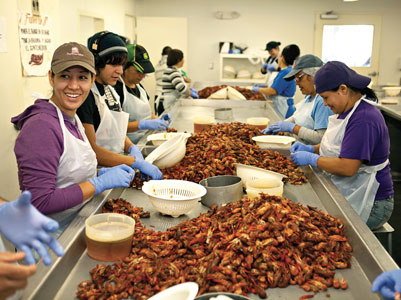 Since then, they've scaled back a little, and diversifying has let them focus their efforts on what's most profitable. They also delegate more work to employees, and Dana has trained women to use the laser equipment, drive tractors and bale hay.
Workers Are Their Family
The couple doesn't take much time off, but for their vacation, they take their employees and spouses on an annual trip to Branson, Mo.
"We're very blessed," Gerard says. "Our workers are our family."
They reserve special affection for one person in particular: 3-year-old Brayan Jasso, the son of one of their workers, who calls them pawpaw and mawmaw. While his mom works at the plant, Brayan accompanies Gerard to check water levels in the ponds or naps in the air-conditioned tractor cab as Dana drives.
"We tell people we don't have children, but we do have a grandchild," says Dana, who proudly holds up her iPhone to show the latest snapshots to a friend at Fezzo's.
They also turn their farm into the neighborhood's Christmas headquarters so families don't have to drive 45 minutes to visit Santa in Lafayette. And at their busiest time in crawfish season, they make étouffée for the Tee Mamou–Iota Mardi Gras, famous for preserving old French and Cajun customs.
"If you want to come to the best Mardi Gras ever, it's Iota, hands-down," says Gerard, former president of the town's Mardi Gras association. "It's family-friendly, from the old traditions, and they stick with the traditional colors."
"Around here, that's John Deere green, International Harvester red and safety yellow," Dana says.
– Staff
Crawfish Fettuccini
6 tablespoons butter
1 large onion, chopped
1 green bell pepper, chopped
3 stalks celery, chopped  
1 clove garlic, minced
1 tablespoon all-purpose flour
1 pound peeled crawfish tails
1 (8-ounce) package processed cheese
1 cup half-and-half
2 teaspoons Cajun seasoning
1 pinch cayenne pepper, or to taste
1 pound fettuccine
1/2 cup grated Parmesan cheese
Melt the butter in a large skillet over medium heat. Cook onion, bell pepper, celery and garlic in butter until onions are tender. Stir in flour and cook for 5 to 10 minutes, stirring frequently. Stir in crawfish. Cover and simmer for 15 to 20 minutes, stirring often.
Stir in the processed cheese, half-and-half, Cajun seasonings and cayenne pepper. Cover and simmer for about 20 minutes, stirring occasionally.
Meanwhile, bring a large pot of lightly salted water to a boil. Cook pasta in boiling water for 8 to 10 minutes, or until al dente; drain.
Preheat oven to 350 degrees. Butter a 9-by-13-inch baking dish. Stir noodles into crawfish mixture. Pour into prepared dish, and sprinkle with Parmesan cheese.
Bake for 20 minutes, or until hot and bubbly.
– From D&G Frey Crawfish
---