Plop ... plop, plop, plop!
Mystified, Christina Caskey headed toward the strange splattering sounds coming from her kitchen. There, to her dismay, she found her two small daughters, giggling and dropping eggs onto the floor.
"You know what a mess just one egg can make?" she asks, rolling her eyes. "Imagine a flat of 30 eggs!"
Christina laughs at the memory now. So do her sisters-in-law, Sherrie Caskey and Susie Caskey.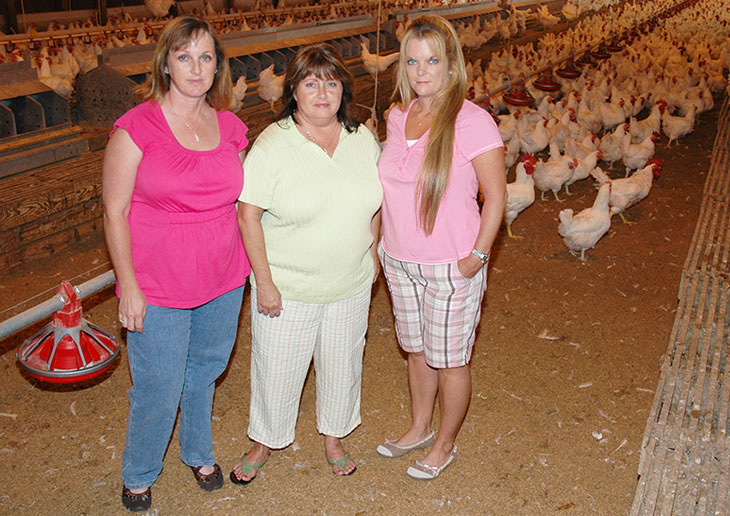 Fortunately, eggs are always in abundance in the Caskey homes. The three sisters-in-law all work together in the breeder-hen business, while their respective husbands — brothers Jeff, Greg and Delton Caskey — together own CBC Pipeline Inc. near Goldonna, La.
"We each have four chicken houses," Sherrie explains. "They provide supplemental incomes for our families and a way that we can work at home and be with our children."
"If a fortune-teller had told me I'd be doing this some day, I'd have asked for my money back! But now I wouldn't trade it for anything." — Christina Caskey
Initially, Sherrie kept a yard full of chickens, so everyone in the family would have plenty of eggs. For several years, she and her husband toyed with the idea of starting a commercial chicken farm, but couldn't get the go-ahead to contract with a large local poultry firm. In 2003, Greg talked with Pilgrim's Pride in nearby Natchitoches. Company representatives visited the couple's property and gave them the "thumbs-up."
Financing the Farms
Meanwhile, Marcel Vandenoord — vice president and branch manager of Louisiana Ag Credit's Arcadia and Farmerville field offices — contacted the Caskeys, after hearing about their new endeavor. All three couples ultimately obtained financing through Louisiana Ag Credit for construction of their chicken houses in 2004 and 2005.
"Marcel was just great," Sherrie says. "He was always right there if we needed something."
The relationship has worked extremely well for Vandenoord and Louisiana Ag Credit, too.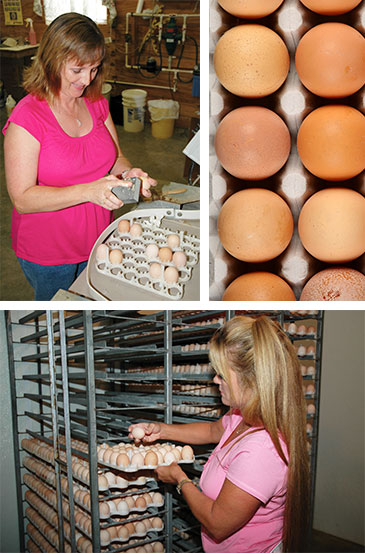 "We've been with them from the initial construction of these farms," he says. "They're super nice folks and have been a pleasure to deal with. The wives do a great job running the farms, while the husbands run CBC. It's great to see them doing well and enjoying what they do."
In the beginning, the women worked hard to get their breeder farms up and running. At their peak, their fully automated houses each produce approximately 7,500 eggs daily.
The eggs are picked up and hatched at the Pilgrim's Pride hatchery in Natchitoches.
"We receive a breed of chickens called Cobb 500 (hens and roosters) that are 20 weeks old and have never been exposed to light," Sherrie explains. "As soon as light hits the hens, they start maturing and are soon ready to lay eggs." Each unit houses approximately 10,000 free-roaming birds.
Training Hens
During the first several weeks, the women or their employees walk the chicken houses from end to end, four or five times a day. Hens must be shooed off the floor and directed into metal nesting compartments.
"We have to train them to get used to us and to lay eggs in the nests, not on the floor," explains Sherrie, standing near a crowd of cackling white chickens inside one of the houses at Sherrie's Sunshine Farms.
"I've been knocked down many times by a rooster," Susie adds, laughing. "Roosters have their own domain, every 10 feet."
After an egg is laid, it rolls out of the nest and onto a conveyor belt. The automated gathering system, turned on at intervals, delivers the eggs to an adjoining room, where a worker stationed at a small table inspects, culls and cleans the eggs. Double-yolk eggs go into cardboard flats. Cracked eggs are discarded. Perfect eggs are brushed gently and then placed in plastic trays. From there, the filled trays are loaded onto metal racks and temporarily stored in a dark, temperature-controlled room.
Though computerized, each house requires regular monitoring. "For instance, we have to check our inventory, go through racks to make sure there are no upside-down eggs, and make sure the chickens are eating and drinking," Susie explains. "You have to keep up with every single egg!"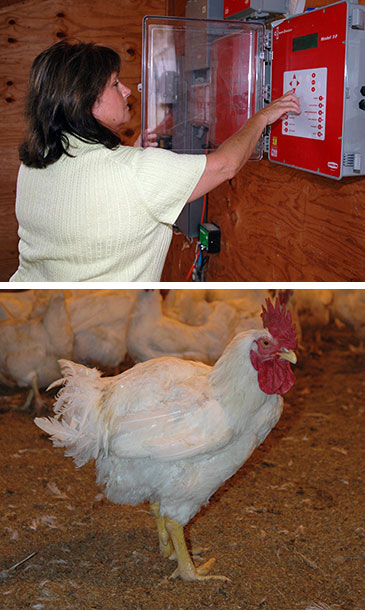 Award-Winning Efficiency
Through trial and error, the Caskeys have fine-tuned their egg production to award-winning efficiency. In the Pilgrim's Pride contests in 2006 and 2007, Sherrie's Sunshine Farms placed first in chicks per hen out of 2,300 flocks of Cobb 500 chickens in the United States and Canada. In 2007, Sherrie's flock laid 183 eggs per hen and produced 157 chicks per hen.
Standing in the egg-gathering room, the women — obviously close friends — laugh as they talk about their chicken farms — and other interests, too.
"Hey, did you get those at Bass?" Christina asks Susie, admiring her sister-in-law's green sandals.
"Yes, the purse, too!" Susie exclaims. "I just love 'em!"
At a nearby window that looks into the chicken house, several roosters stand peering through the glass at the women. "We'll crack the window sometimes when we're working on eggs and talk to them," Susie says. "And they listen!"
"Chickens are real curious," Sherrie adds
The Smell of Money
At Christina's Chicken Farms and D & S Farms (owned by Susie), eight more houses stand side by side.
"This is nothing I would have imagined getting into," Christina reflects, stepping inside one of her houses. "I'm a city girl from Orlando, Fla. If a fortune-teller had told me I'd be doing this some day, I'd have asked for my money back! But now I wouldn't trade it for anything."
"A lot of people say this place stinks," she adds. "But I think it smells like money!"
Meanwhile, Susie stops by her houses, where she checks the computerized control system that manages the feed, water, ventilation, temperature, alarms, light and other variables.
Running all 12 houses is very much a family affair for all of the Caskeys, who usually share Sunday dinner together with the brothers' parents, Huey and Ruth Ann Caskey. Susie's 19-year-old son, Andrew, works with the chickens, and all three husbands help with maintenance. The women also lean heavily on each other.
"We have a lot in common," Sherrie says. "We're interested in the same things. Plus, we're not in competition with one another."
Sometimes to an extreme, the chickens are very much a part of the women's lives.
"I've even slept with my chickens," Susie grins. "When Hurricane Rita hit in 2005, I took a TV, lawn chair and blanket down to one of my houses, which all have generators. When the electricity went off, I enjoyed my TV and air conditioning. My family laughed at me when I left, but the next morning, they said, 'You had it made!'"
"Yep, you never know what's gonna happen in a chicken house," Sherrie adds.
– Article and photos by Sheryl Smith-Rodgers
---