The year was 1964, and Raymond Hensgens was a young rice buyer looking for a way to supplement his income during the slow spring months, when he decided to start his own business, Ray's Seed and Fertilizer, in Crowley, La.
It seemed like a good idea; after all, Crowley was the rice capital of Louisiana, and Raymond knew farmers for miles around. Little did he know then just how good an idea it really was.
Forty-five years later, the Hensgens name is known across southwestern Louisiana by customers of the family's G&H Seed Company, which has flourished by diversifying to meet the growing needs of livestock producers, hunters and other crop producers.
It Began With Rice
Still, there are many Louisiana farmers — especially those who've been around a while — who will always associate the name Raymond Hensgens with rice. That's because when Hensgens opened that first farm supply business in 1964, rice was the crop of choice — and Hensgens quickly became the rice seed and fertilizer retailer of choice for many of those growers.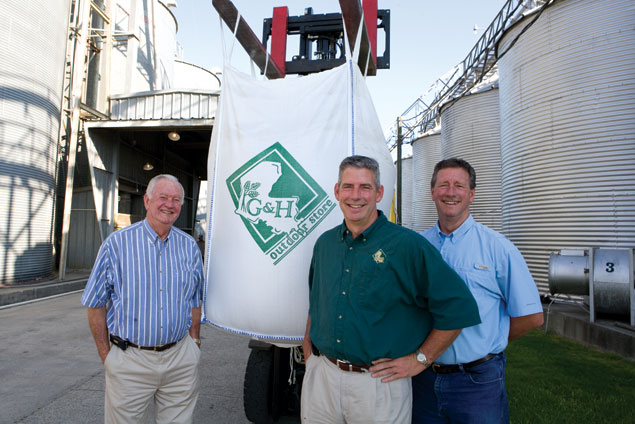 ---
Back then, the young rice buyer — now age 77 — knew many of the local farmers. He bought their crops for Dore's Rice Mill, and they in turn became good customers for his supply business. "He sold and delivered fertilizer, which came by rail car in 80-pound paper bags, along with other crop inputs, and eventually added ag chemicals as they came to the market," says son Michael.
Four years later, Hensgens partnered with Nolan Guillot to form G&H Seed Company, and within three years, he had bought out the partner. Michael and his older brother Wayne helped out after school and on weekends, and their mother, Kitty, handled the bookkeeping.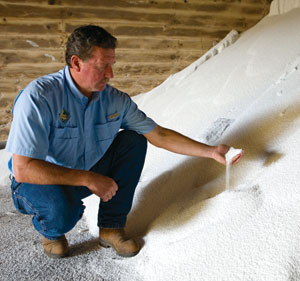 Evolving with the Market
But what started out as a business serving the rice-growing community has evolved as the region itself has evolved. No longer is rice the dominant crop it once was here — in fact, production dropped from nearly 700,000 acres in the mid-1960s to some 375,000 acres last year, according to Louisiana State University (LSU) AgCenter's rice research station. Instead, soybeans, cattle, hunting and other niches have opened up new opportunities for producers and their suppliers, like the Hensgens family.
According to his older son, Wayne, it was Raymond Hensgens himself who first introduced soybean seed to the area in 1964, as a new option for crop rotation. "Before that, it was just rice and cattle here. Soybeans are a great addition to a rice rotation because it helps rebuild soil microorganisms and improves the soil structure going back into the rice crop," says Wayne, who serves as company president.
Their 1980 acquisition of a Kaplan feed store marked the first of six expansions, and began their relationship as a Purina Feed dealer serving the expanding cattle market. "As we started handling Purina feeds, that enabled us to expand into products like fencing and ranch supplies," Wayne says.
Venturing Beyond Traditional Agriculture
But perhaps it was their 1994 store opening that took the business furthest from its original roots. When a Gueydan farm store owner retired that year, the family seized the opportunity to establish a presence in what's known as the duck-hunting capital of Louisiana — supplying not only the area farmers, but hunters too. The Gueydan inventory spans hunting clothing, duck blinds, deer stands, guns, shells and more.
"We saw this as an opportunity to move into the consumer market," says Michael. "In addition, it was a way to establish full-time, year-round employment for our staff, who have a busy spring agricultural-supply business, but slow fall sales."
"Our goal for this store is to be the premier outfitter for hunters in the region," says Jim Mixon, Gueydan location manager and grandson of Raymond Hensgens.
Hurricanes Drive Diversification
The two hurricanes that trampled south Louisiana in 2005 and 2008 changed the face of production agriculture in the area — a change for which G&H was well positioned. Storm surge from hurricanes Rita and Ike took 15 miles of coastal rice acreage out of production, moving livestock acreage south and expanding cattle grazing lands. The storms' impact also affected hunting businesses that traditionally had operated on those rice acres. G&H's seven locations and diversified inventory put the company in the right place, with the right products, for the changing market needs.
In addition, G&H has established itself in the part-time, hobby farmer market. "There are many people in the area who work in town or in the oil and gas production industry and have been able to acquire some acres, raise some livestock, and live in a farm setting," says Michael. "We do a good bit of custom work for them."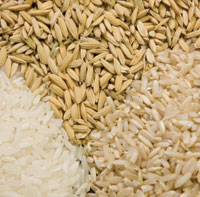 Recovering From the Storm
According to the LSU AgCenter, Louisiana is still the third-largest rice producing state in the country. But the saltwater intrusion from hurricanes Rita and Ike, coupled with rising diesel fuel and input costs, have taken a toll on rice farmers.
"Sadly, we have been losing rice farmers at a pretty steady pace over the years," says Michael, who today is vice president and business manager of G&H Seed. "Fortunately, some farmers and ranchers are picking up adjoining acreage and are positioned to expand more if the economics and Mother Nature allow."
The diversified business now attributes about half of gross sales to rice and rice-related products. The other half of G&H's business is split between soybeans, wheat and sugarcane (25 percent of sales), feed and livestock supplies (15 percent) and hunting supplies (10 percent).
Financing the Business
The family turned to Louisiana Land Bank more than two decades ago to provide a steady source of ongoing credit. "G&H started doing business with us with a revolving line of credit to buy two additional locations and make capital improvements," says Barry Fontenot, Land Bank vice president and manager of the Crowley branch office.
"Mr. Hensgens had a relationship with us with farmland acquisitions and used the equity to set up the credit line. The business is a great example of a well-run family-operated entrepreneurial venture that has always stayed a step ahead of the market trends," he says. "Raymond Hensgens has been an icon in the rice business in southwestern Louisiana. The family understands the market and has made smart decisions to grow the business."
Today, Raymond Hensgens is retired, and G&H's daily operations are in the capable hands of his sons. Asked what are keys to the company's success, they say it is sticking to the basics:
•  Put the emphasis on understanding people. "When you started walking over to work in the store from the time you were in elementary school, you learned a lot more about people and the business than just someone with a college degree," says Michael, who incidentally holds an agronomy degree, as does his brother.
•  Surround yourself with good people, "people you trust … honest, hard-working people," says Wayne. "Many times the best recommendation we can give a farmer is that they don't need to apply or buy anything at all. Our company slogan is 'Brands You Know From People Who Know.' We believe in that, and our customers know they can trust us and our staff to be honest with them."
– Sue Durio
---