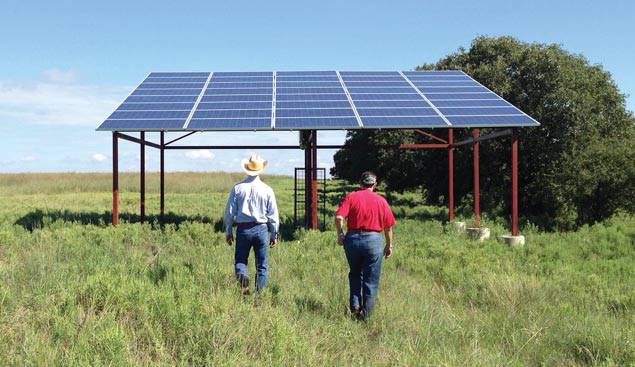 ---
Larry and Ann Smith's cattle could talk, they'd tell you how sunny it is at the couple's North Texas property.
The Smiths knew that a shade structure was a must for their black Angus cattle, but they also wanted to take advantage of the sun for themselves. In 2011, they topped a 25-by-32-foot steel frame with 40 solar panels.
The 10-kilowatt (kW) solar array is just the right size for their small cow-calf herd.
"They love it under here," Ann says as she walks under the solar panels and inverters, which turn the DC power produced by the panels into AC power that feeds into the electrical grid at their property. "When they're in this pasture, they'll spend most of the after-noon here."
The photovoltaic (PV) array wasn't the retired IBM engineers' first renewable energy system. Three years earlier, they had installed a wind turbine on their hilltop property outside Bowie, not far from several large wind farms. There was plenty of wind, but the changeable direction was a problem.
"The turbine would turn so rapidly that it would shut down at its peak time of operation," says Larry, a systems engineer. "Solar's a much better way to go."
Ann, a software engineer, says it didn't take long to see the improvement.
"In two months the solar array overtook what the turbine produced in 2½ years," she says.
Financed as a Capital Improvement
Before the Smiths could start saving on utility bills, they needed to invest about $60,000 in the project. The couple called up their Capital Farm Credit loan officer, Travis Thorne, who had helped them get a great interest rate on a previous loan.
The solar project was a first for Thorne, who used the Smiths' equity in their property to fund a capital improvement loan.
"We loaned them everything they needed for the project," he says. "They've had so much success with solar that now they want to increase the capacity."
The Smiths have already started installing a second solar array for about half the price per watt, thanks to a dramatic drop in the technology's cost in the past few years.
"It's very beneficial. Three or four months out of the year, we're feeding more energy into the grid than we're using."
– Ann Smith
They still joke with Thorne about their expensive cow shelter, but the eGauge on their laptop shows how it cut their annual electricity costs in half.
"It's very beneficial. Three or four months out of the year, we're feeding more energy into the grid than we're using," Ann says, pointing to colorful graphs of the electricity produced by the panels and consumed by the house, well pump and shop. They get credits from their utility company for the surplus, offsetting their bills the rest of the year.
Two tax benefits added to the savings: Homeowners and businesses can recoup 30 percent of the cost of a renewable energy system through a federal tax credit, and businesses can claim accelerated depreciation.
"The ag operation gives us the best of both worlds," Ann says, adding that their system has almost paid for itself.
They plan to someday add a battery backup system that will let them store solar energy for use during power outages. Until that day comes, when the grid goes down, it's lights out at the Smith place.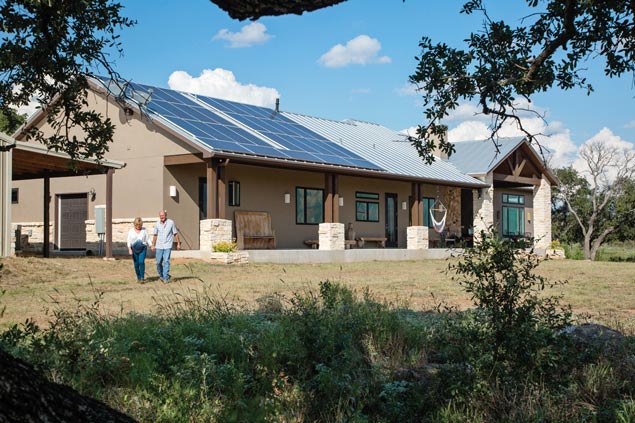 ---
A Tradition of Self-Sufficiency
Storage is a daily routine for David and Gail Rose, who supply their own electricity and household water from the sun and the rain.
Their home in Llano, near the center of Texas, is on the same land where David's great-grandfather started a ranch in the late 1800s.
"We had contemplated living out here back in the early '90s, but it's on solid granite with one shallow well," David says. "We abandoned the idea because we thought we didn't have enough water.
"Rainwater collection wasn't really happening back then, but really, it's ancient. Once we understood how much rainwater we could collect out here, we knew we could sustain ourselves.
"But that was an idea for down the road."
"I talked to some conventional banks, but they don't understand this market. They were scratching their heads because they couldn't find any comparable houses that had rainwater and solar."
– David Rose
In the meantime, Gail, an emergency room nurse, started collecting rainwater for their vegetable garden in the Austin area, and David, a corporate pilot, drove hybrid electric vehicles and thought about how practical a solar array would be.
After their two children were grown, they looked forward to building a house complete with solar panels and rainwater harvesting, but were frustrated with the approval process their future neighborhood imposed on nonstandard plans.
One day while visiting the ranch, they realized that if they built in the country, they could have their dream home just the way they wanted it.
The next thing they knew, Gail was designing the house, David was researching the renewable systems, and they were looking for financing.
"I talked to some conventional banks, but they don't understand this market," David says. "They were scratching their heads because they couldn't find any comparable houses that had rainwater and solar."
Then they called Chad Schmidt at Capital Farm Credit's Mason office on the advice of relatives who manage the Rose family's Hereford operation. They were thrilled that Capital could roll the rainwater and solar projects into the construction loan, and Schmidt appreciated their methodical approach.
It was the loan officer's first solar project, but he wasn't new to rainwater harvesting.
"We had cisterns at the ranch where I grew up," Schmidt says. "After my grandfather moved to town, he would come fill up a jug with rainwater every day to take back and set on the kitchen counter."
Come Rain or Shine
It's now been three years since the Roses moved into their one-story home, designed to maximize the rainwater and solar energy they collect.
"We needed a lot of roof area," says Gail, who retired from nursing and has a business making ceramic lighting fixtures. "Since we weren't on a neighborhood lot, we could make it as long as we wanted."
With every inch of rain, they collect about 4,000 gallons in a 39,000-gallon metal tank, complete with a food-grade liner and an emergency valve for the fire department. David installed everything but the tank himself, trenching in the granite with a jackhammer for the underground pipe and saving almost half of the $60,000 price quoted by contractors. They don't have to worry about the limited groundwater, and in an average year collect about twice the rainwater they consume.
Two filters and a UV light sanitize the water for household use.
"It's hard to beat rainwater," David says. "There's no chlorine, you don't need a water softener, and there's never a spot on our glasses. It's all free, quality water."
Not far from the water equipment is the home's other storage system — a bank of 20 sealed, deep-cycle, 12-volt batteries charged by the 10-kW solar array on the roof.
For David, it's fun to monitor the solar panels and charge controllers that pack the batteries with electrons. The house runs off the stored energy until the reserves get low overnight, then switches to electricity from the utility company.
Since the Roses are usually off the grid, they seldom notice local power outages, but they do notice the difference in their bills. In their peak month this year they paid only $49.73 for electricity before fees, even while air-conditioning the 3,200-square-foot house in 100-degree heat.
"You know, we wanted to do solar and rainwater for all the eco reasons, but there's also an economical aspect," David says. "We hope that we can continue the ranch being in the family. This will be another legacy to pass down to our children and grandchildren."
– Staff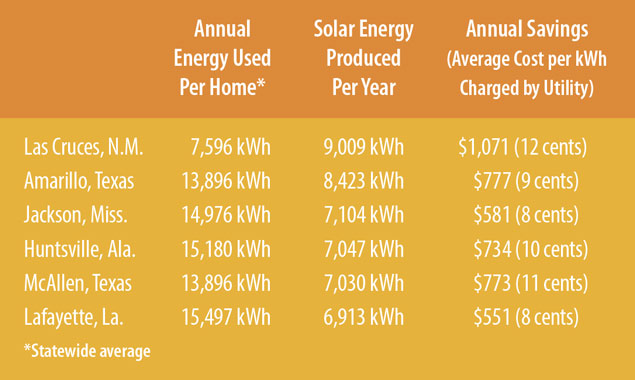 Energy From the Sun
Interest in solar energy use on farms is increasing, especially on farms that require heating, cooling or irrigation. From 2008 to 2011, the number of U.S. ag operations with renewable energy systems more than doubled.
How Much Solar Energy Does A System Produce?
Photovoltaic (PV) systems generate the most electricity in the southern and western states. While the Southwest gets the most sunshine, the Southeast consumes the most electricity — especially Louisiana, where homes use 42 percent more kilowatt-hours (kWh) than the national average.
Here's how a 5-kilowatt (kW) grid-tied residential system with standard panels tilted to match the latitude can offset utility bills in the southern region. Estimate the benefits for your location with the PVWatts Calculator.
How Much Does It Cost To Go Solar?
Prices for PV systems have dropped more than 70 percent since 2010. The typical per-watt cost for a grid-tied system, including installation, is:
$3 to $4.50 for a residential system (up to 10 kilowatts, or 10,000 watts)
$2.50 to $3.50 for a commercial system (up to 1 megawatt, or 1,000 kilowatts)
$2 to $2.50 for a utility-scale system (1 megawatt or more)
How Else Can You Save With Solar?
People with grid-tied systems generally pay the utility only for net energy consumed. The more owners receive through tax and incentive programs, the faster the system will pay for itself.
Benefits vary by state and utility. Learn more at the Database of State Incentives for Renewables and Efficiency.
Tax credits:

 

Renewable energy systems qualify for a one-time federal tax credit of 30 percent of the total system cost. Some states also offer tax benefits.
Depreciation:

 

Businesses can claim accelerated depreciation on federal taxes.
Cash incentives:

 

Some states, municipalities and utilities offer incentives such as rebates.
USDA Rural Energy for America Program:

 

Eligible ag producers and rural small businesses can receive incentives such as grants for 25 percent of the cost of a system.
 – Staff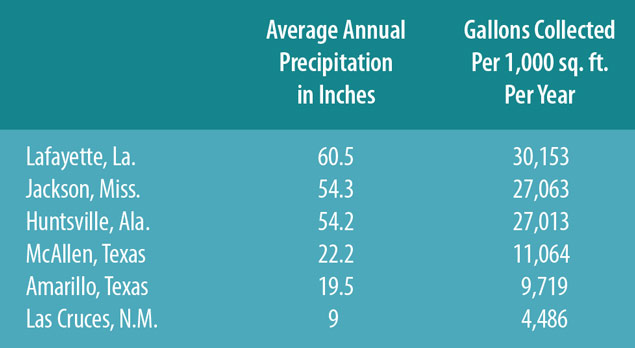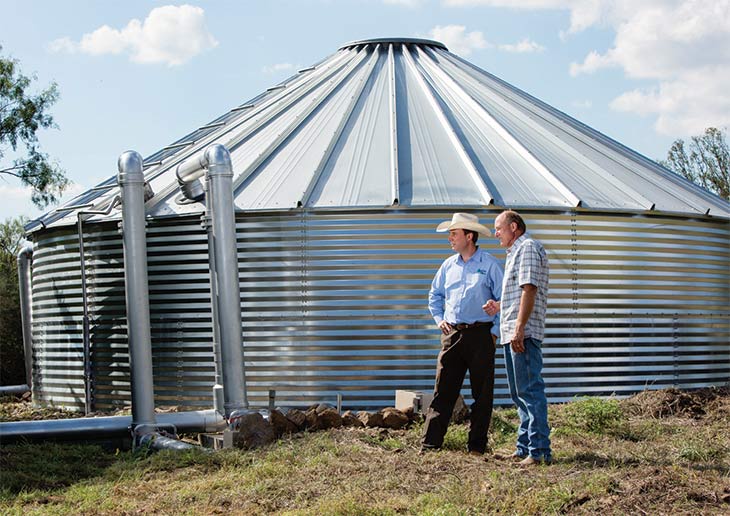 An Idea That Holds Water
How Much Rainwater Can Be Collected From A Roof?
A system can collect up to 0.623 gallon per square foot of roof area for every inch of rain, before losses such as splashing. Here are examples for systems that are 80 percent efficient, using the formula inches of rainfall X square feet of roof X 0.623 (gallon) X 0.80 (efficiency).
How Much Water Do Americans Use?
The average person uses 80 to 100 gallons per day at home. Estimate your household water consumption.
How Much Does Rainwater Collection Cost?
A residential system — including a storage tank, gutters, pumps and more — typically costs $8,000 to $10,000, according to the Texas Water Development Board. Professional installation and water treatment for potable indoor use will add to the cost. Download the Texas Manual on Rainwater Harvesting design primer.

– Staff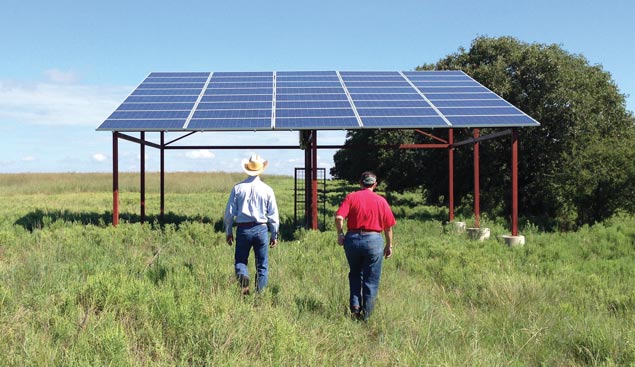 ---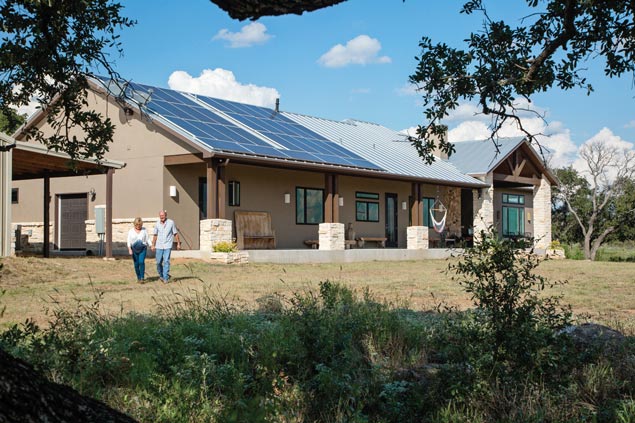 ---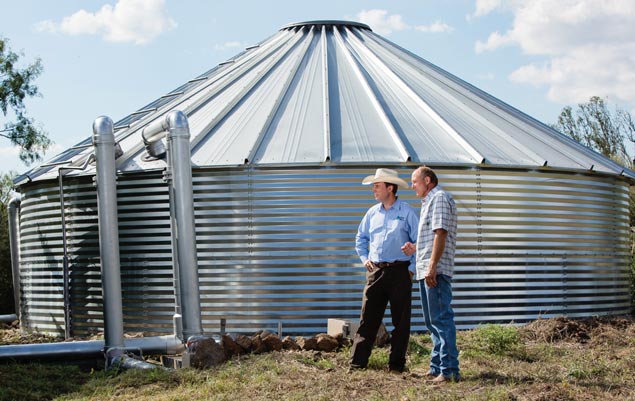 ---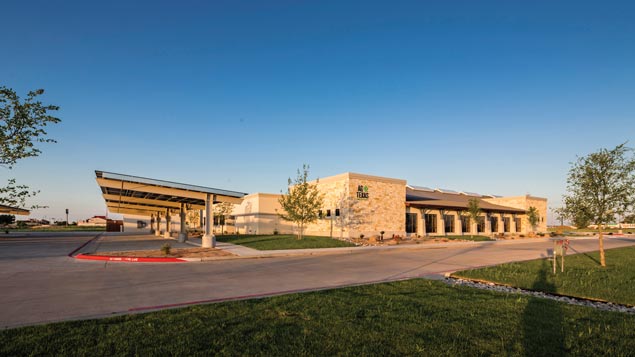 ---
---