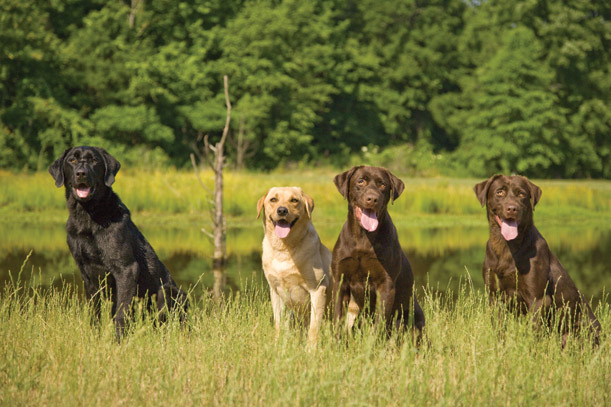 ---
Memphis, Tenn., native Steve Vires planned to be a teacher when he enrolled at Memphis State University. But little did he know that one day his classroom would be outdoors and his students would be the four-legged type.
For the past 13 years, Vires has used his skills as a teacher and a motivator to transform bouncy, unruly Labrador retriever pups into well-behaved pets and driven hunters. And while the students may be different than he was trained to teach, many of the techniques are not.
"You have to begin with a good solid foundation of trust and obedience, and then reward with praise," he says. "I'd rather have them work for me, than work for treats."
Vires' classroom these days is a 50-acre facility northwest of Oxford, Miss., where he can house and train up to 16 retrievers at a time. For many years, he had eyed a tract near the small fishing cabin he owned on Sardis Lake. With its creek-fed beaver pond that holds birds in winter and a combination of flat terrain and rolling pasture, he knew it would make an ideal training ground for retrievers.
"When I saw the place, I remember thinking that if this property ever came up for sale, I was going to buy it and go into dog training," he says. "Not (more than) a month later, a for-sale sign went up, and I was immediately in contact with the Realtor with a deposit."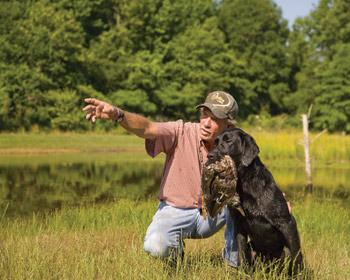 Until then, the lifelong outdoorsman had trained his own dogs and his friends' dogs for years. "I can't remember when I haven't owned a lab, although the first few were more pets than hunters," says Vires.
But when he began working with his black lab, Magic, in the United Kennel Club's (UKC's) Hunting Retriever Program, he began to fully appreciate what these athletes could do. The UKC tests the skills needed by a first-class retriever. These include obedience, marking and handling, walk-ups, diversions, and honoring another working dog.
Friends who saw Vires and Magic work together were impressed. Soon, they were asking him to train their dogs. Eventually, the hobby turned into a part-time business that formed the foundation for Vires' eventual dog-training career.
Financing an Unconventional Business
When the 50 acres became available, Vires knew he needed a lender who would understand his unconventional business. "A friend suggested Joe Hill at the Senatobia branch of the Land Bank of North Mississippi," he recalls.
"I carefully laid out my plans for the property and what I wanted to accomplish. Joe's first reaction was, 'Tell me more, can you make a living doing that?' And I was confident I could, considering the number of hunters in the mid-South who own dogs," he says.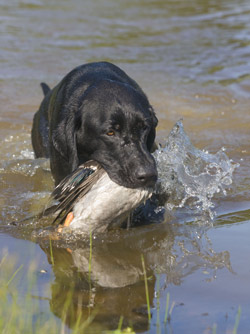 With financing in hand, Online Labradors was launched with a simple marketing plan: Do a good job, treat others' dogs like your own, and be honest.
"It didn't take long for people to know what I was doing. Nearly every time I sent a dog home, that client would have a friend who wanted to take his spot," says Vires. Rather than take in more dogs and hire employees, Vires opted to keep the business small so he could work with each student himself.
"Our clients take their dogs and hunting quite seriously, and tend to look at their pets as members of the family, rather than something to only be used during hunting season," he says. "I basically train the dogs the way they would if they had the time, equipment, training grounds and experience to do so."
Most students begin their training at approximately six months of age when, he says, "they are just getting into their teenage years." For the next three months or so, which is the typical length of stay for basic training, Vires teaches each pup social as well as hunting skills.
"I determine each dog's strengths and weaknesses, and in training, challenge and polish their strengths, while using clear-cut concepts, repetition and success to bring the weak points up to standard," he says.
In the early weeks, the pups master obedience skills. "The goal is to produce enthusiastic working retrievers, with confidence, drive, desire and a genuine willingness to please their masters," he says. "That begins with a well-mannered dog."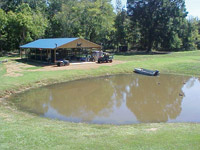 Training Dogs for Other Trainers
The students' first lessons are taught in the yard of the training facility. "It is a distraction-free area where it is just me and the dog," says Vires. Here, they learn basic retrieving skills such as marking and memory skills, steadiness to shot and bringing birds to the hunter's hand. As the dog progresses, training becomes more technical, and distances are extended. The facility features everything a retriever would encounter in a typical duck camp, from guns and boats, to four-wheelers, ponds and birds.
Once the basics are mastered, many dogs remain with Vires for another three months of more advanced training. He has developed such a following, in fact, that even other trainers send their dogs to him for training. One of those, Alaska dog trainer Sherri Young, discovered Vires five years ago when she and her husband sought a trainer for their dogs during the harsh Alaska winters.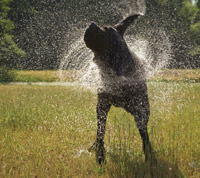 "There are a lot of professionals who use heavy amounts of pressure on dogs, regardless of the dogs' personality and ability," she says. "Steve takes the time to adjust the training to each dog's sensitivity and temperament. Some dogs might move along slower in their training due to their immaturity, while others are able to train at a quicker pace. He takes young dogs and develops them into wonderful working retrievers."
For the past two years, Vires has taken 13 dogs to Alaska for summer training on 200 acres there, where 70-degree highs make for an ideal respite from the South's heat. "It has been great to have Steve come up to Alaska to train," says Young. "He has certainly spread his wealth of knowledge of dog training to a lot of folks in this area."
Vires and his students share a special bond of trust and respect, much like the bond between classroom students and their favorite teachers. "When you see Steve running the dogs at hunt tests, they are not fearful of him," Young says. "They go to the line happy and wagging their tales in anticipation of the work ahead of them."
Vires would say he also goes to the line happy these days. After all, he is living his dream.
For more information, visit www.onlinelabradors.com.
-Sue Durio
Advice for Choosing Dogs, Breeders and Trainers
Invest in a dog that has a proven retrieving pedigree and health clearances. Considering food and vet bills for the life of the dog, the cost of the dog is the least expense you will have. Pick a healthy pup from a reputable breeder.
Do your research on the breeder and trainer. Call local pros and veterinarians. Visit a hunt test. Look at the AKC lineage. And, in the end, listen to your gut.
---