Dr. Clint Walker carries around a series of schedules and calendars in his head. He can tell you when almond trees are budding in California. He knows when cotton crops will be blooming in Texas. He can even anticipate the crop cycle of lesser known Texas plants, like yaupon holly and huajillo.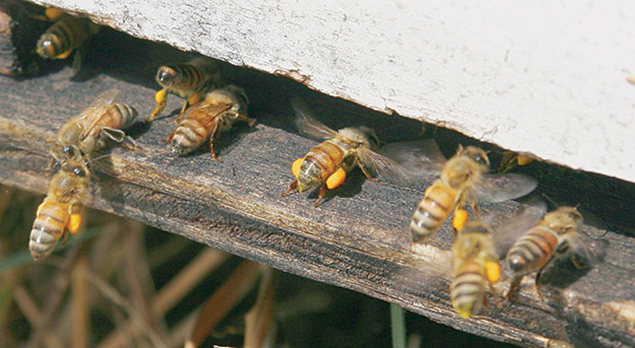 ---
You might say he's as busy as his bees.
Walker and his wife, Janice, own Walker Honey Company, a family business started by his grandfather in 1930 in Central Texas. The company now has about 2,000 hives on 500 pallets that are constantly being moved to different locations throughout Texas to take advantage of the pollen and nectar from local blooming crops and native plants. In the spring, some of the bees even make a cross-country trek to California to perform pollination services for almond growers in the San Joaquin Valley.
One beehive may produce in up to five locations in a year. It's a complicated schedule that keeps Walker and his beekeeping manager, Domingo Montalbo — a 30-year employee of the company — constantly checking their records to stay ahead of the game. Bees are hauled to California in February and are back in Texas by the end of April. Queen breeding occurs in April and May. In the spring, hives are split to make new hives, and the rest of the year, they are on the move.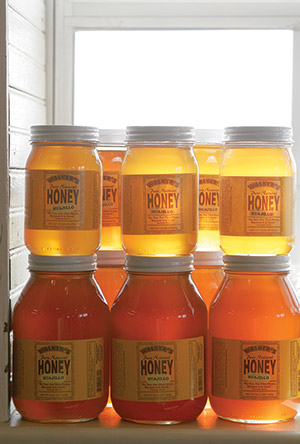 "We have places south of San Antonio, in the Houston area, in Central Texas and in West Texas where we move the hives at different times of the year," Walker says. "Our key chains are pretty full, because we have about 150 farms and ranches around Texas where people let us house our bees," he says.
"We've been working with some of the same landowners for more than 30 years. We give them honey as a thank-you for letting us make a honey crop in their area. We definitely depend on the goodwill of these farmers and ranchers," he says.
Diversity Helps Small Producer
Find a Niche
At Walker Honey Company, business is a lot more complex than simply keeping bees and making honey. Since 2001, the company has diversified to have more control over the price they receive for their product.
"The honey business is the same as any other production agriculture enterprise," Walker explains. "When the crop is sold to big processors, the market price is often less than the cost to produce it. But the packed-honey price to grocery stores and distributors is more constant. That's why we decided to pack honey ourselves and distribute it to customers more directly."
Now, Walker Honey Company packs all of the 250,000 pounds of honey it produces each year and buys additional honey from other beekeepers. Some of the honeys are blended together and sold to grocery store chains. One example is the Walkers' brand, Lone Star Honey, which is marketed through H-E-B stores in Texas.
The remainder of the honey is sold in different monofloral varieties directly to customers from their retail store on U.S. Highway 190 near Rogers, Texas, outside of Temple. Monofloral honey, each with its own distinct color and flavor, comes from the nectar of one specific crop, like cotton honey from Central or West Texas or huajillo honey from South Texas.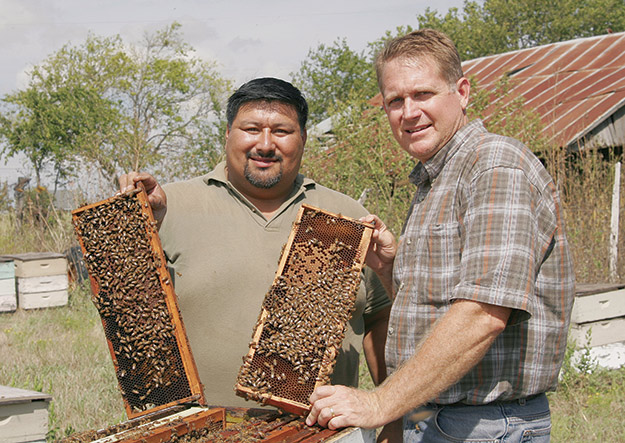 ---
"If we can pack all that we can produce, that's where we want to be," Walker says. "We're not trying to compete with the major processors, because we're offering a different product. They filter down to 10, or even as small as five, microns, providing the consumer with pure honey stripped of all the pollen. We filter to 50 microns to retain all of the natural pollen and phytonutrients, because most people want natural unprocessed honey. Plus, we can get honey from the beehive to a customer's cupboard within two weeks."
Making a Case for New Space
In addition to producing and packing honey, Walker Honey Company breeds stock for other beekeepers, offers pollination services and is a distributor for Gamber Container, Inc.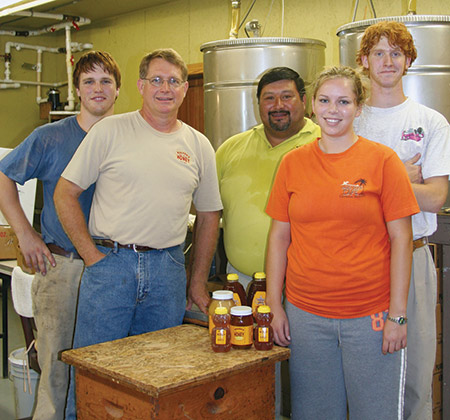 To have such a diversified operation, the Walkers first decided that they needed new space. Their facility in Rogers, where they had been headquartered since 1963, was almost 90 years old and could no longer accommodate the growing business.
In 2001, they built their current retail and office space. Then, two years later, they approached Texas Land Bank in Temple about financing an expansion. With the additional space, they could bring all of the operations to one location.
"The entire staff were so easy to deal with … they were all so accommodating." Walker says. "I've never had a banking experience that has been as smooth and profitable as my relationship with Texas Land Bank."
The Walkers' expanded business site now has storage facilities, a room for bottling the honey, and an extraction room, where honey can be taken from the hives at a rate of 10,000 pounds of honey per day.
He Thought He Wouldn't Be a Beekeeper
When Clint and Janice took over the family business in January 1994, he became a third-generation beekeeper and honey producer. The Walker family has had bees in Texas since 1930, when the business first opened in Milam County.
Janice serves as the business' chief financial officer and bookkeeper, while Clint runs the operations and stays active as an advocate for the honey industry. He is past president of the American Beekeeping Federation and currently serves on the executive committee of the National Honey Board. He speaks to beekeepers and others around the region, promoting honey and its products.
Despite his enthusiasm for the honey industry today, Clint Walker never expected to take over the family business. Instead, he set out for the ministry, earning his doctorate in religion from Baylor University. He and his family lived in California for four years while he ministered at a church there. Then, in 1993, he and his wife made the decision to rear their two sons, Clinton and Jonathan, on the farm instead of in fast-paced Los Angeles.
"It was a quality-of-life decision for us," Walker says. "At this point we are all very pleased that we made that decision a dozen years ago."
-Staff
Honey Varieties Sold at Walker Honey Company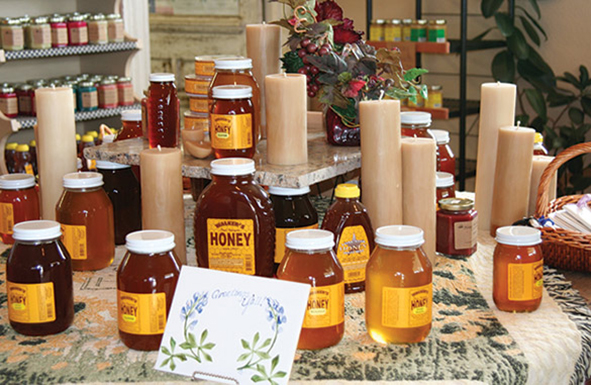 ---
Central Texas Wildflower – A multifloral honey produced primarily in the Texas Blacklands from whatever flowers are blooming in May and June, such as horsemint and Indian blanket. Bluebonnets, however, are not used by bees to make honey, because the nectar in the blossoms is too deep for a bee to reach.
Yaupon Holly – A monofloral variety produced in Texas' Post Oak Savannah, which stretches from Austin to Bastrop and Giddings. It is a balanced, full-bodied honey, whose slight bitterness counters its sweet taste.
Huajillo (wa-hee-yo) – A mild, light honey, whose taste has a hint of smokiness. It is produced south of San Antonio in the Texas brush country. Huajillo is a bushier cousin to mesquite.
Cotton Blossom – The high level of glucose in this medium-bodied honey gives it a very sweet, but otherwise indistinctive, flavor. It is produced in the Central Texas Blacklands, in the Brazos Valley and in West Texas. This honey is sold as either an unheated, unstrained crystallized honey or a creamed honey.
Orange Blossom – In Texas, this honey is produced in the Rio Grande Valley. However, Walker Honey Company sources their orange honey froms California, Florida or Texas — whichever state has the best honey each crop year. The fragrant honey is usually light in color and mild in flavor and has a light citrus taste.
Florida Tupelo – One of the world's best-known honey varieties, which is produced in the swamps of north Florida and south Georgia. It has a distinctive flavor reminiscent of anise and is not very sweet.
Wild Buckwheat – This dark, pungent honey has a heavy caramel flavor, almost like molasses. It is produced in Upstate New York and in other northern-tier states.
Blueberry – Almost all commercial blueberry honey is produced in Maine. It has a light amber color and a strong, sweet flavor.
Clover – Not produced much in Texas anymore, this variety now comes from the Dakotas and other Midwestern states. It has a sweet, pleasing mild taste.
Star Thistle – A very thick honey with a low moisture content; it has a buttery smooth flavor. This variety is produced in Idaho and eastern Washington.
Purple Sage – Produced commercially only in California, this variety is light in color and heavy-bodied with a mild flavor.
---