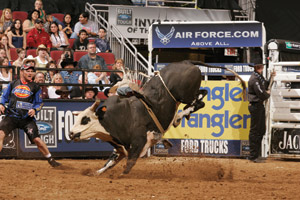 On a cool fall evening, with a light mist falling, Brent Judice steps down from his truck and walks among the 30-some two-year-old bulls milling about the pasture. The burly creatures had come running when the feed truck drove through the gate.
"These are the babies," he says, emptying a sack of range cubes on the ground. "When they're three years old, we'll go through them and see which ones buck and which ones don't."
Some cattle breeders might cull out the bucking bulls, but not Brent, who's a Panhandle-Plains Land Bank customer. The better the bulls buck, the more valuable they are to him and his family.
Doing business as BAJA Cattle Company, the family raises bucking bulls for the Professional Bull Riding circuit and the National Federation of Professional Bull Riders. In fact, the younger bulls in this pasture are all sons of Jack Daniels Happy Hour, a bull who's a regular at the Professional Bull Riders' finals.
"If you've got them in a small group, you can do anything you want with them. It's when they're alone that you might have a problem." — Brent Judice
While Brent manages the operation here on the ranch, his brother-in-law and partner, Brad Johnson, who attended Texas A&M University on a rodeo scholarship, works during the week as a banker.
Their star athletes are in another pasture across the highway, here in the northern tip of the Texas Panhandle. They are the bulls that can give rodeo cowboys nightmares. If a cowboy's attention wanders for only a split-second, they can send him to the hospital or worse.
Easier to Handle in Groups
But Brent claims that the bulls are not particularly difficult to handle.
"You give them plenty of room," he laughs. "If you've got them in a small group, you can do anything you want with them. It's when they're alone that you might have a problem."
That was the case in Platte City, Mo., earlier this year, when Brent was helping to clear the rodeo arena of one of his bulls. As he tried to get the bull to move, it turned on him and threw him up in the air.
"It was just a young bull," he says. Nonetheless, he suffered a swollen pancreas.
"Both Brad and Brent have been injured trying to load bulls," says Sandy Judice, Brent's mother, "or trying to get them out of the arena."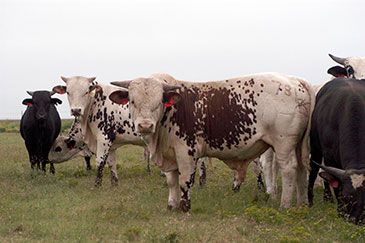 Brad went into work his first week on the job at an Amarillo bank with a badly bruised leg. "It took him about four or five months to get past that," Sandy says.
The family's star bulls are larger, more muscled and more experienced than the two-year-olds that Brent hand feeds. They are also more territorial. One of his main herd sires, San Clemente, is off by himself in the belly-deep grass of the improved pasture.
Brent gives San Clemente wide birth. He and his father, Sammy Judice, circle the bull slowly in the feed truck, making a careful visual inspection. San Clemente, for his part, turns to face the intruders in his pasture like the combat veteran he is.
BAJA Cattle Company's herd sires can be traced back to two world champions, a reserve world champion and a National Finals Rodeo bull. "It's pretty good breeding," Brent says, "and that's what we're passing on to our cows."
From Bull Riders to Bull Breeders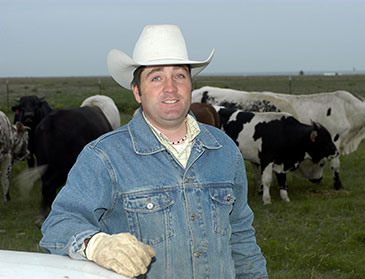 Here on the family ranch just south of Perryton, Texas, Brent and Brad started riding bulls in the ranch arena some 10 years ago.
"That's how this deal started," Brent says. "We got into the breeding end of it maybe six or seven years ago."
Both men are former rodeo bull riders. "My brother-in-law was a professional bull rider," Brent says. "I was just an amateur. He was a PRCA cardholder. I was a PRCA permit holder."
As competitive riders, Brent and Brad both recognized that old bulls found at sale barns usually don't make the best professional rodeo stock. Occasionally, a "gem" turns up, but they saw a need for a more scientific approach to the breeding and conditioning of bucking bulls.
They invested in Plummer bloodlines — a line of bad-tempered bucking bulls bred by the late Charlie Plummer of Sayre, Okla., beginning in the 1960s. The bloodline actually dates to the 1940s, when the late Tom Harlan, a cattle breeder and rodeo organizer from nearby Kellerville, Texas, started breeding these cattle, whose lineage can be traced back to ancient England. BAJA Cattle Company's Plummer-bred stock came from Wardie Cordell in Childress, Texas, who produced the Jack Daniels Happy Hour line.
The Judice family now uses artificial insemination in their breeding program and, this year, they're moving to an embryo transfer program.
Treated Well and Fed First
With a significant investment in the herd of 50 cows and 85 bulls, BAJA Catttle Company sees that the animals are treated well. "They do eat the groceries," Sandy says. "They take a lot of grass."
The Judices supplement the grass with a specially mixed feed, and they maintain close ties with veterinarians at Oklahoma State University and with Hi-Pro feed nutritionists. "We've worked with their nutritionists, and they've formulated feed for us," Brent says. "It's specifically for bucking bulls."
Sandy claims that the bucking bulls are better cared for than almost any other ranch animal. "They eat well," Brent says, "even when they're on the road."
The bulls generally travel in their own 18-wheeler, with Brent along to take care of them. "We never leave them on the trailer more than eight hours," he says.
When they're on long trips, the bulls are unloaded and rested, and fed and watered.
"They get fed before we do," he says.
After all, they are prized athletes. "They have to perform eight seconds a week," says Sandy.
---