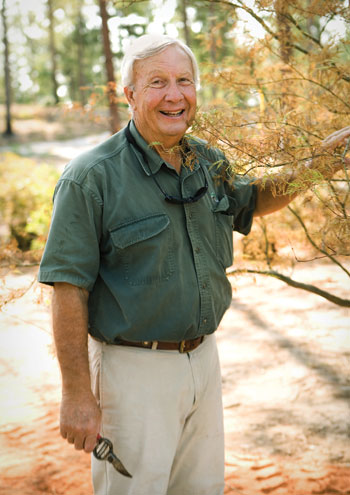 During his 27-year college football coaching career, former Auburn University coach Pat Dye was well known for his intensity during games. Today, milling around his southern Alabama farm, meticulously pruning Japanese maple trees, it's easy to see a familiar fire in his eyes.
"It's not something you can turn off," Dye says of the trait. "People ask me all the time if I miss coaching. When I left, I decided I could live without it, but it took me a long time to make that decision."
Dye's passion has not been turned off; it's just been redirected. The coaching legend now puts the energy and effort from his football days into his farm near Notasulga, Ala. In a custom-built log cabin perched on the banks of a pond, Dye is at home among the trees — most of which he planted.
"Everybody knows him as a football coach, but not many people know what a great conservationist he is," says Louis Kennedy, vice president and branch manager of the Federal Land Bank Association (FLBA) of South Alabama's Opelika office, where Dye is a customer. "His land is in much better shape now than when he bought it, because he takes such good care of it and works hard to improve it."
"Everybody Should Learn Something About Trees"
Dye estimates that he has planted "thousands of trees" on his property, including oak, birch, pine, willow, poplar and his new favorite — the Japanese maple. Despite the large number of trees, Dye can recall specific details about many of them and makes sure each one receives special care.
When asked why tree farming captured his time and attention, Dye responds matter-of-factly. "Trees are interesting," he says. "Everybody should learn something about trees."
Planting a Japanese Maple Garden
Dye recently purchased 680 maple trees from a nursery that was going out of business, and is planting many of them alongside a waterfall and creek he developed. Water from the pond is pumped into the waterfall to resemble a spring-fed water source, and the water flows down the creek, back into the pond.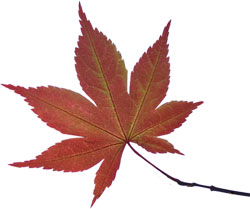 As he inspects some of the newly transplanted trees beside the creek, he explains that he sees the Japanese maple garden for what it will be, not what it currently is. That vision shows Dye's intent to make a lasting, and positive, impression on the land.
"My goal is to develop a Japanese maple garden that people will enjoy forever," he says. If a constant moisture level is maintained, Japanese maple trees can have very long life spans, and take on different colors throughout the year, depending on the variety and season.
Coaching Trees
Jimmy Bassett, a longtime friend and an FLBA of South Alabama director, owns a sod farm and nursery and met Dye through his business. He has witnessed firsthand the care that Dye has put into ensuring that the garden — and every other tree he's planted — has a bright future.
"I've seen him care for and keep alive trees that should have died. I don't know if he's coaching trees or what," Bassett remarks. "His place is in great shape, but he's just getting started. It's just great to see someone so
excited about what they're doing."
Dye's enthusiasm for nature is also evident in the design of his home. He moved permanently to the farm in 1998 and built the rustic house, surrounding it with numerous trees. With tree trunks built into the fireplace and a roughly-cut wooden wrap-around porch, the home also reflects his unique personality.
"I made it different," Dye says. "It doesn't have to be the best or the prettiest, but I want it to be different and to have my personality. I don't want people to come in here and say it looks just like someone else's place."
Guest Lodges for Hunters
Dye's appreciation for the land began early in life. Raised in rural Blythe, Ga., he helped on his family's farm, where they grew cotton, corn, peanuts and grain. Like most kids who grew up in the country, he liked to hunt.
These days, Dye shares that pastime with others and opens his farm for commercial hunting. From October through March, his Crooked Oaks and Auburn Oaks guest lodges host quail hunters looking to experience some southern hospitality and, of course, visit with Dye. Crooked Oaks hunting lodge is home to his football memorabilia, including photos, awards and news clippings. Both lodges also can accommodate weddings, corporate retreats and other special events.
A Loyal Land Bank Customer
Another aspect of country living that Dye enjoys is his relationship with the FLBA of South Alabama. He has owned several pieces of property over the years, and has remained a loyal Land Bank customer throughout.
"I've been a customer for 30 to 35 years. I like the people, and I like doing business with them," Dye states. "It's been a great partnership."
A Whole Other World Away From the Farm
With the farm just a short distance from Auburn, the university still plays a big role in Dye's life. He serves as a special advisor to the university president and is a regular at home football games. He is also hired for speaking engagements throughout the year. "There's a whole other world I participate in," he says, referring to life away from the farm.
While Dye is not one to sit on the porch and remain idle, he admits that his favorite aspect of his new life is the peace and quiet.
"The only thing we can hear is the train going by a few miles from here," he says. "It's like living in paradise."
– Staff
Dye's Football Roots Run Deep
Courtesy of Auburn University
Dye's first coaching opportunity came in 1965 when he was hired as an assistant defensive coach alongside Coach Paul "Bear" Bryant at the University of Alabama. He worked with Bryant for eight years, during which time Alabama won two national championships and five SEC (Southeastern Conference) championships. He went on to be a head coach at East Carolina University (1974-80) and the University of Wyoming (1980), but is best known for his tenure as the head coach at Auburn University (1981-92).
While head coach at Auburn, Dye had a 99-39-4 record and racked up the following honors:
Four SEC championships and nine bowl games
Four-time SEC Coach of the Year
1983 National Coach of the Year
Produced 85 NFL players, including Heisman Trophy Winner Bo Jackson
Dye was inducted into the College Football Hall of Fame in 2005. That same year, the playing field at Auburn University's Jordan-Hare Stadium was named Pat Dye Field in his honor.
Although he will forever be associated with Auburn University, Dye played collegiate football at the University of Georgia. While a player at Georgia, he was named an All-American, All-SEC and Academic All-American team member twice. Dye was also the SEC Lineman of the Year in 1960.
---