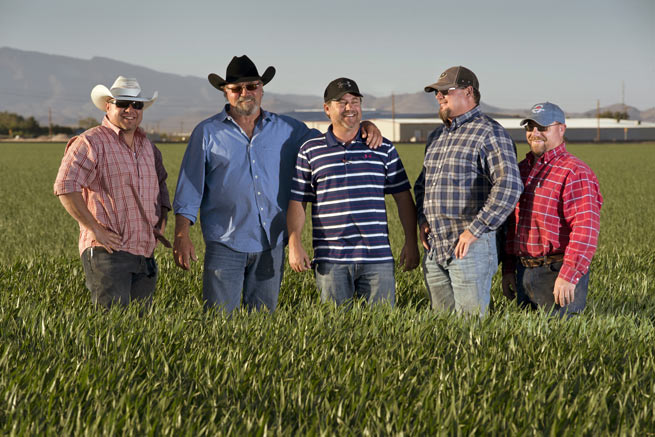 ---
With names like Billy the Kid Produce and Young Guns Produce, you might think these southwestern New Mexico businesses live in the past. As it turns out, they're two of the most up-to-date processing operations in the state.
William "Billy" Franzoy owns one-half of Billy the Kid Produce, and his son and daughter-in-law Chris and Tammy Franzoy own the other half. Three years ago, they gutted the old Billy the Kid chiledehydrating plant in Deming and assembled a state-of-the-art, 110,000-squarefoot onion-drying facility. With their new automated packing technology, they pack white, yellow and red onions into a variety of packaging sizes, but 50-pound units make up the lion's share.
"We now ship more than 1 million 50-pound units of onions every summer, making us one of the largest onion processors in the state," Chris reports. "We load about 25 truckloads a day."
Green Chile Goodness
If you love green chile dishes, you're probably familiar with the famous chile peppers from Hatch, which is about a 45-minute drive northeast of Deming. Young Guns Produce has processed chile here since 1986, and continues to pack fresh green chile. In 2011, Chris and Tammy took a leap and gutted their existing facility, and now operate a modern 50,000-square-foot processing facility in Hatch. Their Hatch Green Chile Factory LLC fire-roasts, freezes and packages green chile, as well as sun-dried red chile purée.
"We supply fresh green chile to major grocery chains during the harvest season in the fall," Chris says. "Adding the ability to freeze chile allows us to market our products year-round to grocery and foodservice customers across the nation, which stabilizes our business."
In all their ventures, Chris says, "we are meeting consumer demand by adding value to our products, and we're vertically integrating — building a more direct line to the consumer."
Investing in high-tech packing equipment for onions and chile also has helped the Franzoys remain competitive in a global marketplace.
"It's made us more efficient," Chris says. "We've reduced our costs and our labor needs." The Franzoys employ about 100 people at both companies.
Shot In The Leg
Billy Franzoy earned his nickname as a boy.
"When he was 3, he accidentally shot his brother Jerry in the leg," Chris explains. "They called him Billy the Kid after that."
Later, it seemed natural to name his business Billy the Kid Produce. Today, you'll find the Billy the Kid brand on the family's onions, along with the Young Guns and Four Sons brands.
Besides Chris, Billy has three other sons: Mark, Brian and Justin. These days, Billy, Mark and Brian spend most of their time farming. Justin, the youngest, manages the day-to-day operations at Billy the Kid and is the production manager.
The family also processes and markets produce for other area farmers.
"These farmers are just as passionate as we are — they do a great job of farming and are very important to our companies," Chris says.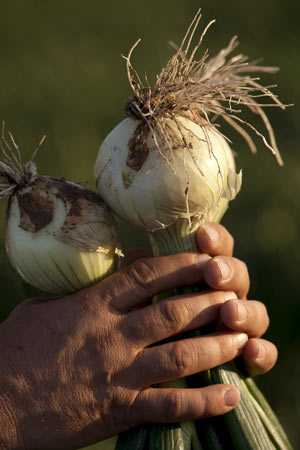 From November to March, Chris visits potential clients. During the summer months, he mostly sells from his desk. He also breaks away to travel to food shows, while Tammy juggles business with family activities involving their sons Jacob, 20; Tristan, 17; and Tyler, 15; and a daughter, Jordan, 13.
"I owe so much to my wife for holding down the fort while I'm away," Chris says. "Farm life is very demanding, but it's been a joy, and it's a great place to raise our children."
Pumpkins, Pecans and Field Crops, Too
Combined, Billy, Mark and Brian grow chile, onions, pumpkins, pecans, pinto beans, alfalfa, wheat and silage corn on about 2,500 acres. They plant onions from September to March, and harvest onions all summer. Chiles are planted in March and April and harvested green in August and September, using specialized field equipment. Some peppers are left in the field to turn red as they dry in the sun; they harvest these red peppers later in the fall.
For New Mexico growers who irrigate using river water, the state's ongoing drought is creating tough times. The Rio Grande River dried up before reaching Hatch last year and this year. Fortunately, the Franzoys irrigate almost all their crops with groundwater pumped up from wells.
In recent years, the family has installed subsurface drip equipment.
"It's a significant investment, but it's the most efficient of all irrigation systems," Chris says. "It applies just the right amount of water to the root of the plant. We have stayed on the cutting edge of technology in farming and in both of our packaging facilities."
What makes the region's chile and onions so great? Beyond the warm, sunny New Mexico climate, "the quality of water and the sandy loam here equal great-tasting produce," Chris says.
He and his brothers represent the fourth generation of Franzoys to farm in the area. Their great-grandparents emigrated from Austria and homesteaded 250 acres in the early 1900s. Today, the family tree has grown to include about 700 people. Not all of them raise crops, but Chris estimates that the extended family farms more than 15,000 acres.
"Bar codes allow produce to be tracked from the farm to the table in minutes. In the event that something happens with distressed or contaminated produce, we'll be able to trace the problem to the source." - Chris Franzoy
"We all compete with each other!" Chris says, laughing.
Focus on Food Safety
Today's consumers demand a safe food supply, especially when it comes to produce, and Chris predicts that the demand will only escalate. Toward this end, the Franzoys recently implemented new computerized systems in their processing plants, including the Produce Traceability Initiative (PTI).
"Bar codes allow produce to be tracked from the farm to the table in minutes," Chris says. "In the event that something happens with distressed or contaminated produce, we'll be able to trace the problem to the source."
The facilities are also certified through the Global Food Safety Initiative (GFSI).
"A third-party auditor, Primus Laboratories, certifies that we maintain good agricultural and manufacturing practices," Chris says. "We score very high."
Financing Makes Expansion Possible
The Franzoys plan to continue adding value to their produce and their business model. Chris foresees Hatch Chile Factory making ready-to-eat frozen dinners, and Young Guns offering chopped and sliced onions.
The need for capital has grown as the Franzoys have expanded, and Ag New Mexico, their Farm Credit lender, has provided much of their financing.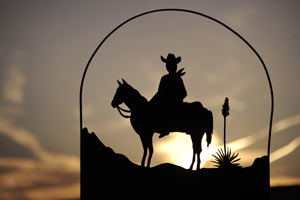 "The Franzoys are always looking to the future," says Warren Russell, a Farm Credit Bank of Texas relationship manager based in Las Cruces. "They continually update their farming and processing methods. They have a good story to tell about how you can successfully make major changes, expand, and create new ventures."
It's been a fruitful partnership. Chris in turn appreciates Ag New Mexico's ability to visualize the benefits that growth would bring.
"Ag New Mexico allowed us to capitalize on an opportunity to vertically integrate and bring in new packing technology," says Chris. "With their help, we were able to reduce costs and sustain our business."
– Nancy Jorgensen
For more information, visit younggunsproduce.com
Posole Verde
(Green Chile Posole)
2 pounds diced boneless pork
3 tablespoons shortening
1 cup flour
1 tablespoon black pepper, ground
1 tablespoon crushed dried Mexican oregano
1 tablespoon fresh chopped garlic
1/2 tablespoon salt
2 29-ounce cans white or golden hominy
Water
2 pounds roasted, peeled and chopped mild green chile,
fresh or frozen (Young Guns recommended)
1 medium onion, diced
Combine flour and spices in a large bowl. Roll diced pork in flour mixture, then shake off excess flour. Set aside. In a large, heavy stockpot or cast iron dutch oven, melt shortening until very hot. Crisp the pork in shortening until dark brown. Do not drain.
Add both cans of hominy with liquid. Fill one can with water and add to pan. Bring to a rolling boil for 15 minutes, then reduce heat to low. Cook for 45 minutes. Add chopped mild chile and diced onion. Cook for 1 hour.
Garnish with diced fresh green onion, fresh chopped cilantro and fresh lime. Serve with flour tortillas or cornbread.
---