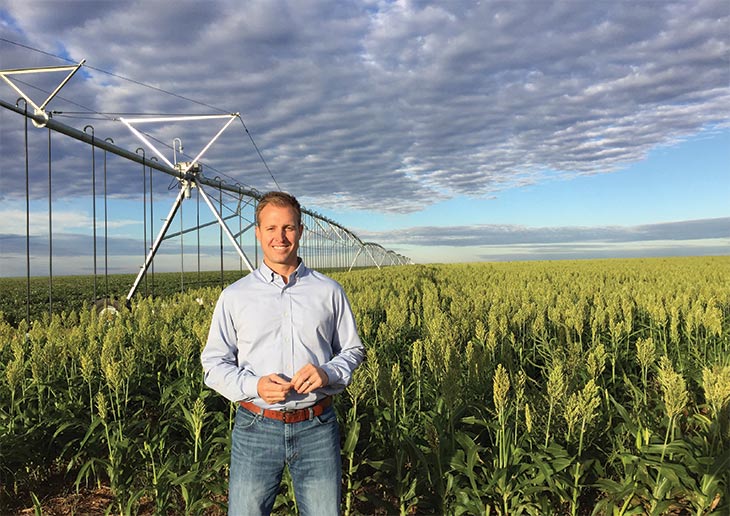 ---
When Nordstrom, the high-end retailer, was in the news last spring for selling $425-per-pair "heavily distressed" jeans designed to look like they had mud caked on them, many in America laughed.
But cotton farmer and AgTexas Farm Credit customer Jeremy Brown saw an opportunity to educate consumers: He took to Facebook, posting a photo of his own worn-out jeans, distressed from hard work growing the crop that jeans are made from.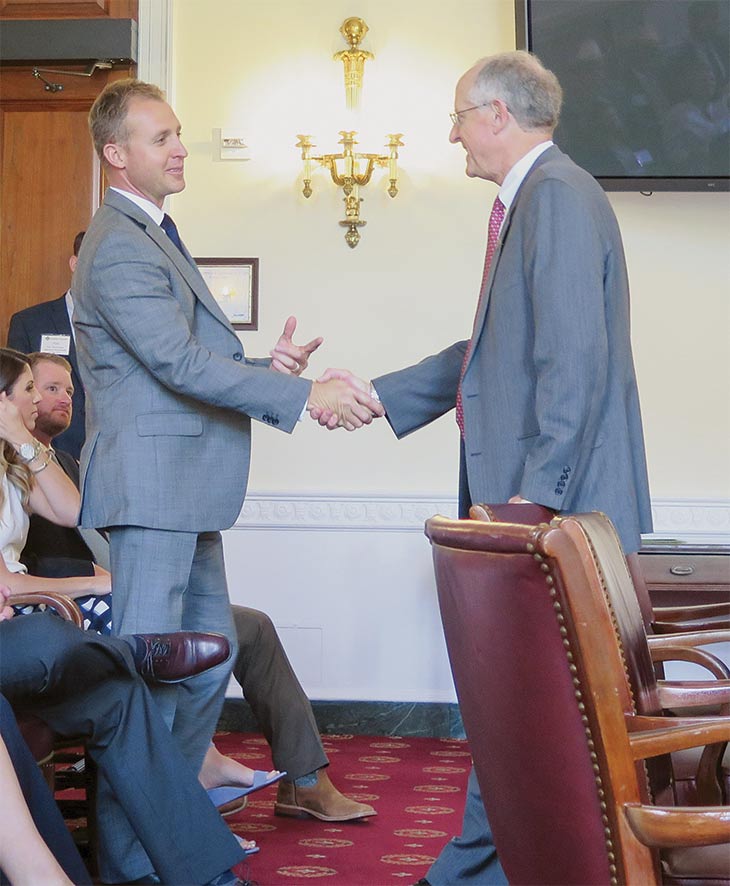 "Hey Nordstrom!" his post read. "I would be glad to sell you these jeans for $450. These jeans are actually worn by a real American cotton grower that you pay maybe $0.65 a pound for the lint. If you don't know, an average bale of cotton weighs 500 pounds. You can make 215 jeans out of one bale of cotton. Doesn't take a mathematician to see who is not getting a good deal. Support the American Farmer and buy more cotton!"
But that's just one example of this passionate grower's agricultural advocacy efforts.
Taking a Broad View
After earning a bachelor's degree in agricultural communications from Texas Tech University, Brown went to work for U.S. Congressman Randy Neugebauer. He enjoyed the work, but the farm was calling him back. He answered the call in 2009, and has been growing cotton — both traditional and organic — peanuts, grain sorghum, corn and wheat ever since.
"I tried to do different things, but I realized I didn't want to do anything else but farm," Brown says.
His farm operates under the name Broadview Agriculture, which has a double meaning for Brown.
"Where we farm out here on the South Plains is pretty broad," he explains, referring to his flat, wide-open land between Lamesa and Brownfield. "Plus, we really try to take a broad view in the way we farm. From diversifying crop rotation to focusing on soil health, we just try to have a bigger view and a more long-term view."
Brown says that his family is always assessing new techniques and new technologies to make sure the farm is sustainable now and into the future. 
Telling His Story
Part of that sustainability puzzle lies in consumer confidence. That's why he is dedicated to telling his story and the stories of other farmers as often as possible.
"There are a lot of theories out there about what farmers need to be doing and how they need to farm," Brown says. "But when it comes down to the practicality of it, those ideas don't always work. They might in a perfect world, where we didn't have to deal with weeds or pests or drought. But not in the real world."
Brown says he frequently is questioned about what he does on the farm — how he uses pesticides, for example — and he's always happy to respond.
"I think there's this idea that we're just spraying chemicals all the time. I try to explain we don't want to use those unless it's a need-basis situation," he says.
Facebook is his outlet of choice for consumer education, but he also has created YouTube videos showing how he promotes soil health.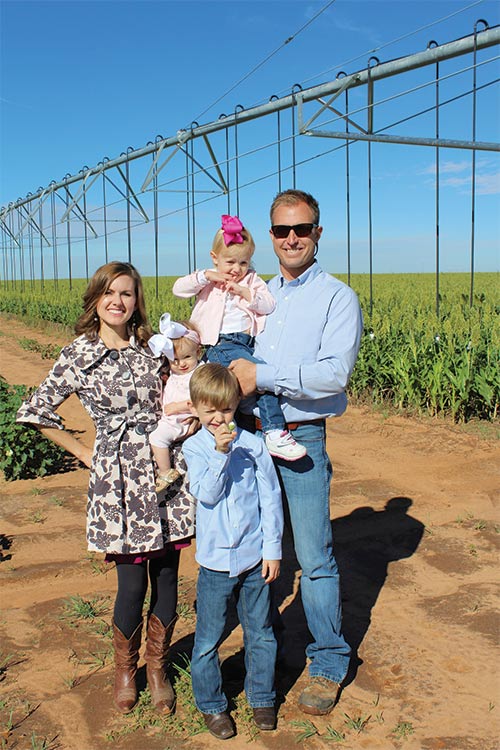 Faces of Farming and Ranching
Brown's "agvocacy" efforts haven't gone unnoticed. Last year, the Texas Farm Bureau asked if he would consider entering the Faces of Farming and Ranching competition, a program of the U.S. Farmers & Ranchers Alliance (USFRA). If he was interested, the Farm Bureau would provide him with the tools to help him be selected. He was, and they did. Brown says Farm Credit Bank of Texas and Plains Cotton Growers also offered invaluable help as he competed against other farmers and ranchers for the chance to be an agriculture spokesman across the country.
In November 2016, he won a spot on the five-farmer panel, and since January, he's traveled the nation, sharing his story with consumers in places he would have never expected.
"Probably the weirdest experience was being part of the Food and Wine Festival on South Beach, Miami, Fla.," Brown says. "We were out there, in a totally different element, interacting with consumers and talking to them about where their food and fiber comes from."
A few weeks later, he was headed to Nebraska to participate in a panel discussion on GMOs — a topic on which he offers an interesting perspective, as a grower of both GMO and non-GMO crops.
"I'm not one to say everything needs to be organic or non-GMO," he says. "That's a niche market, and there's a group of consumers who want that. I don't think GMOs are evil. I'm looking forward to talking about pros and cons and how real farmers really use different practices."
While Brown's official term with the USFRA program will conclude at the end of 2017, he says he will always be available to the organization when he's needed.
"The Faces of Farming and Ranching program is a great resource for people to get fact-based information about agriculture," he says. "It's nonpolitical. It's just the facts. I've really enjoyed the opportunity to be a part of it."
"Sometimes as farmers we just go to the gin or the local place and talk shop. But we need to get out there and advocate for what we're doing as farmers. There are groups out there who are totally against us, and they're loud."
– Jeremy Brown
Calming Consumers' Fears
His No.1 takeaway from serving in this role is that consumers are scared.
"There's a fear that American farmers are doing everything they can to harm consumers, from planting GMOs to not caring for the land," Brown says. "It's the furthest from the truth. We're feeding and clothing our own families, too, and this is something we take a lot of pride in."
He says the importance of agvocacy is growing rapidly, and it's something all farmers should take part in.
"We have to go beyond our fences," Brown says. "Sometimes as farmers we just go to the gin or the local place and talk shop. But we need to get out there and advocate for what we're doing as farmers.
"There are groups out there who are totally against us, and they're loud. If we don't get out there with a unified voice and combat that, then we're really doing a harm to the industry," he warns.
– Katrina Huffstutler
---