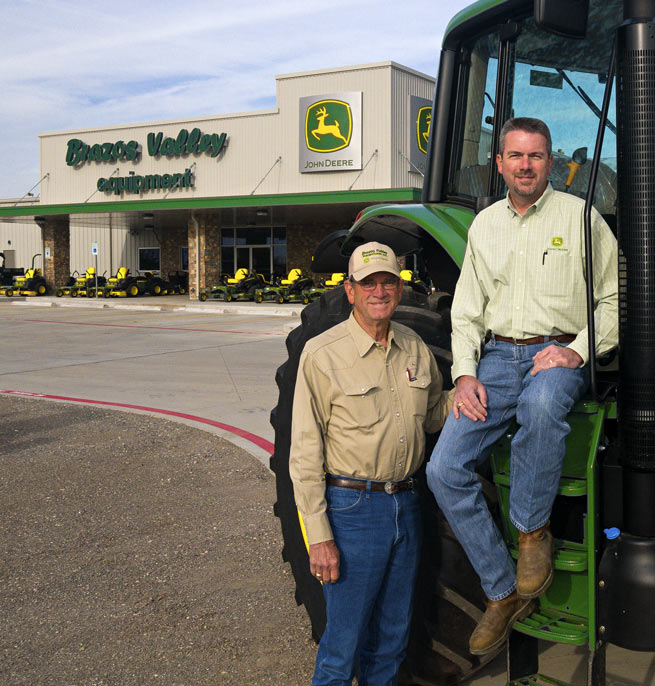 ---
Buying a piece of farmland is one thing. Purchasing a farm equipment dealership that could require all of your time and money is quite another.
It's no wonder, then, that Vince Neuhaus vividly remembers the day in 1980 that he and his wife, Suzanne, both in their 30s, drove into Waco, Texas, to sign the papers to purchase a John Deere dealership.
"We were on the elevator going up to the lawyer's office, and we looked at each other and asked ourselves, 'What are we doing? We could lose everything we have!'" he recalls.
Thirty-four years later, he shakes his head and smiles as he thinks about the risk that they took.
Fortunately, he says, "the Lord was watching over us."
Risk Pays Off
Not only did the risk pay off for the young couple, it turned out to be a pivotal business decision.
Today, their Brazos Valley Equipment Co., now owned by son Brent Neuhaus, operates in four locations — Waco, Hillsboro, Cleburne and Ennis — and serves a 16-county territory of central and north-central Texas. With both rural and urban markets on their doorstep, including the Dallas–Fort Worth metroplex, the company specializes in traditional large ag and hay equipment as well as lawn care equipment.
"We carry everything that's in the John Deere inventory, from riding lawn mowers to the largest harvesting equipment — everything except snow blowers," Brent quips.
Starting Young
The story of Brazos Valley Equipment actually begins in Texas' Rio Grande Valley, where Vince and his brother worked part time for a John Deere dealer, putting equipment together. After earning a bachelor's degree from Texas A&M University and a master's from Oklahoma State University, Vince returned to the Valley and worked for the local John Deere dealership. Then, for several years, he and his partners operated a cattle-feeding equipment business, first in San Antonio and later in New Braunfels. But his passion for big green equipment remained.
Along the way, a seasoned machinery dealer offered Vince what turned out to be sage business advice — to invest in a county-seat town in central Texas. More advice came from Vince's brother, who recommended that he look for a John Deere dealership near Dallas, where the economy was strong.
Settling in Central Texas
In 1978, Vince moved his family farther north to Robinson, on the southern fringe of Waco, where he took a position with the local John Deere dealership and rented a piece of farmland. The following year, the owner offered to sell him the business.
It took six months for Vince and Suzanne to secure financing for the purchase. Finally, they took ownership of the company, with $35,000 in operating capital and six employees — two of whom still work for the dealership — but the first few years were not easy. The business, which they renamed for the Brazos River that runs through their territory, was challenged by the farm financial crisis of 1981 through 1986.
Farming on the Side
To supplement income from the dealership, Vince continued to farm, planting corn at night and tending cattle before and after business hours. Having his own farm, he notes, allowed him to understand the issues that his farm customers were facing.
"Two or three times I had to sell some calves to make payroll," he admits. "Thank the Lord I had a good wife."
He also had three children to help with chores. One in particular, Brent, took an interest in the farm and the equipment business. By age 11, Brent was cultivating corn. Before he started high school, he was farming 180 acres that he'd financed and managed himself.
A Young Agribusinessman
"Mom said I always took things apart and surprisingly put them back together, but I never would call myself a mechanic," Brent says. But he showed definite signs of becoming an agribusinessman at an early age, winning several small grains awards and earning his FFA American Farmer degree based largely on the detailed records he kept.
"I used to just pore over that stuff; I loved it," says Brent. "I'm analytical by nature, so not much gets by me."
In 1992, Brent graduated from Texas A&M University with a degree in agricultural economics and joined the dealership full time, working first in sales and later sales management, as he had worked in parts and service during summers in high school.
Taking the Business Online
The timing couldn't have been better. From 1992 to 2000, John Deere introduced numerous Web-based products, including an online inventory, and asked dealerships to take more responsibility for inventory and parts management. Brent, with his computer skills and recent training in technology, managed Brazos Valley's move into online applications. He also began to look at new markets.
"Customers are looking for us to help them with technology and to be a leader in data enablement." - Brent Neuhaus
"Being a farmer, I was focused for so many years on taking care of our farmers," Vince says. "Brent started pushing the small ag business side when we still had a single store. He has a knack for new ideas and identifying opportunities I can't see."
In 1997-98, Brazos Valley Equipment reached beyond the traditional agricultural market to offer turf equipment, a line that has continued to grow every year since. The following decade saw the company challenged even more, as demand for technology-enhanced equipment grew. To better understand how technology could work for their customers, the Neuhauses applied the new precision-focused technologies on their own farms.
"We were early adopters of yield mapping and auto-track technology," says Brent.
Expanding to Four Locations
In 2004, Brent purchased the company from his parents and soon began looking at expansion opportunities.
"John Deere can see the economies of scale," says Vince, "but we fought the multi-store concept early on."
Under Brent's leadership, Brazos Valley Equipment purchased the Hillsboro dealership 35 miles up the highway in 2007, followed by dealerships in Cleburne and Ennis in 2009.
With each purchase, Brent turned to Lone Star Ag Credit, the lender that Vince has used for real estate financing since 1984. The Farm Credit cooperative financed the dealership facilities in Hillsboro and the real estate for the Cleburne and Ennis stores. Earlier this year, Lone Star Ag Credit also financed a new 27,000-squarefoot retail and service facility at the Ennis location.
"Whether it's farmland or facilities, Farm Credit has been able to give us terms and structures that we probably couldn't have access to at any other financial institutions," Brent says.
"And then they always pay patronage — and who doesn't like to get money back?" Vince comments.
Teaching Customers
These days, Brazos Valley Equipment's 100 staff members are increasingly focused on technology and data management, and the company employs an integrated solutions manager who trains both employees and customers.
"Customers are looking for us to help them with technology and to be a leader in data enablement," Brent says. "It's important for us to maintain relevancy with them."
The dealership hosts field days and clinics to teach farmers how to use cellular and satellite-based technology to operate the latest farm equipment. Brent and staff members also work with other agribusiness firms in a quest to improve equipment efficiency.
"Almost every trip across the field involves GPS precision-driven equipment that is collecting data, so the key is to learn from this data. By working with third-party fertilizer and chemical dealers, we can better understand how to use equipment more efficiently to maximize production," Brent explains.
Savvy Customers
Besides the changes in technology and productivity — one combine today can do the work of five combines in 1980 — the Neuhauses have noticed another change in in recent years.
"Customers have changed," says Vince, who remains on staff as an advisor. "It used to be people would stand around and talk to others for a while."
"Now, they've done their research before they come in," Brent explains, expounding on his dad's observation. He also points out that "uptime is important to people now. They want equipment that's ready to go when they are."
Reflecting on the growth of the agricultural and turf equipment industry over the years, Vince is thankful that he and his wife risked their savings to purchase this dealership. But at the end of the day, he also appreciates the opportunity to head out of town and get on one of his own tractors.
"I still love to put seed in the ground and pick up a newborn calf," he says.
- Staff
---