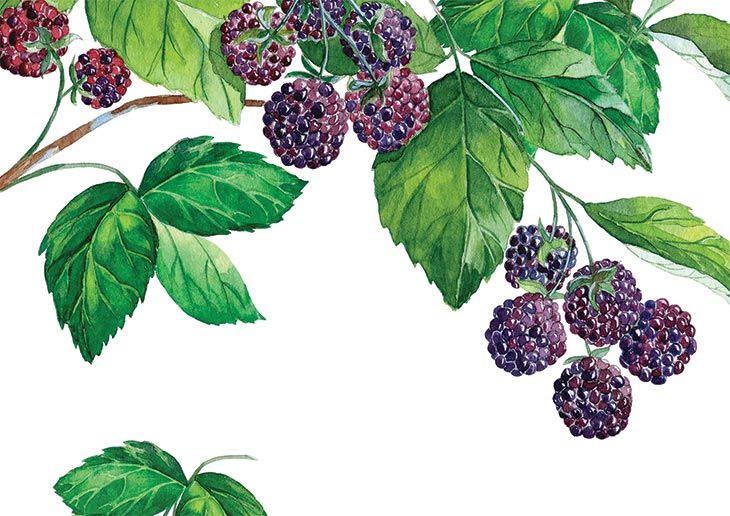 ---
Many folks who grew up in the South can remember picking wild blackberries, known as "dewberries," along the roadside and in pastures and fields from late May to early June. What a pleasurable experience to discover nature's luscious black jewels, even though you had to suffer a few pricks from the thorns as you picked them.
The good news is that today there are also many cultivated varieties of blackberries — from strains that are thorny or thornless to those that bear large-sized fruit to those with extended harvest times.
Gathering Berries at the Farm
Commercial blackberry growing can be profitable, and with the popularity of U-pick farms, there has been a greater interest in the crop.
"My family has been growing blackberries since 2012," says Judy Alexander of Panola Orchard and Gardens in De Berry, Texas, who currently grows 3 acres along with a large variety of other fruits and vegetables. "We had heard of their popularity as a U-pick commodity from other farmers, and decided to diversify with blackberries. The first year, we found that our supply did not meet the demand, so have steadily increased our acreage since then."
The Alexanders, Texas Farm Credit customers, sing the praises of their U-pick operation, and say that the experience for families is precious and gives children — and some adults — a valuable lesson about where their food comes from.
A Little Blackberry History
Native to North and South America, blackberries also grow wild and are cultivated in many parts of Europe and Asia. Throughout history, the berries and other parts of the plant have been used medicinally and for other practical purposes:
Ancient Greek physicians prescribed blackberries for gout.
Blackberry juice was used in Europe to treat infections of the mouth and eyes.
Native Americans made a tea from blackberry leaves to aid in digestion.
Concoctions made from the blackberry root, leaves and bark have been used to treat dysentery.
Native Americans pounded the canes, or stems, to make a strong fiber that they wove into a fabric. They also used the strong, thorny canes to build fences, and made dye from the berries.
Add Berries to Your Diet for Good Health
Consuming blackberries is excellent for your health. The berries
contain one of the highest antioxidant levels of fruits, as indicated by their rich black-blue color.
have properties that are thought to help protect against heart disease, cancer and diabetes.
are high in rutin, a bioflavonoid that helps support healthy blood vessels, which is good for the heart.
are an excellent source of fiber, vitamin C and minerals.
– Staff
Blackberry Sauce
This taste of summertime is quick and easy to make, and it's wonderful over ice cream, yogurt, pancakes or waffles.
1½ cups fresh blackberries
½ cup water
3 tablespoons sugar
1 teaspoon lemon juice
½ teaspoon lemon zest (optional, but tasty!)
Place all ingredients in a medium non-stick saucepan and cook on medium-high for 5 minutes, stirring occasionally. Put berry mixture into blender and puree until smooth. Then enjoy! Any remaining sauce, if there is any, can be refrigerated for up to two weeks.
---