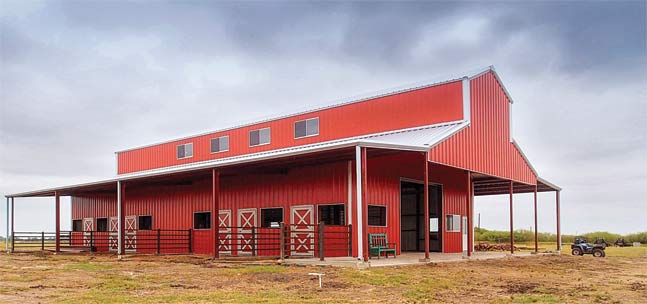 ---
Fire Escape
Newlyweds Brit and Brady Russell lead a hectic life. As a firefighter in Houston's downtown Fifth Ward, Brady commutes 89 miles each way to work. Brit teaches middle school math in the small Central Texas community of Burton. Even before they were married last January, the two shared a vision for a country home on their 110-acre tract that would provide a quiet escape to accommodate their other pursuits.
"We both love animals, and love to rodeo," says Brit, whose passion is Western horseback riding. Brady juggles a busy sideline business of custom hay baling. "We both liked the idea of a barndominium, and came up with the design ourselves."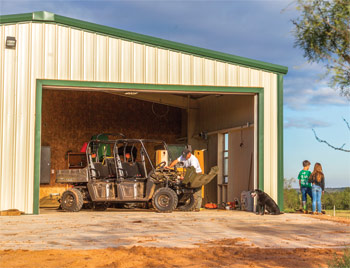 The 40-by-96-foot red metal structure includes 1,100 square feet of heated and cooled living space. The one-bedroom, one-bath living quarters span two floors, sporting Brit's eye for shabby chic Western decor. Downstairs, the kitchen features an industrial stainless steel sink salvaged from a local remodeling job, and stained concrete floors. A 12-foot-deep porch wraps the perimeter, ensuring shady overhang protection for the lower level.
Opposite the living quarters are six horse stalls. Two stalls are at the rear. The couple invested in galvanized custom gates for the stalls with built-in feed troughs. A tack room with a roller door is conveniently positioned for easier access. Oversized barn doors on each end accommodate tall hay-load deliveries.
"We chose a barndo because it was less expensive, and we wanted the convenience of having our home and barn in one place," says Brady, who chose Texas Farm Credit for the financing in part due to its patronage dividends. "We knew what we wanted with our space, and gave a lot of thought to how to maximize it."
Weekend Retreat
Amarillo homebuilder Shane Ward grew his business on traditional stick-frame construction. But lately, it's his barndo business that is keeping him busy.
"The first barndo I built was about seven years ago, before they even had a name. In the last three years, the term 'barndominium' has really become a household word in this area," he says — one that his own household is embracing.
Ward says the all-in-one metal building option was a nobrainer when he and his family started to envision a hunting retreat on their 610-acre recreational tract in Hall County.
"They are practical, efficient and low maintenance, but still allow a lot of flexibility," he says.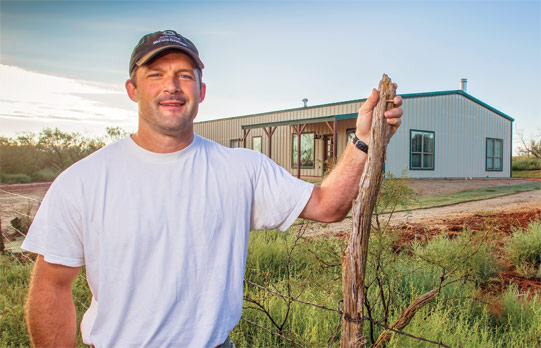 For their weekend getaway, the Wards wanted a simple and cost-effective design that would accommodate the couple and their four children. Their first step was to decide how many rooms they would need, and then calculate the square footage required. Ward's 40-by-70-foot tan metal structure features 12-foot-high walls and a green metal roof. Just over half the building is devoted to living space, including four bedrooms, two baths, and a great room that encompasses living, dining and kitchen areas. To keep costs low, they chose vinyl plank flooring that resembles wood.
"A lot of people choose stained concrete, but it is very laborintensive," he says. "The vinyl floors ran $2.50 per foot installed and will never need maintenance."
The remainder of the structure is an oversized garage for the family's ATVs and other vehicles. For maximum efficiency, Ward spayed foam insulation around the entire structure.
"Expect there will be things you wish you had done differently," says the Panhandle-Plains Land Bank customer. "That's just human nature. It won't be perfect."
But for barndo fans like the Wards, it might be pretty close.
Natural Beauty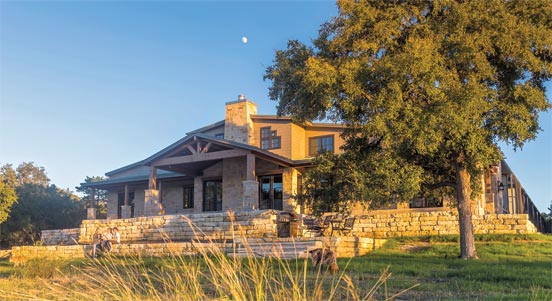 Kerry Walker's passion is dressage. So when she and her husband, Barry, purchased 308 acres outside Dripping Springs, Texas, 14 years ago, one of their first tasks was to construct a 90-by-245-foot covered riding arena, complete with overhead sprinkler system, drop-down perimeter screens and regulation footing. An adjoining basement houses four 16,000-gallon rainwater collection tanks that feed the sprinklers.
Almost immediately, though, the couple began to envision an adjoining living space that could leverage the existing roof structure. Their vision: a comfortable home to accommodate family gatherings, an observation room where she could watch over the arena and horses, and ample office space for Barry.
To fund construction of their barndominium, they turned to Capital Farm Credit to refinance their existing loan.
The resulting two-bedroom, two-bath masterpiece could grace the pages of an architectural design magazine. The exterior features native Texas Lueders limestone and massive stone and timber columns flanking deep porches. Beneath a green metal roof, 23-foot ceilings are accented with exposed beams. Knotty alder cabinets and rough-hewn wide-plank oak floors in some spaces add rustic personality.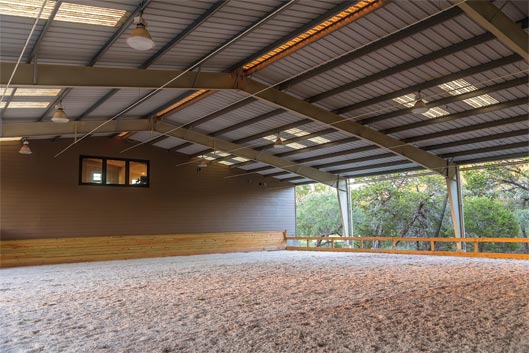 Upstairs, Walker's observation loft features a large window to the arena and pine floors she finished herself. Walker used rain glass panels to draw light from windows to the interior rooms. In other spaces, the couple opted for tracked barn doors to extend the Hill Country modern ranch ambience.
Every piece of metal is covered with spray-foam insulation to maximize energy savings. The rainwater tanks now supply water for both the home and arena.
"It was time-consuming," admits Walker, "but it was fun to see what we had envisioned come to life."
Country Comfort, Close In
When Kari Beth Nash needs to get to her job at the local hospital quickly, she's just a five-minute drive away. But when she's not working, her barndominium on 55 acres outside Wenasoga, Miss., is a quiet hideaway.
"I love that I can be anywhere in five to seven minutes, but when I'm home, I don't see a single neighbor," says Nash, director of lean promotion and patient experience with Magnolia Regional Health Center.
To achieve that close-to-work convenience with the privacy and space of country living at an affordable price, Nash opted to build a 48-by-58-foot structure that encompasses 1,160 square feet of open living space and a 1,500-square-foot multipurpose shop, part of which she plans to use as a gym.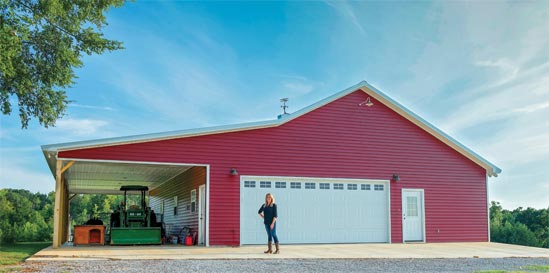 She turned to a local builder and family friend for the contracting, and to Mississippi Land Bank for the financing. After researching floor plans, Nash sketched a one-story, one-bedroom, one-bath plan with generous closet space.
"I didn't want to deal with stairs, and I love to cook, so I designed a big kitchen with long counters for baking and bar seating for entertaining," she says.
A 20-foot-wide garage door gives straight-in vehicle access to the shop. Along one side, a 16-foot overhang covers parking space, a patio and a fenced kennel for her large dogs. For energy efficiency, she specified roll-out insulation in the 4-inch walls and the roof.
"Originally I thought I would live here a few years, and then build a home," says Nash, "but now I think I just may stay here. It would be hard to match this."
- Sue Durio
---