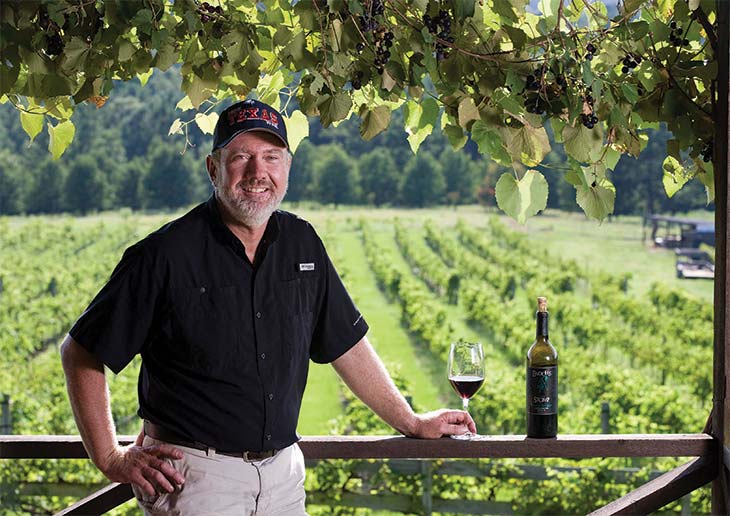 ---
Sixteen years ago, Altus Koegelenberg brought his family from South Africa to Northeast Texas, in search of a more secure life. A fifth-generation grape grower, Koegelenberg initially held little hope of following in the family tradition and growing grapes at his new home. After all, in 2001 there were only 74 wineries in the entire state and just one in his area.
But an introduction at church to local chemist and winemaker Jon Kral changed that, setting the stage for what today is a thriving vineyard, winery and event center.
With Koegelenberg's experience in grape growing and Kral's skills in winemaking, the two joined forces in 2004 to begin transforming an 85-acre horse ranch near Harleton, Texas, into Enoch's Stomp Vineyard and Winery. Today their operation, located north of Longview, spans 12 acres of vineyards planted in varietals ideally suited to East Texas conditions. These include black Spanish (also known as Lenoir), blanc du bois, Norton (or Cynthiana), villard blanc, champanel and chambourcin.
Enoch's Stomp also operates its own winery for processing and bottling on-site, as well as a 5,500-square-foot event venue and adjoining barrel room, restaurant and tasting room, plus catering services and a wine club. On Friday and Saturday evenings, guests can enjoy wine and live local music on the winery's large stone patio and deck.
"We originally thought we would produce a little bit of wine, and people would come out for some wine tasting and maybe a cheese tray," recalls Koegelenberg, "but Jon's idea was to one day open a restaurant with seafood or steaks."
Homegrown Steaks
The two turned to Legacy Ag Credit in Longview to finance the purchase of 16 Brangus cows and a bull.
"We had to bush-hog this land every summer. We knew we could use the land more effectively by running cattle on it, and could use the steak in the restaurant," Koegelenberg says.
The Enoch Restaurant started small with just three tables, but demand was so strong that soon food service was extended to the tasting room, as well.
"Now on a typical Saturday, we will have 300 to 400 people in the tasting room, deck and restaurant," says Koegelenberg.
Initially, visitors came primarily from the local area. To promote their wine regionally, Koegelenberg and Kral began working the wine festival circuit in Dallas and holding events such as their white and red grape stomps. Now Enoch's Stomp has more than 12,000 Facebook followers.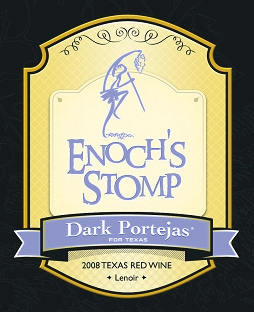 Teaching the Art of Winemaking
In addition, the partners host monthly events, which they promote through appearances on local television stations. One such event is their Stem to Stem course. Offered on Saturdays, the six-month program teaches the art of winemaking, from picking and crushing grapes to clarifying the wine and bottling the finished product. In the fall, Enoch's annual Pumpkin Stomp draws families for a day of fun benefitting a local church youth group, and the winery's holiday shop each December features wares from area vendors. By late summer, their 2017 New Year's Eve event was already sold out.
Enoch's Stomp wines are proving that Texas, and specifically Northeast Texas, can produce stellar wines, according to Koegelenberg. Since 2006, the winery has garnered more than 100 awards from international wine competitions. That recognition, coupled with local consumer demand, has spurred retail outlets to give them shelf space.
"The awards are important to show how good our wines are," says Koegelenberg. But the proof is in the taste. "People come out to the winery and like our wines, and they ask for them in their stores."
– Sue Durio
For more information, go to www.enochsstomp.com
---