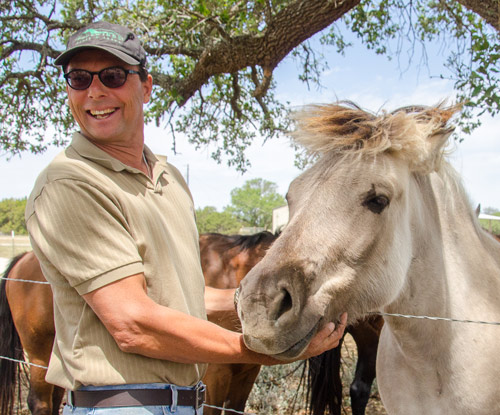 Cherry Edwards marvels when she reflects on the past few years of her life.
"I always thought I'd be living quietly at this point," says the native Texan, who grew up in Austin. "Then I bought this property in Burnet County for our horses, and it's been an amazing ride ever since."
In the beginning, Edwards, 69, had no idea that her FourWinds Ranch and Arena — named for the sweeping breezes that rarely let up from all directions — would turn into a commercial equine venture and horse-driving training center that continues to grow and evolve.
The 354-acre ranch, located 11 miles north of Burnet in Central Texas, offers miles of riding and wagon trails, an open-air arena, a covered round pen and a towering covered arena that's visible to passersby on U.S. Highway 281. And she's not even two years into the project yet.
Longtime Love of Horses
Edwards has loved horses since she was a girl, riding and tending them on her family's ranch near Austin. However, after breaking her collarbone in a riding accident, she shied away from them for 50 years.
"Then my oldest son got into horses, and he talked me into taking riding lessons from Jereny Johnson, a trainer at a boarding stable here in Burnet County," Edwards recalls. "Later, the opportunity came up to hitch my Norwegian Fjord, one of the world's oldest horse breeds, to a friend's wagon. After that, we were hooked on driving horses."
At the stable, Edwards became friends with horse enthusiasts Michael and Cat Berg, who'd both previously worked in finance and banking.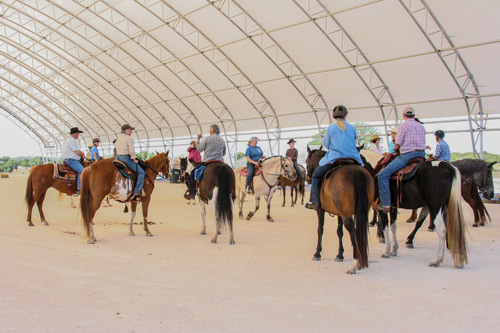 When the ranch where her horses were boarded went up for sale, Edwards decided to purchase her own place, and found the FourWinds property in northern Burnet County.
"When this one came up for sale, at first I thought the land was too flat," she says. "Then I realized it'd be perfect for driving."
In January 2012, Edwards closed on the Hill Country property, which was financed by Capital Farm Credit in Burnet.
"My loan officer Larry Max and his office folks are so helpful," she says. "Thanks to his guidance and patience in processing my loan, FourWinds Ranch became a reality."
Horses Top Hunting
For the first several months, though, Edwards explored different landmanagement options.
"I believe that land should pay for itself," she says. "So we had a wildlife biologist survey the property. He suggested that we high-fence the property for hunting, and I said no. That's when I decided that I wanted the ranch to be all about the horses."
Before they could move horses in, though, the former cattle ranch needed attention. Michael Berg — who with his wife came on staff to manage the ranch — started the never-ending work of repairing water lines, mending fences and clearing juniper and prickly pear from the land. He fixed up the ranch's wood-frame residence, originally built in the early 1900s. Both the Green House, as it's nicknamed, and the modular Wrangler House are available as guest accommodations.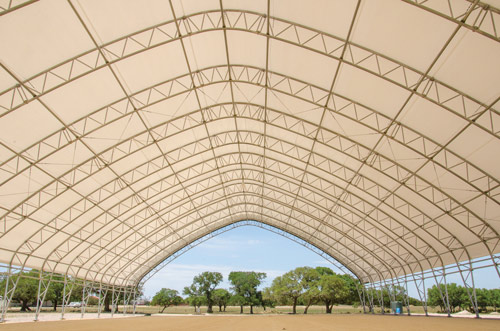 Edwards' vision for a horse ranch grew even more after the Bergs, while traveling, met the owner of a horse barn manufacturing firm. The contact led to FourWinds breaking ground in February 2013 on 16 turn-out stalls and pens with an open-air arena and a covered 62-foot, lit round pen.
Year-Round Events Arena
Most impressive is the 25,500-square-foot covered arena, which provides year-round shade and shelter. The soaring structure measures 100 feet wide, 255 feet long and 45 feet tall. A light-permeable tensionfabric covering and open sides take advantage of the ranch's namesake breezes. Metal bleachers seat approximately 200.
"No one goes outside during the summer when it's 100 degrees," Michael Berg says. "So you lose a lot of time when you could be riding or driving horses. This arena protects us from the sun, not to mention it's 10 to 20 degrees cooler underneath the cover.
"The covered arena was Cherry's idea," he says of the unusual arched structure. "She's constantly researching and getting ideas. She and Jereny drove to Cleveland, Texas, to see one there and really liked it."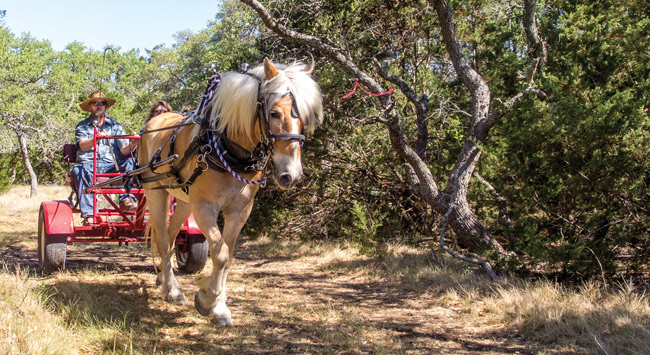 ---
For part of the first year that FourWinds was getting established, Johnson located her training and boarding business on the site. Today, the ranch's herd of 17 hoofed animals includes two donkeys, two miniature Shetlands, two Fjords and two Haflingers, a draft breed from Australia. Many of the horses and ranch wagons, including carts, carriages, buggies and marathon carts, are available for client use.
Driving Lessons With a Pro
A few years ago, Edwards and Cat Berg took driving lessons from professional horse driver Tom O'Carroll at his Good Hands Training Center in Navasota, Texas. The friendship led to the Good Hands Driving Academy Clinic, a weekend of private and group driving lessons conducted by O'Carroll each month at FourWinds Ranch. During the clinics, students may learn how to drive a wagon or a carriage, or work with O'Carroll to teach their own horses how to pull a cart.
"The terrain at FourWinds can be rocky and hard, but they're making beautiful trails and putting in gravel to make them horse-friendly," says O'Carroll, a native of Ireland, who teaches drivers of all skill levels, from beginning to competitive, all over the United States. "A lot of people in the area have wanted to learn how to drive but didn't have the opportunity. Now they do."
According to Ruthie Graves with the Tejas Carriage Association, nearly any horse, as long as it is quiet and obedient, can be trained to pull carts.
"That's what I love about our events — seeing all the different kinds of breeds, from drafts to minis," she says. "Driving is a very social sport. Some people drive for pleasure while others drive for competition."
The combination of rugged trails and flat terrain at FourWinds allowed the Texas Equestrian Trail Riders Association(TETRA) to host its first-ever combination trail ride and driving event in May.
"Most people don't have the chance very often to ride and drive on a larger ranch, especially one with driving trails," says Glenna Bell Orman, TETRA second vice president. "Everyone at FourWinds went above and beyond to make sure that we enjoyed the ranch."
Not Just for Horses
Besides equestrian events, FourWinds Ranch is branching out to host weddings, parties, concerts and even goat roping. In April, the Texas Lacy Game Dog Association held a training event on the grounds. FourWinds also plans to partner with organizations that assist the military.
But Edwards' passion will always come first.
"Because of horses coming back into my life, we now have a place where people can come and be rejuvenated," she says. Smiling, Edwards adds, "This isn't the ride I would have chosen for myself, but it's been a real pleasure."
– Sheryl Smith-Rodgers
---