Hector and Graciela Guerra look out the window of their ranch house near Roma, Texas, at a sea of tall, lush grass. This year's above-average rainfall has created ideal, and rare, grazing conditions on their La Anacua Ranch in deep South Texas.
Normally that would be a huge benefit to Guerra, a fourth-generation cattleman and longtime president of La Anacua Ranch. His family has been raising cattle in the upper Rio Grande Valley in Starr County since the late 1800s. But this year, because of an outbreak of cattle fever ticks at the ranch and a subsequent quarantine, La Anacua Ranch has abundant grass but no cattle. Instead, all of the cattle owned by the ranch are grazing hundreds of miles away in Kansas, far removed from the tick crisis.
South Texas Ranchers Form Frontline of Defense
La Anacua Ranch, Inc. is located in Starr County, one of eight counties that sit on the Texas-Mexico border and lie in the quarantine zone of the Cattle Fever Tick Eradication Program (CFTEP). It is jointly owned by Guerra and his two brothers, but Hector and Graciela live on the ranch and assume the day-to-day responsibilities. Today, half of the 10,000-acre La Anacua Ranch lies within the zone. The CFTEP was established in 1906, when Congress appropriated funds to eradicate the fever tick. The efforts were successful, and the United States has been fever tick-free since 1943. However, since Mexico did not eradicate the tick, a permanent buffer zone was created to keep cattle fever from re-entering the United States. The quarantine zone, which stretches 500 miles down the border from Del Rio to Brownsville and ranges in width from 200 yards to 6 miles, serves as a first line of defense against the ticks. It is under permanent surveillance by the Fever Tick Force, which is funded by the U.S. Department of Agriculture.
Five Fever Tick Infestations in Eight Years
Since part of La Anacua Ranch lies in the buffer zone, Guerra has always taken preventative measures to make sure that his cattle are not contracting or spreading tick fever.
However, after more than 30 years of ranching tick-free, fever ticks were discovered on Guerra's herd in 1999. By law, the ranch and its animals were immediately placed under quarantine, and Guerra had two options -- inspect and dip the livestock every 14 days for nine months or dip repeatedly until tick free, move to a site outside of the quarantine area, and leave the ranch vacant for nine months. Since then, La Anacua Ranch has been placed under quarantine four more times. The most recent quarantine was in July 2007. At the time of the outbreak in July 1999, the Guerras were running 150 mother cows with calves and 600 steers. They moved some cattle out of the quarantine area, and at that time, one of their neighbors was found to have fever ticks. As expected, the Guerras were asked to present cattle for inspection from the adjacent pasture. Ticks were found there also. "We found ticks from one end to the other, 8 miles long," Guerra recalls about the first outbreak in 1999. "We had to sell off the cows and sent the steers to the feedlot. But not until after four months of gathering, scratching and dipping all the cattle, were they declared free to move by USDA in-spectors. We took a big hit on those cattle."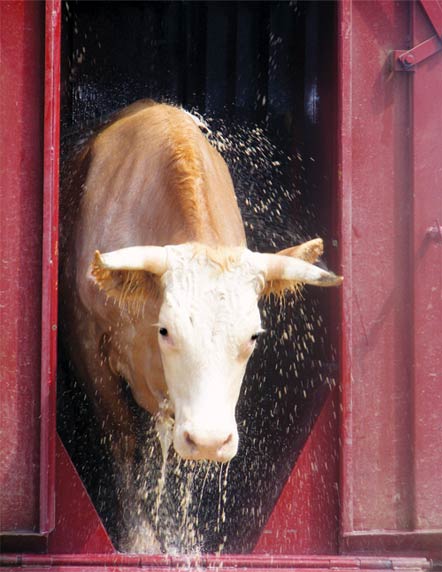 This hit made Guerra rethink his operation. Unable to repurchase breeding cattle, he decided to make the ranch strictly a stocker operation and began looking for pasture opportunities in the Texas Pan-handle and southwestern Kansas.
Cattle in Texas and Kansas
Although there is not a single head of cattle on La Anacua Ranch, it is the home base of a very successful and thriving stocker cattle operation. In an ideal year, Guerra grazes cattle in both South Texas and Kansas, before sending them to a Kansas feedyard. The cattle at La Anacua Ranch are grazed in the fall and spring and sent to the feedyard no later than June to escape the harsh Texas heat. In years when the ranch is under quarantine, he sends extra cattle to Kansas to be raised there. Currently, he has retained ownership of 2,200 steers in a feedyard in Kansas.
"What we don't do here, we have to do there in pasture and care," Guerra says. "Get away from the ticks completely and we are in a better market for our fat cattle when we come off the feedyard, and there are better sources of cattle. We buy cattle from all over the country."
Guerra has an interest in producing all-natural or organic beef, but says that he has run into problems due to a saturated market.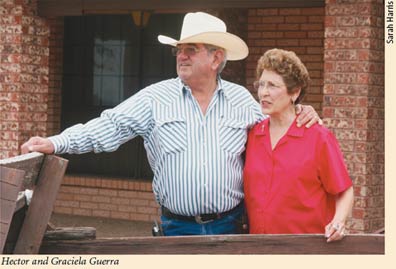 I chose to stay only because of the fact that my family has been in the cattle business since the late 1800s.
— Hector Guerra.
"I believe all-natural is the way to go," he says. "Organic is a better way, but it's hard to do. I want to get into it, because I believe that if I'm going to stay in the feeding business, in the steer business, I've got to find a little niche where I can make money."
Looking for a Lender Through Good Times and Bad
Although Guerra has made changes to his agricultural operation, he has remained a loyal Texas AgFinance customer. After difficulties with a local commercial bank led him to sell off steers at discounted prices, Guerra turned to the Farm Credit association for financing and became a borrower in 1993.
"I had a bunch of steers here and was running out of grass," Guerra recalls. "I wanted to move them to a feedyard, and they wouldn't let me do it. So I had to sell my steers right off the grass in poor condition."
Walt Franklin, vice president/branch manager of Texas AgFinance's Cotulla and Pleasanton offices, credits Guerra with doing what it takes to stay in agriculture.
"When things like the tick quarantine create a challenge, Hector searches for innovative methods to keep his operation profitable," Franklin says. "He is always looking for a better way and punching his calculator to see if it will pencil out." In spite of the tick problem, Guerra made the choice to remain in the cattle industry, and says that the incentive to do so is personal.
"I chose to stay only because of the fact that my family has been in the cattle business since the late 1800s," he says. "I guess you're just born with it."
A Pesky Problem
The cattle fever tick, Boophilus annulatus, and the southern cattle tick, Boophilus microplus, are carriers of protozoa that inject into the bloodstream of the tick's host. The protozoa attack red blood cells, resulting in acute anemia, an enlarged spleen and liver, and rapid death in up to 90 percent of infected cattle.
In the late 1860s, Midwestern farmers were finding their cattle inflicted with such symptoms and traced them back to the Longhorn cattle driven north by South Texas ranchers. To protect their herds, states along the cattle trails passed quarantine laws routing cattle away from settled areas or restricting the passage of herds to the winter months. In 1885, Kansas entirely outlawed the driving of Texas cattle across its borders. This action, along with restrictive legislation passed by many other states, was an important factor in ending the Texas cattle-trailing industry that had flourished for 20 years.
As part of the Cattle Fever Tick Eradication Program (CFTEP), the Fever Tick Force was established in 1938. Today, the group is composed of 60 inspectors who now work for the USDA, patrolling the quarantine area. Recently, the USDA approved funding for additional temporary tick inspectors.
Guerra takes every opportunity to contact his local legislators about more funding for the CFTEP and the Fever Tick Force. Recently, he spoke with USDA officials in Washington, D.C., about the problem.
"They need to pay attention to this thing down here," Guerra says. "One of the things I tried to impress them with was the fact that all these white- tailed deer in Starr County and Zapata County are now tick carriers. They are not the primary hosts, but they are the secondary hosts."
Ranchers and government researchers say that there are two issues confronting the CFTEP -- wildlife as secondary hosts and pesticide-resistant ticks.
Ticks can linger on a vacated ranch on a secondary host. Thus, white-tailed and nilgai deer -- both abundant in South Texas -- must be treated to reduce the risk of reinfesting cattle. Common treatment methods are to:
Feed corn treated with ivermectin pesticide. It cannot be fed within 60 days of hunting season, however.
Use a "4-poster," a feeder with four treated posts that the deer must rub against to reach the feed. Although La Anacua Ranch has several 4-posters, Guerra has seen few results to date.
In addition, CFTEP officials are finding that the tick is developing a resistance to coumaphos, an organophosphate acaricide that is the only registered acaricide for use in the dipping vats. This summer, the Fever Tick Force and the Texas and Southwestern Cattle Raisers Association asked Congress to appropriate a $2.5 million grant to the USDA Agricultural Research Service to find and develop new chemical agents to combat the ticks.
---