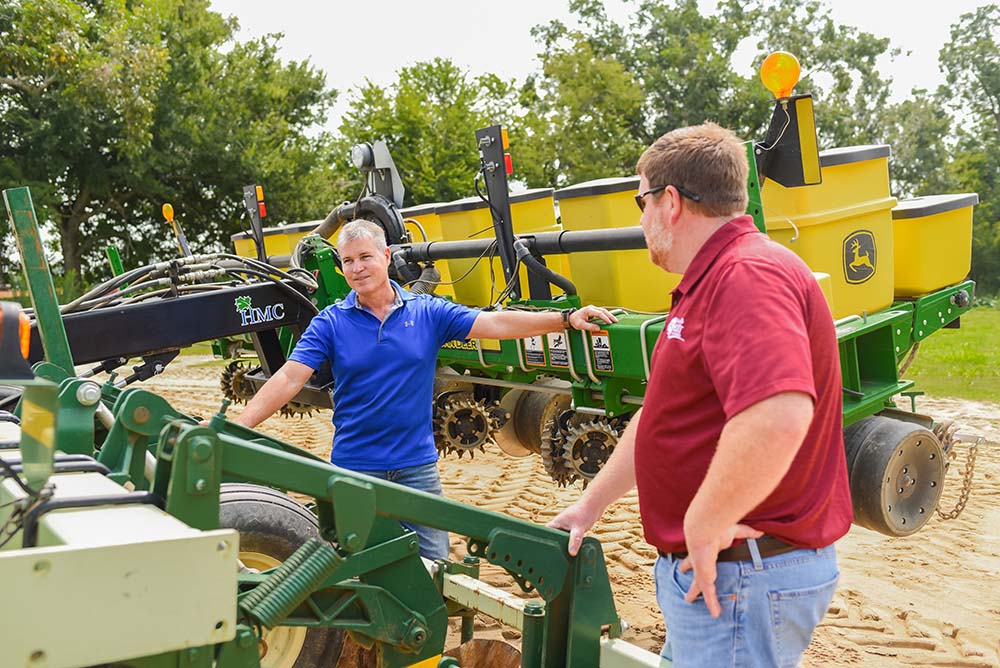 ---
Farmers often tinker with equipment improvements. But Wade Helms of Dothan, Alabama, doesn't just tinker or retrofit — he invented a winning device that saves farmers time, labor and fuel.
Helms recently won the Alabama Farmers Federation Ag Innovation Challenge for his HMC Quick Attach. The invention enables him to attach planting and strip-till equipment to a tractor — separately or at the same time.
"I came up with the idea because I wanted the option to strip-till before planting, or strip-till and plant at the same time," he says. "My system is innovative because it allows one person to do two jobs at once, which saves labor costs."
The Alabama Ag Credit customer grows 850 acres of row crops, including peanuts, corn and cotton, as well as wheat and oats as winter cover crops.
Helms won $10,000 for his entry in the challenge, which Alabama Ag Credit cosponsored. It was part of the national Farm Bureau Ag Innovation Challenge, presented in partnership with Farm Credit.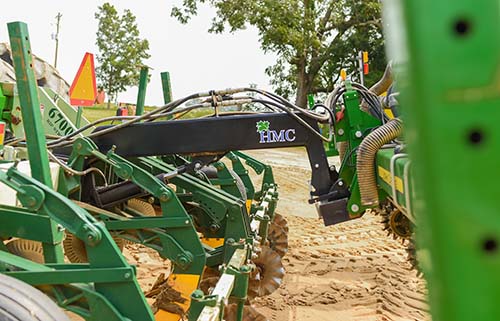 Time, labor and fuel savings
 "I've been using the Quick Attach for two planting seasons, and it shaves two weeks off what used to take six weeks," he says.
It also eliminates the cost of another tractor and fuel to pull the planter and strip-till attachments separately. He estimates the HMC Quick Attach saves him $6,000 to $8,000 a year in labor, equipment and fuel costs.
While other manufacturers sell devices that let farmers strip-till and plant simultaneously, those devices attach the planter and tiller together permanently.
Each spring, farmers face a short window of planting time for optimal yield. Helms' soil must reach 65 degrees consistently overnight, three inches deep, before he plants.
"I strip-till two weeks before planting to warm the soil," he says. "That brings the temperature up to the optimal germination level. Then I use the planter alone. Later, when soil temperatures are higher, I can strip-till and plant at the same time, which speeds up the process."
Conservation and other benefits
Helms has practiced conservation strip-tillage for seven years. It involves tilling strips of soil where seed will be planted and leaving crop residue between the strips. The practice is an alternative to conventional tillage, where the entire field is tilled, and zero-till, where crops are planted directly into stubble.
"Strip-tilling and planting together saves fuel, reducing our carbon footprint," Helms says. "This invention will allow more farmers to strip-till simply and affordably.
He identifies three ways the practice makes farming more sustainable:
Strip-till disturbs only the soil that contains the seed row.
It helps prevent soil and chemicals from washing into waterways.
It enhances soil by building up organic matter, which increases yield.
There's also a safety bonus: The Quick Attach allows him to raise the planter off the ground so he can maintain it standing up rather than crawling under the equipment.
To see videos of the equipment in action, search for HMC Quick Attach on Facebook and YouTube.
Production and marketing
After building two prototypes, Helms hired a manufacturer to fabricate more units. He sells the device for $4,950 under the name Helms Manufacturing Company.
"Every time I sell one, that farmer's neighbor wants one, too," he says. "The Alabama award boosted interest. I've been getting a lot of calls and orders."
The patent for the HMC Quick Attach is pending.
Helms started farming 30 years ago on rented land. He and his wife, Barbara, purchased his family farm seven years ago with financing from Alabama Ag Credit, and today they rent six additional farms. They've financed equipment with Alabama Ag Credit, as well.
"If he can get the Quick Attach in front of a lot of farmers, it will really take off," says his loan officer, Justin Jernegan, Alabama Ag Credit's Dothan branch manager. "It will make planting and strip-tilling a whole lot easier."
— Nancy Jorgensen
Ag Innovation Challenge encourages inventors
As the saying goes, necessity is the mother of invention. And agricultural producers are often inventors — conceiving, designing and building solutions for their own needs.
The Ag Innovation Challenge, presented annually by the American Farm Bureau Federation (AFBF) with support from Farm Credit, is a national business competition exclusively for rural entrepreneurs.
Started in 2015, it showcases U.S. startups developing innovative solutions that address challenges facing America's farmers, ranchers and rural communities.
How it works
From all entries received from across the U.S., the Farm Bureau and the Farm Credit Rural Investment and Innovation Workgroup select 10 startup businesses.
Those 10 semifinalists then compete at the annual AFBF convention. They also receive pitch training and mentorship from Cornell University's business faculty and network with representatives from the USDA Rural Business Investment Program.
Four finalists advance to a live competition in front of Farm Bureau members, investors and industry representatives. The Farm Bureau awards a total of $165,000 in startup funds to the 10 businesses, including $50,000 to the national winner.
Farm Credit Support
"Those in the agriculture industry face challenges every day and have historically found the solutions to those challenges through necessity," says Doug Thiessen, Alabama Ag Credit chief executive officer. "By supporting the Ag Innovation Challenge nationally and at the state level, Farm Credit is helping these innovations to be shared with the rest of the world and enhancing the quality of life for those in the ag industry and rural communities."
---