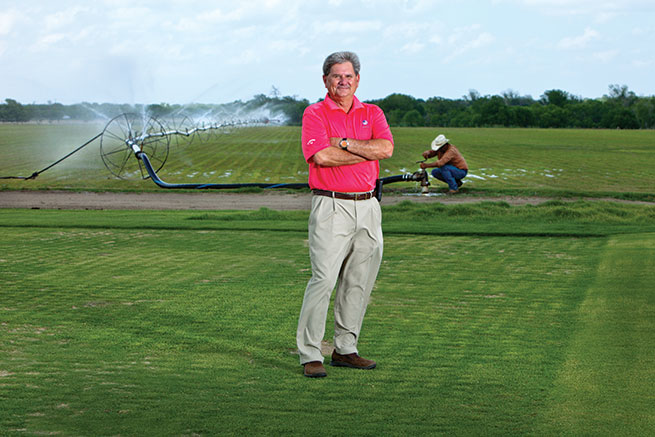 ---
Flipping through 30-year-old pages turned yellow from time, Texas turf grower David Doguet can tell the exact origins of his zoysia grass collection. Although he wasn't on the 1982 expedition to the Pacific Rim that brought the collection back to the United States, he trusts and regularly refers to the detailed data.
"It tells me whether they got it on a mountaintop in the snow or if it came from the beach with the saltwater lapping up against it," Doguet says of the records. But despite its seemingly humble beginnings, zoysia grass is about to have its time in the spotlight — and is taking Doguet and his family-owned company, Bladerunner Farms, along for the ride.
One of Bladerunner Farms' exclusive varieties, Zeon zoysia, was selected as the primary turf for the golf course at the 2016 Summer Olympic Games in Rio de Janeiro, Brazil.
"It's a huge accomplishment for us to get this," Doguet acknowledges. "There is not a bigger turf project in the world. This is it — this is the one you want." While Doguet is enjoying the personal victory, he also hopes that the selection will bring awareness and prestige to what he considers the "turfgrass of the future."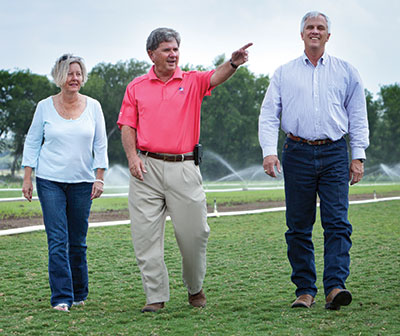 40 Years in the Business
A 40-year veteran of the business, Doguet previously owned other grass farms around Texas, and grew St. Augustine and bermudagrass, the two grasses most commonly used for yards and sports turf in the state. He and his family — his wife, Sheri, their sons, David Jr., Darin and Daric — began growing grass at their current location, just south of San Antonio, in 1993, with two zoysia varieties from a renowned breeder, Dr. Jack Murray.
A turf breeder with the U.S. Department of Agriculture, Murray and another specialist had traveled to the Pacific Rim in 1982 to collect zoysia grass samples. For two months, the pair trekked through parts of Japan, Korea, the Philippines and Thailand, bringing back samples through USDA and Texas A&M University.
Doguet says that prior to that time, only two varieties were grown in the United States, and were mainly in "transition zone" states like Kansas, Missouri and Tennessee because of their cold-hardiness.
"I immediately said that this is something we need to be looking at, but it wasn't being used in the South hardly at all because it was too slow-growing and had disease issues," Doguet says of the two original varieties. "When they were pretty, they were pretty, but when they weren't, there were a lot of issues."
Establishing the Farm
Years later, when Murray decided to retire, the USDA had no plans to invest time in a turf breeding program, and allowed him to take the zoysia program with him.
Interested in the potential of these grasses, Doguet purchased the Zeon and JaMur varieties from Murray to establish the farm in Poteet.
When Murray fell gravely ill, he asked Doguet to continue his work, and Bladerunner Farms purchased the rights to Murray's entire zoysia program in 2000.
"We still make payments on it today, and most of the material we have is from his collection," Doguet says. "This didn't make us a bigger producer, but it made us more focused on research and development."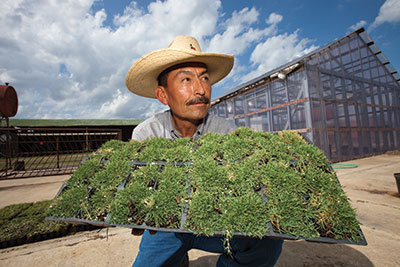 Grown Around the World
By pursuing his interest in research and development of zoysia grass and taking his mentor's wishes to heart, Doguet has made Bladerunner Farms the largest privately owned zoysia grass breeder in the world today. The company also has developed several buffalograss varieties.
To supply product for retail, Doguet harvests some sod and sprigs from Bladerunner's own farm, but also relies on licensing and marketing agreements with grass farmers in 14 states and several foreign countries, including Brazil, China, Barbados and the Philippines.
With such a geographically diverse growing area, Doguet says that the grasses Bladerunner Farms develops and releases for sale must be adaptable. Zoysia grasses are known for tolerating wide variations in temperature, sunlight and water quality.
"We can come up with a variety that only grows well in Texas, but that's not what we want to achieve," he says. "The reason we looked at zoysia from the very beginning is because it can work in such a broad area."
In addition to its adaptability, Doguet points out other reasons to use zoysia grass for sports turf or a home yard. When dealing with sports turf or grass for a golf course, Doguet says that it's easier to obtain a denser and softer stand of grass that requires less maintenance and less inputs by using a zoysia grass, such as the Zeon, over more commonly used grasses. In fact, some Bladerunner Farms customers estimate they've seen a 20 to 50 percent reduction in water and fertilizer inputs since installing Zeon zoysia as their playing surface.
Plus, as Doguet says, it's just pretty.
"In golf particularly, the ball sits on top of the grass like it's on a tee," he says.
---
Revolutionary Turf for a Revolutionary Course
The combination of sustainability and quality is what drew the architect and the International Olympic Golf Committee to consider using Zeon in the first place. Approximately 88 percent of the Olympic course in Brazil, including 88 acres of fairways and roughs, will come from Zeon zoysia sprigs. Bladerunner Farms has an established grower in Rio de Janeiro who will provide the grass.
"You see some of these major golf courses on TV, and they look perfect. But it costs a lot of money to keep it perfect," Doguet explains. "Most courses don't have that kind of money, and really the entire industry is trying to get away from that. We want nice grass, but not all of the costs that go into it."
Walt Franklin, Texas AgFinance vice president/branch manager in Pleasanton, who has financed land purchases and operating expenses for Bladerunner Farms for many years, says that Doguet's confidence in his company has never wavered.
"David is by far one of the most optimistic people I've ever met," Franklin says. "It's just his nature."
In keeping with his nature, Doguet says he has never been intimidated by the magnitude of the Olympic job. In fact, to prepare for the demand in zoysia grass that Doguet is expecting, he has added four Ph.D.s in turf development as consultants.
"It never scared me," he says of bidding for the Olympic golf course. "I've always known we could do this, and we are going to help make this a special course."
- Staff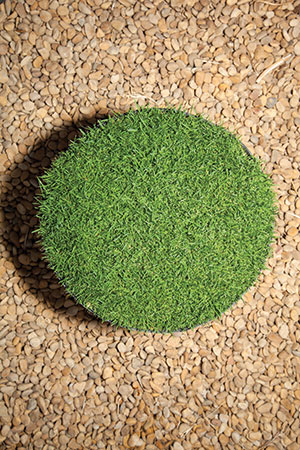 Not Just for Golf Courses
While using the Zeon variety for sports turf and golf courses is bringing Bladerunner Farms notoriety, Doguet says that residential grass accounts for 70 percent of his business. For this purpose, Doguet suggests a variety like JaMur, which can easily withstand high traffic and resembles St. Augustine, or one of the Lowrider varieties, which require less mowing. Along with the Zeon, these modern-day varieties are also known for their disease resistance, weed control and low water needs, and work well in the shade.
To find a retailer of Bladerunner Farms grasses near you, visit bladerunnerfarms.com.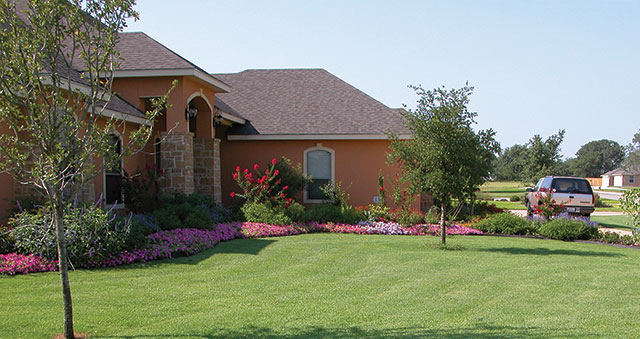 ---
---