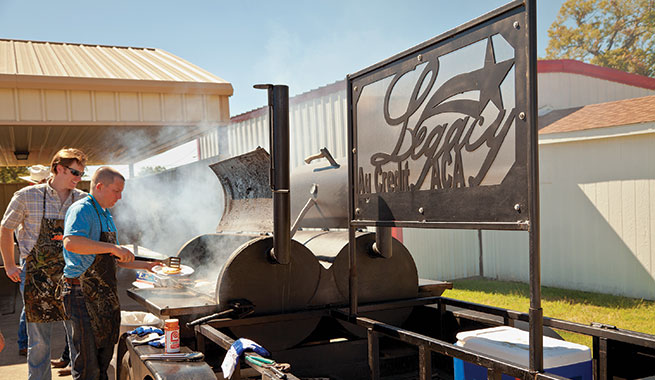 ---
What do you call a win-win, win-win situation?
It's when you pair a bunch of eager FFA ag mechanics students looking for a project with a farmer or business owner who needs a custom piece of equipment — and the match results in happy customers and young adults prepared for the future with solid work-life skills.
Helping a Farmer in Need
That's how it was for Great Plains Ag Credit customer and farmer Justin Crownover and the Vega High School FFA ag mechanics team.
Crownover is a partner in and general manager of Lone Star Family Farms, which consists of 20,000 acres of irrigated land in the Texas Panhandle. With 150 wells to tend, he sorely needed a way to reduce the time spent on repairs.
Eager to switch from steel well pipe to polyethylene, or poly-pipe, which requires less maintenance, Crownover had an idea for a trailer-mounted submersible well pipe-puller. It would have a hydraulic-powered reel that would pull out and roll up the flexible poly-pipe from the wells for repair. But he needed someone to build it.
Having seen the Vega FFA students' previous use of plasma-cutting technology on his own entrance gate and their quality work on a semi-trailer they built for Amarillo-based Cactus Feeders Inc. — also a Great Plains customer — he asked them to tackle the project.
"The biggest deal for me was that there were just so few pipe-puller trailers out there," Crownover explains. "The kids really helped out."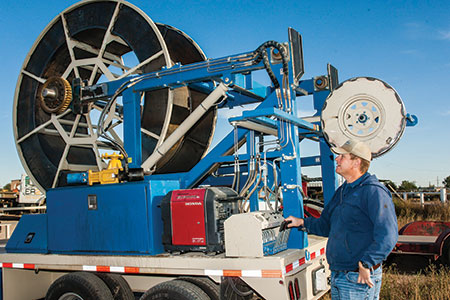 A Real Time-Saver
Now, instead of taking a full day to remove, repair and replace steel piping, he generally can replace the new poly-pipe in 2½ to 3 hours.
"The pattern of the trailer is amazing," says Crownover, who grows multiple crops ranging from seed milo to cotton to wheat. "It's unique and truthfully is saving time and money."
Beginning in late 2012, it took six students — working during and after school and on weekends — five months to complete the project, which won the champion bumper-pull trailer award at the 2013 San Antonio Stock Show and Rodeo. Vega FFA ag mechanics instructor Jay Newton says he is blessed to be a part of something that has provided so much for so many kids.
"Our main goal with this program is to provide training for students in order for them to be able to get a job to feed their families," he says. "Many students will go to college — however, the training they learn in our shop also provides them the ability to have a hobby, fix their own property or make some money from a side job."
Farm Credit Lender Gets Custom Smoker
Meanwhile in northeast Texas, another award-winning FFA ag mechanics group has been just as industrious.
Legacy Ag Credit Vice President and Relationship Manager Brandon Williams had long wanted a custom smoker for his lending co-op to use for community outreach. In 2012, he convinced Legacy's management that it would be a worthwhile investment.
"Because we value our partnership with young, beginning and small farmers and are committed to encouraging our young adults, it was only natural to approach the Sulphur Springs FFA for help," Williams notes. "It worked out because they were already looking for a project.
"The only specification we had for the smoker was that we wanted our Legacy name to be prominently displayed," says Williams. "We were glad to have the kids let their creativity shine through in their work. How important it is when our youth are excited and develop good relationships in their communities!"
The "Crème de la Crème" of Smokers
The result, according to Williams, was nothing short of amazing.
So much so that the project was entered into competition at the State Fair of Texas. Although it did not win, Williams insists that the students are winners in his book, and calls the stainless steel cooker the crème de la crème of smokers.
Among the smoker's many advantages are two smoker compartments — one on each side and each with its own firebox — that allow the chef to cook hamburgers on one side while slow-smoking a brisket on the other. Also convenient are the square fold-out serving tables on both sides, notes Williams.
The icing on the cake is the Legacy logo, created using the same plasma-cutting method employed on Crownover's gate.
Just as happy with the project — which took six weeks to build — were the students themselves. "They were proud to show off their skills and make a difference in our community," reports their teacher, Dan Froneberger.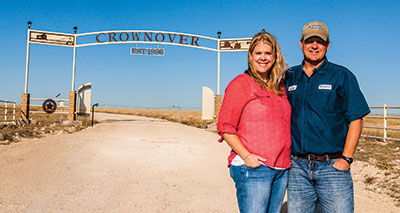 Reaching Beyond Their Communities
At state and national contests, FFA ag teachers, university professors, sponsors and contest officials see ag mechanics students display confidence and expertise.
"FFA ag mechanics contests provide an opportunity for students to learn communication, leadership, presentation and mechanical skills that can be applied in industry and/or their careers for the rest of their lives," says Dr. Doug Kingman, associate professor of agricultural engineering technology at Sam Houston State University and superintendent of the Houston Livestock Show and Rodeo ag mechanics contest.
"And certainly, students' adaptations of ag equipment have contributed to what have become industry standards," he observes.
The Proof Is in the Pudding
There's no doubt that the outcome of this partnership is a success for students and the beneficiaries of their work.
For some students, the experience has jump-started their careers. Several former Vega FFA ag mechanics students have gone on to jobs at Cactus Feeders, according to Steve Johnson, senior vice president/general manager of the feedyard division. Among them is Shane Atwood, a 2011 graduate who honed his skills in school and is now a welder in the company's millwrights division.
Williams and Crownover, meanwhile, are delighted with the students' work.
"My favorite activity is getting ready for a barbecue, cruising the smoker around town and watching people turn their heads as I pass by. I love it because the Legacy logo is so prominent," Williams says.
"I think that some kid might look at my gate and say, 'No way could I do that,'" says Crownover. "But the gate is living proof that they can achieve, they can overcome. With the right people and the right tools, they can get the job done. They can overcome anything."
— Staff
---