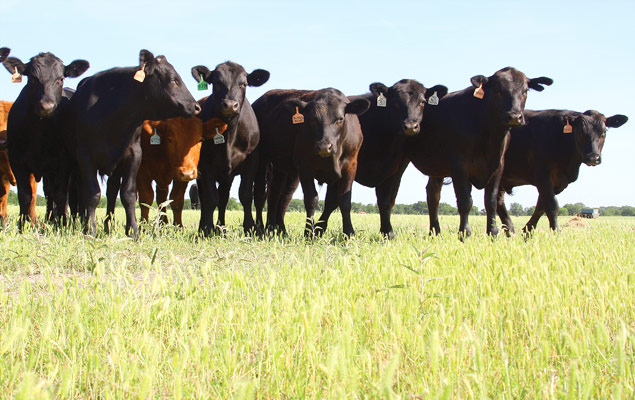 ---
Milling around tables stacked high with turnips, carrots and other farm-fresh produce, visitors to the Georgetown Farmers Market on a pleasant spring afternoon remind one of unruly kids told to "look, but don't touch."
Anticipation builds in a small group formed around Sara Faivre-Davis' booth as they wait for the shout, "Go!" signaling that the market is open for business.
"The lines get really crazy later on when the first tomatoes of the season come in," Faivre-Davis says.
Although she doesn't have garden produce for sale, Faivre-Davis' product — pasture-raised natural beef from her family's central Texas ranch — does attract a steady flow of customers.
Wild Type Ranch and its branded beef are the result of two goals set by Faivre-Davis: to put quality black Angus and red Angus genetics in the marketplace, and to contribute to the movement to buy and eat locally produced food. "One of my missions is supporting local food," she states.
As a former animal genetics professor at Texas A&M University and cofounder of a biotechnology company, Faivre-Davis had the science background and knowledge of technology needed to build a herd with a strong emphasis on genetics.
"I've always been a science geek and loved doing experiments," she admits. "We believe in the judicious and ethical use of technology."
That knowledge, combined with her interest in sustainable agriculture, led Faivre-Davis and her husband, Ralph Mitchell, to begin Wild Type Ranch in 2005. They bought 333 acres of grassland near Cameron, Texas, and financed it through Capital Farm Credit.
Grass and Grain Diet Makes For Tender Beef
Pastured-raised beef is similar to the better known grass-fed beef, but is different in that the animals are fed supplemental grain as needed to maintain marbling and quality. Although Wild Type's beef is first and foremost grass- and hay-fed, Faivre-Davis says the cattle receive supplemental grain, equal to 5 to 10 percent of their diet, to maximize efficient digestion and growth.
At Wild Type Ranch, the cattle are fed grain for the four weeks after weaning and thereafter in times of drought or poor grass quality. Grain is always a minimal part of their diet, and the cattle are not grain-finished.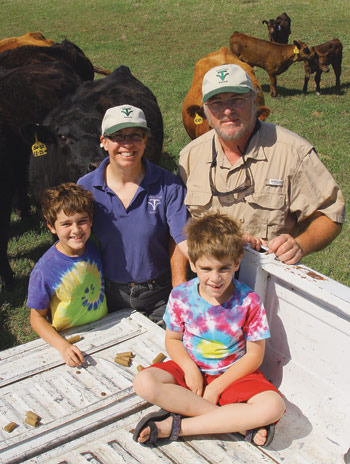 "Our product is unique because it grades Choice with an emphasis on tenderness," Faivre-Davis says. "Our product is much more comparable to an Omaha Steaks product, but with better flavor, than a typical grass-fed steak. Between our genetics and the addition of a little bit of grain, it makes all the difference."
An ultrasound is performed on each animal when it reaches 700 pounds to assess the amount of marbling — the flecks of fat scattered within the muscle. Faivre-Davis says that more than 70 percent of their cattle grade Choice at this time, and that by harvest, 90 percent of Wild Type Ranch beef grades Choice.
Four animals are harvested a month, and the beef is then dry-aged for 14-21 days to optimize tenderness. Faivre-Davis and Mitchell, along with her two sons, Eric and Alex, then sample steaks from each animal to give it their own seal of approval.
"It's the only time my kids get steak," she says with a laugh. "But if it's not tender, we won't sell the steaks from that animal."
The beef is also natural because the animals are not given any growth-enhancing hormones or any routine antibiotics. Faivre-Davis will administer antibiotics in the rare case of a sick animal.
Testing the Waters and Selling 10,000 Pounds of Beef
Now in her third year of marketing and selling beef, Faivre-Davis admits that she didn't always have high demand for her product.
"The first year, I tested the waters and started out at the farmers markets," she says. "There were days I sold $50 worth of beef during three hours. Last year, I had days when I sold $2,000 worth of beef in the same time period."
Obviously, the harder days are behind her. Today, on an average visit to a farmers market, Faivre-Davis hauls two freezers full of frozen beef on a flatbed trailer behind her vehicle. She is a regular vendor at three central Texas farmers markets a week.
Wild Type Ranch sold 10,000 pounds of beef in 2008, and like most business owners, Faivre-Davis was worried that her business would take a hit in 2009. However, she says that the movement toward buying local food — and especially pasture-raised foods — has offset the slowdown in the economy.
"We used to sell out of steaks and have ground beef left over," she adds, "but now we sell out of ground beef and have steaks left over. People are just buying more value cuts."
In addition to buying Wild Type Ranch beef at farmers markets, consumers can pre-order beef directly from Faivre-Davis, and then meet her at one of her delivery points in the Austin area, or arrange to pick the meat up at the ranch. One local restaurant has also added Wild Type Ranch beef to its menu.
In the Business of Top-Notch Genetics
The foundation for Wild Type Ranch's successful beef program is a quality registered black Angus and red Angus herd with bloodlines that are selected for tenderness.
"Genetics is our primary business, whether it's for the beef or for breeding stock," Faivre-Davis says.
Certified to perform artificial inseminations, Faivre-Davis uses a combination of artificial insemination, embryo transfer and natural service in the ranch's breeding program.
"We aim in our registered stock to not sell anything that's not in the top 1 percent of the breed," she says. Currently, Wild Type Ranch has 43 registered Angus breeding females, and four of them are in the top 150 of the Angus breed. Heifers that are not reproductively efficient enter the beef supply, and a bull has to be pretty spectacular to be sold as a bull instead of beef.
"The two business lines complement each other," she says. "We have really high standards on our registered stock, and we can keep those standards without taking a big hit if we don't sell any breeding animals, because the beef side of the business gives us a high bottom-line alternative."
Innovative Approaches for a Unique Operation
Faivre-Davis admits that her type of operation is not one that every producer could manage. "We've had to be willing to explore lots of options and not do things the way they've always been done," she says.
She gives credit to her husband — an Australian with a background in aquaculture — for some of their innovative approaches to ranching.
"Ralph looks at a problem and comes up with some pretty unique solutions," she says. "We're working into more rotational grazing, and we've experimented with some natural fish-based fertilizers."
Jason Fuchs, vice president and branch manager of Capital Farm Credit's Temple office, and Faivre-Davis' loan officer, knew from his first meeting with her that she had a special type of operation in mind.
"It was clear that Sara wasn't going to start a typical cow-calf operation that we are used to seeing," Fuchs says. "However, she had a detailed business plan and a passion for creating her own niche operation. She wasn't starting a new business — she was making a lifestyle change, and we were happy to be a part of that."
Food with Heart
While Faivre-Davis is a scientist, marketer and rancher, at the heart of Wild Type Ranch are her acute social awareness and a desire to educate consumers about food production. She is editor of Down to Earth, a blog that aims to separate fact from fiction about food production. At her farmers market booths, Faivre-Davis makes literature about the "going-local movement" available to customers and, of course, is happy to answer any questions they may have.
"I have one former vegan and three former vegetarians who are now regular customers," she says.
In addition, 10 percent of the net proceeds from Wild Type Ranch beef sales is donated to local family and domestic violence awareness and assistance programs.
"I've built a customer base that's extremely loyal, and I have the most job satisfaction I could ever imagine," says Faivre-Davis. "I get e-mails from my customers telling me that they're glad I'm in business — how many people hear that?!"
For more information about Wild Type Ranch, visit their Web site, www.wildtyperanch.com.
– Sarah Harris
Tips and Resources for "Going Local"
Faivre-Davis advises consumers interested in "going local" to not think of it as an all-or-nothing mission, or it will seem virtually impossible. Instead, she encourages people to switch to more whole foods, to plant homegrown herb and vegetable gardens and to shop local farmers markets.
"The main idea behind eating locally is to make the most of your region's agricultural strengths," she adds.
Visit these online resources to find a local farmers market:
Local Harvest 
www.localharvest.org
U. S. Department of Agriculture — Agricultural Marketing Service
www.ams.usda.gov
Alabama Farmers Market Authority
www.fma.alabama.gov
Louisiana Farmers Market Program
www.ldaf.louisiana.gov
Mississippi Farmers Markets
www.mdac.state.ms.us
New Mexico Farmers Market Association
www.farmersmarketsnm.org
Texas Certified Farmers Markets
www.picktexas.com
Another Growing Trend in Agriculture
In addition to the movement toward buying and eating locally produced food, Faivre-Davis is part of another growing trend: an increased number of female agricultural operators.
According to the 2007 Census of Agriculture, which was released earlier this year, 306,209 female principal operators were counted in 2007, up from the approximately 237,819 reported in 2002 — an increase of almost 30 percent. The census also found that women operators are fairly equally split among three industries: cattle, calves and feedlots; aquaculture and other livestock operations; and other crops.
---