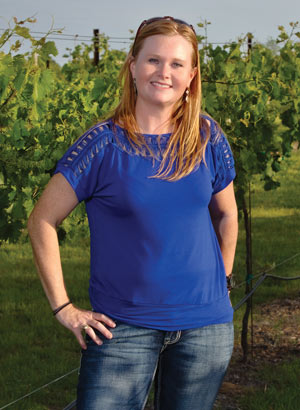 Looking past the "For Sale" sign staked alongside a county road, Amanda Hatchett and her husband, Colby, each saw something very different in the expanse of property before them.
Colby saw neglected land and two dilapidated houses guarded by overgrown briars. Amanda, on the other hand, saw well-tended pastures grazed by sheep and goats — a vision of what the property looked like during her childhood when it was owned by her great-grandparents' neighbors.
"We used to come over here on Sundays and my great-grandmother would swap pie recipes. It was beautiful, and they took really good care of it," Amanda recalls.
The couple had spent four years searching for property where they could expand their existing farming operation, and Amanda was convinced this was it.
"I told Colby, 'That place was gorgeous when I was little and it could be again. I think we should buy it,'" she says.
Five years later, Amanda's vision has paid off.
"Honestly, I don't think anyone else would have bought it," she says, referring to the land that is now home to Denton Valley Farms, the couple's diverse farming and livestock operation, farm store and event venue.
Located just 20 miles outside of Abilene in west-central Texas, and restored to the picturesque glory that Amanda remembered from her childhood, the farm boasts a vineyard, a peach orchard and gardens that produce an abundance of seasonal fruits and vegetables.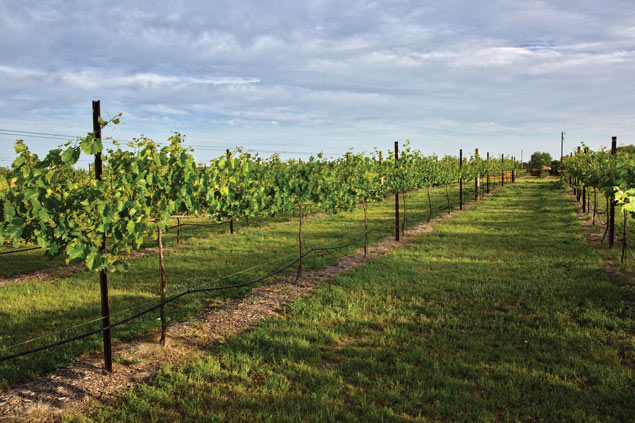 ---
Loyal Following Leads to a Retail Outlet
Amanda and Colby both grew up in the area, had agricultural backgrounds and showed goats in high school. After graduating from Texas A&M University in 2006, the couple returned home with a deep desire to farm.
But time was a precious commodity. They were both working full-time jobs — he as a crop adjuster, she at her family's feed store while also building her real estate business — so they started small on 3 acres owned by Amanda's parents. Located near her grandparents' house, the property already had access to water and allowed the Hatchetts to add high fencing.
The couple planted their first vegetables, grapes and fruit trees, experimenting with different varieties, pruning methods and fertilizer options. They would work late hours on Fridays, picking into the night and then taking their produce to the local farmers market early on Saturday mornings.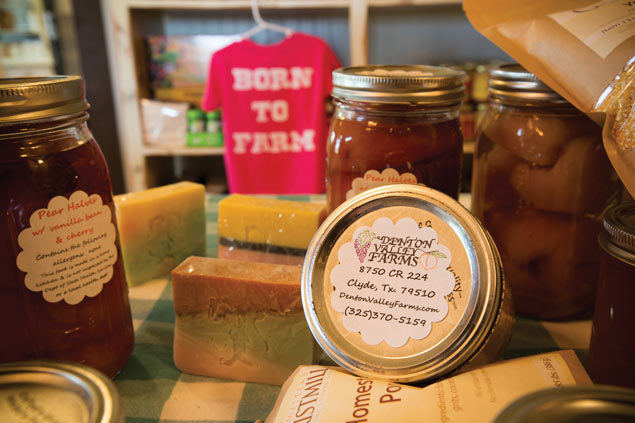 ---
"We would bring herbs, and be the only people to offer them at the farmers market," Amanda says. "We were known as the 'young kids' at the market, but over time, we got a following of people who wanted our stuff. They wanted variety, and they came to expect that we had high-quality produce."
The loyal following allowed the Hatchetts to stop spending their weekends at the farmers markets. Instead, they would deliver to customers or invite them to the farm.
In the meantime, with financing from Capital Farm Credit, the couple purchased additional acreage in 2012 to expand their operation — a property that needed much work. They spent months reconstructing the farm's two houses, eventually moving into one and opening a farm store in the other in the spring of 2016.
"We thought it would be easier if we had a store where we could say 'We'll be here Friday, Saturday and Sunday — come get what you want,'" Amanda says.
Farm stores are not common in their part of the state, Amanda notes, but she and Colby had seen plenty in Central and East Texas and felt they had the customer base and business experience to start a retail outlet.
Open from mid-May through October, the store offers a wide variety of Denton Valley Farms produce, including peaches, okra, peas, squash, corn, tomatoes, watermelon, cantaloupe, beets, carrots, potatoes and onions. Despite the apparent wealth of choices, they sold out every weekend in 2016.
"We would have customers sitting in the store waiting while Colby would go back out to pick more produce," she says.
Black-eyed peas are always a favorite at the store, and the Hatchetts' homegrown peaches, available from May through August, keep customers coming back all season. They also sell jams, jellies and juices that Amanda makes from their own grapes, and homemade ice cream is often available too.
For their second year, the couple is expanding floor space to make more room for their grass-fed lamb and goat meat, grass-fed and grain-finished beef cuts, dairy products and eggs.
"For most of our customers, their main concern is knowing how the animal was fed and raised, and they feel good that we can tell them that," she says.
Creating an Event Venue
In 2016, the Hatchetts made another addition to the farm, opening an 8,100-square-foot event pavilion. The couple first developed the idea for the space in 2007, when Amanda had difficulty finding a large-enough local venue for their own wedding.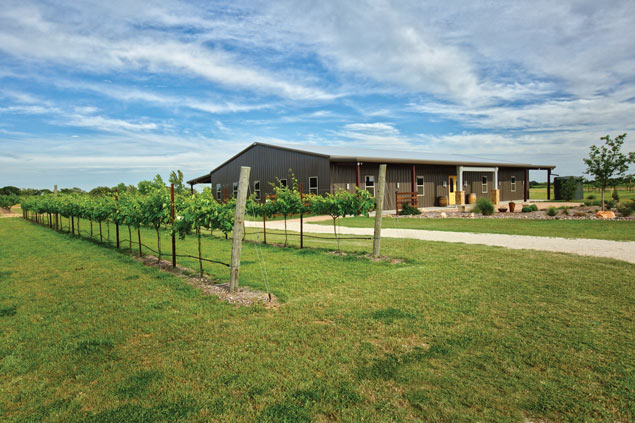 ---
When they moved to the farm in 2012, Colby and Amanda planned out the orchard and vineyards with the building in mind, albeit knowing that its construction was a few years down the road. The pavilion can accommodate about 400 people and is framed by peach trees and grapevines, providing a swoon-worthy wedding backdrop. Atop a nearby hill, the Hatchetts cleared a spot known as "The Woods," which overlooks the orchard and provides another option for couples wanting to get married at the farm.
Booked almost every weekend, the pavilion can host several events a week. As busy as the farm, store and events pavilion keeps them, Amanda also has a successful real estate business. As a Realtor, she knows the importance of a good rural lender and values their relationship with Capital Farm Credit and the support of their loan officer, Jason Gibson.
"I consider myself fortunate to be able to work with Amanda through both her real estate business and with her and Colby at Denton Valley Farms," says Gibson, vice president of lending in Capital Farm Credit's Abilene office. "They are a true example of what hard work, passion and an entrepreneurial spirit can achieve in today's world."
While Amanda admits that the couple wasn't always planning on settling down exactly where they did, looking back she says that perhaps it was part of a greater plan.
"We started in 2007 testing all of the different varieties we have today so we could get to the point that we know what works and what grows for us," she says. "We started off exactly like we needed to."
– Staff
For more information about Denton Valley Farms, visit their website, dentonvalleyfarms.com.
---