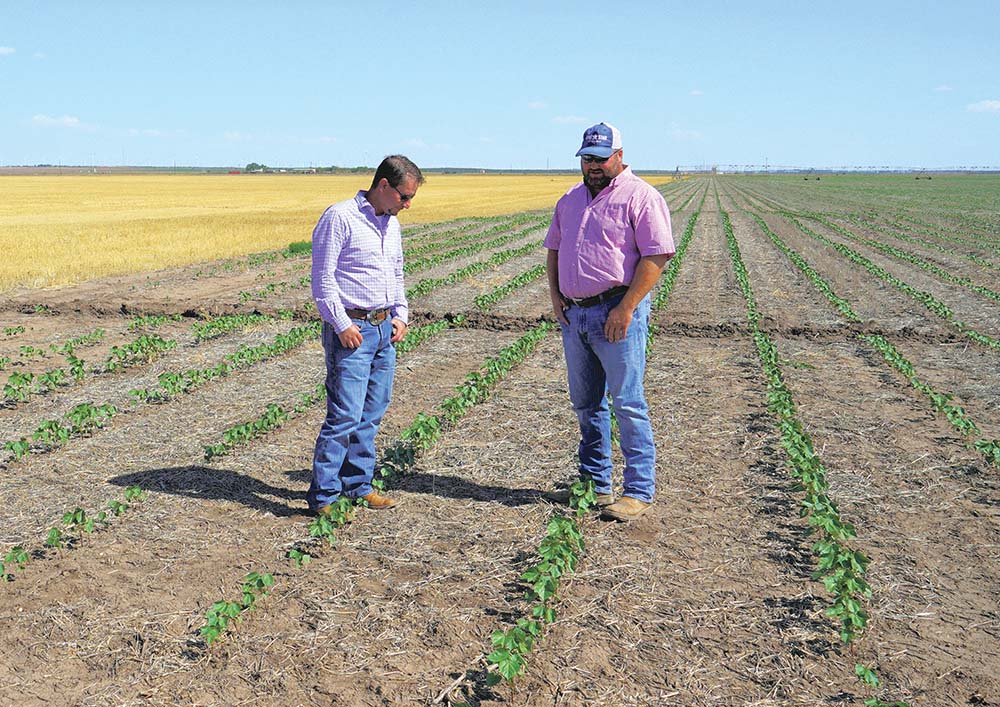 ---
From the cab of his truck, Cody Hughes glances at an app on his phone to check the status of one of his irrigation pivots.
Drawing water from about 325 feet below this field in West Texas just south of his hometown of Roscoe, Hughes is as grateful for the water as he is vigilant with how it's used.
With the U.S. Drought Monitor reporting 98% of the state experiencing abnormally dry conditions as of early July — and 61% seeing extreme or exceptional drought conditions — center pivot irrigation brings life to his fields of cotton, wheat, hay grazer and specialty grasses.
"No two years are the same here," says Hughes, a fifth-generation farmer, who not only farms individually but also partners with his father in CWH Farms. "We're always looking for ways to be better managers of the land, so we can be prepared when years like this come along."
Farming has continued to evolve, but Hughes credits his ability to try new things to the help of great employees.
Growing with Lone Star
With Lone Star Ag Credit as his lender, his operation has continued to grow since he financed his first 160 acres through Lone Star in 2003. It now stands at about 7,700 acres of owned and leased land, and includes a new home financed through the association.
Hughes is not only a Farm Credit customer, he was elected to the Lone Star board of directors in 2018 and reelected in 2021.
"Cody and his family are doing great things," says Jason Jones, credit office president of Lone Star's Abilene and Sweetwater branch offices. Jones has been serving Hughes since that first loan. "Cody monitors his operations closely and is always on the lookout for new ideas."
That's how he became interested in center pivot irrigation.
Installing center pivot irrigation
Hughes began farming cotton during his senior year in high school in 1997. He helped install underground irrigation for a local farmer and was intrigued by the farmer's ability to grow great crops in lean years. Most local operations were dryland farms with little to no irrigation, so he wanted to learn more about this option.
Starting small, he installed his first pivot in 2004, and over the years built up to 34 pivots as his knowledge grew. And he's kept on learning.
Recently he transitioned to using a smartphone application to control some of the pivots and monitor water delivery. The text alerts sent through this application help him manage breakdowns, pressure loss and power outages. With design changes to pressure regulators and nozzles, pivots today can water more efficiently than those of the past, thereby saving time, labor and money.
"Modern systems include probes that can monitor soil moisture several feet into the ground, and those systems can adjust how much water to deliver based on that information. It removes the guesswork," Hughes says.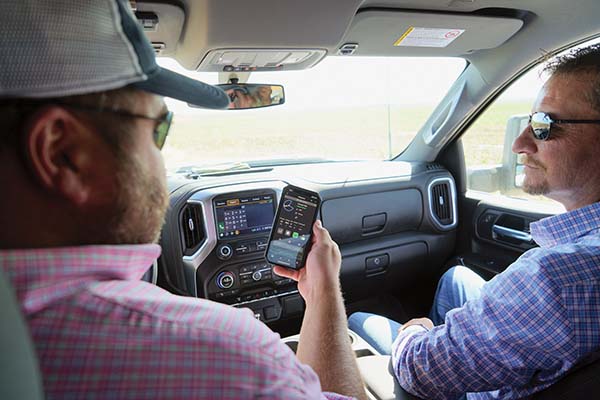 Testing and learning
A Tarleton State University graduate with a degree in agriculture services and development, Hughes applies a test-and-learn approach to his farming practices. He continued to farm during his college days, then served as county executive director for the USDA Farm Service Agency (FSA) for eight years after college. This exposed him to a variety of farming operations across the state of Texas. 
For instance, his planting practices reflect a deep appreciation for the quality of soil and ways to maintain valuable soil moisture. He rotates wheat and cotton crops, planting the wheat as the cotton comes off in the fall and harvesting it the following June. The wheat stubble remains intact to hold the soil and to act as a weed barrier. It also helps the soil retain moisture for the following cotton crop he plants directly into the stubble after it's had a chance to decompose.
"Those old wheat roots and the stubble help rebuild the soil and help us be more efficient, meaning we can deliver more cotton bales to the gin per acre using less water," Hughes says. "In our part of Texas, more often than not, it's pretty dry. This practice helps us make the best of the moisture that we get."
Growing Tifton 85
Hughes has brought another new practice to the area.
"When I was with the FSA, I saw ranchers using Tifton 85 grass to feed their herds, so I thought I'd try it out," he says.
Tifton 85 is a cross between a grass from South Africa and a bermudagrass developed in the 1980s, and Hughes finds the results impressive. He says each acre of irrigated Tifton 85 can feed one head of cattle, compared with his old ratio — 25 acres of native grass to one head.
The Tifton grass and surrounding pasture supports commercial Angus cows and a herd of Herefords, the same breed he showed in high school. That hobby from a few years ago has since grown into a side business — raising show steers through his family-owned Box H Cattle company.
In the fall, Hughes uses his commercial cows as recipients, meaning he implants them with embryos from his Hereford donor cows. The result is multiple siblings from the same mating. The calves are born in August and September and weaned in February. Hughes retains the bull calves to sell as show steers for 4-H and FFA student projects across the state.
Hughes also participates in a new product evaluator program, growing seed blocks with a cottonseed company. It's extra work — he needs to ensure the test seed is planted in fields that are perfectly cleared of previous cotton plant residue. In addition, the test production must be kept separate at harvest and during the ginning process. But Hughes says the results are well worth the effort.
"It's fun to see what's on the horizon for our cotton industry a couple years in advance," he says. "We're helping test the future right here in Nolan County, and that's pretty exciting." 
— Staff
---