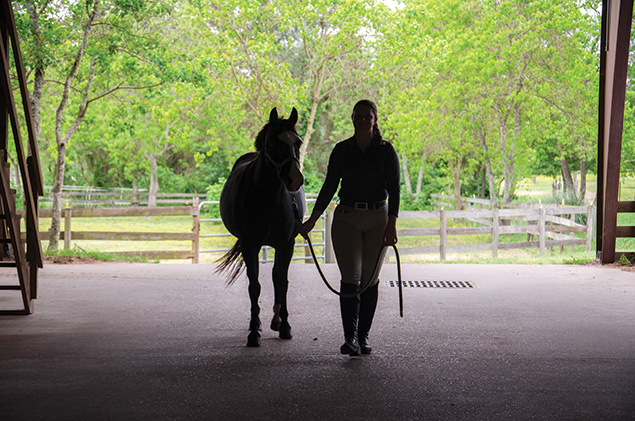 ---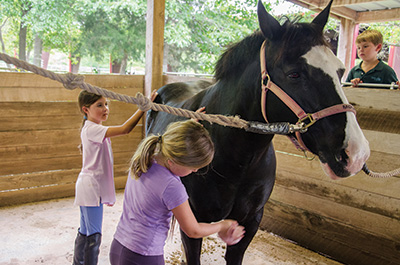 Outfitted in field boots and riding breeches, best friends Ellen Gomez and Alexys Howrish have just arrived for their English equestrian riding lessons at Tally Ho Farm near Conroe, Texas. Side by side, the third-graders eagerly skim an assignment sheet attached to a large dry-erase board.
"I've got Max!" Alexys squeals.
"I've got Hooter," Ellen sighs.
Well-versed in the rider's job, both girls pick up their horses' halters, hung in alphabetical order on a barn wall. With a little help, they'll catch, groom and saddle the horses themselves.
"This is a self-serve facility," explains instructor Kim Cox, who co-owns the farm with her husband, Dale. "Our students don't just climb on a horse and take a lesson. We teach them to treat our horses like their own, which instills within them a real love and devotion for an animal. They also learn how to control something much bigger than they are, but with finesse and grace."
That solid emphasis on teaching riding techniques and nurturing personal growth has earned Tally Ho Farm a well-respected reputation in the English riding world. Each week, more than 200 students take lessons from Kim — named the 1999 Instructor of the Year by the American Riding Instructors Association — and four other instructors. Established in 1993 at a prior location, Tally Ho has two covered riding arenas, an outdoor arena, three horse barns with 54 stalls, and many other amenities.
"We have a very stable operation, no pun intended," Dale says, smiling. "That stability means a lot to clients. In this business, the average client retention is two years. We have some who've been with us since we moved here in 2002."
English Riding Background
Ask Kim how she came to love horses so much, and she'll talk about her mother, Mary McCartney, a retired English riding instructor who teaches on a limited basis.
"As a girl, Mom babysat for a neighbor who rode polo horses," Kim says. "As part of her pay, Mom would ride the horses to cool them off after matches, even though she had her own horse. That's how much she loved horses." In later life, Mary and her husband, Jeff, went on to establish Foxcroft Farm, an equestrian center that still operates near Conroe.
As a result, Kim grew up riding horses and foxhunted English style with her family, using hounds and horses. Coached by her mother, Kim competed at English riding shows across Texas, winning ribbons in hunter, jumper and equitation classes. In high school, she assisted with riding lessons at Foxcroft.
At Texas A&M University, Kim fell in love with Dale Cox, an electrical engineering major. The two married in 1990 shortly after Kim finished her biomedical sciences degree. For three years, they lived in Sherman, where Dale worked for an electric utility. In 1991, their son Michael was born, followed in 1994 by daughter Katie.
"After Dale and I married, I had one horse, then three," Kim says. "I gave riding lessons, too. I've always believed that you can't have horses without making money. They're not just pets. They've got to earn their own way."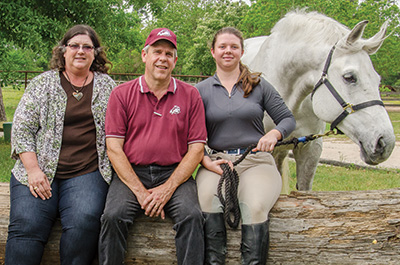 Not Just a Hobby
Dale, who spent summers as a boy helping his grandfather run cattle northwest of Austin, felt the same way.
"Kim's horses couldn't just be a hobby," he says. "They had to be a business."
In 1993, Dale accepted a new job that transferred the family and their horses to Iowa Park near Wichita Falls, Texas. At their new home, Kim formed Tally Ho Farm, named after the British phrase that's shouted when a foxhunter spots the quarry. Over the course of four years, she expanded from teaching riding lessons to boarding, breeding and horse training.
But in 1997, Dale was accepted into law school in Houston, and the family relocated to Conroe, where Kim took a position at Foxcroft Farm. Meanwhile, she needed a place for her growing number of horses, and two years later, the family bought nine acres with a house and barn near Willis, north of Conroe.
Willis became the family's permanent home in 2001, when Kim decided to leave Foxcroft and focus on Tally Ho Farm. That meant she and Dale needed their own facility with room to grow.
"We started looking for a place to buy in the area," Dale recalls. "I knew of one existing property that seemed ideal. But it wasn't for sale. I talked to the owner, and she said she'd keep us in mind. Two weeks later, she called and said she was ready to sell!"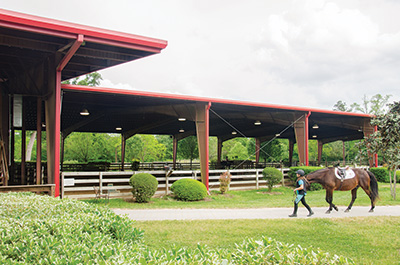 A Fresh Start
In April 2002, the Coxes closed on the 39-acre property, which included a barn, a covered riding arena and several other buildings. As part of the terms, the couple financed the purchase with the previous owner's bank.
"Our three-year loan had a variable rate, which wasn't great," Dale says. "Then as Kim's business grew, we discussed her need for expansion. But the bank wouldn't lend us any more money, and we wanted a long-term loan with a set rate. That's when I saw an advertisement for Capital Farm Credit. I told Kim, 'Hey, we've got a farm! I wonder if they'd be interested in helping us.'"
In 2005, the Coxes contacted a loan officer in Capital's Conroe credit office, who reviewed their proposal and gave them a resounding "yes!"
"It's been a really great relationship," Dale says. "Since then, we've taken out several loans to finance a second covered arena and an air-conditioned mezzanine. They've also financed other operating needs. A regular bank won't lend us money, but Capital will."
Wally Hinkle, senior vice president in the Conroe credit office, manages Capital's relationship with Tally Ho and admires the couple's strong work ethic.
"We're proud to be a part of what they've accomplished at Tally Ho Farm," Hinkle says. "The real difference is their business model and the people behind it. Kim and Dale take pride in what they do, and it shows. They understand their customers' needs and provide full services, which have enabled them to grow steadily."
In Love With Horses
At Tally Ho Farm, the pace rarely slows. Lessons are taught every day. More than 80 horses — farm-owned, leased to clients and boarded — must be tended. Buildings require maintenance. Piles of paperwork stack up. To ease the workload, Dale joined the business as operating manager in 2009. As part of the team, Katie trains horses and gives lessons. The family also employs four caretakers.
"You have to have good help for a successful business," says Kim, who gave up riding after back surgery years ago. "We also make sure that our instructors teach only on specific days, so they have time off and don't get burned out. At one point, we considered adding another barn, but that meant more clients and horses. I definitely believe that quantity should never come before quality."
Tally Ho's instruction program caters mostly to school-age girls, although adults take lessons, too. Private and group classes teach jumping, hunt-seat and equitation riding techniques. Serious students may join Tally Ho's 26-member team that travels the show circuit.
Beyond lessons and shows, Tally Ho offers a physical education program that grants credits to students who take riding lessons. Their summer clinic fills up every year, and a popular work program rewards barn chores with riding time.
Love for horses is the common denominator that ties Kim, Dale, Katie and their many clients together at Tally Ho Farm.
"This kind of work is 24-7, so it has to come from your heart," Kim says. "And it sure does from mine." – Sheryl Smith-Rodgers
Like Mother, Like Daughter
Seated in the grandstand at the Pin Oak Charity Horse Show 15 years ago, 6-year-old Katie Cox vowed that someday she would compete in the prestigious show. Now 21 and a professional rider, Katie has achieved far more than she first envisioned as a little girl, taking lessons from her mother, Kim.
"Riding at Pin Oak in Katy, Texas, was a long-shot goal, but it happened!" Katie says. "I competed for the first time at age 13 in 2007. Next I wanted a ribbon, so then I won sixth place in 2012. This March, I won the Grand Prix!"
To win the jumping event, Katie guided her gray gelding, Twilight, over an obstacle course in a clear, fast finish in just 39.37 seconds. In jumper competitions, riders with the fastest time and least number of faults — scored when horses stop, refuse to jump or bump a rail — win.
What's next?
"I'll be competing in Kentucky and Tennessee for three weeks," Katie replies, smiling. "Then it's back home for our summer clinic."
---