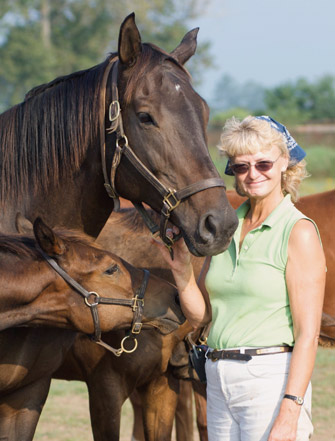 Nervous, jittery and out of sorts, racehorses arrive at Channon Farm near Doyline, La., for a well-deserved break from the track. By the time their lay-up sessions end a few weeks later, they are decidedly more relaxed.
"I've always enjoyed watching a racehorse getting to our facility all wound up, then taking a deep breath and just being a horse again," says owner Gillian Channon Taylor. "We call it R and R — rest and relaxation. Part of what we do here is take racehorses out of the grind of training. Some of them need a mental break away from that. Then they go back with a fresh outlook."
Lay-ups, rehabilitation and boarding are among the services offered at Channon Farm, a thoroughbred operation established in 1990 by Taylor, who's been around horses since a young age.
A Love Affair with Horses
"My love affair with (horses) started when I was nine, growing up in England," she recalls. "On weekends, my sister, Rosemary, and I would ride our bike 5 miles to a farm, where we fed the animals. For pay, we got to ride the ponies."
Her parents soon bought the girls their first pony, Paintbox, followed by a second pony, Katie, on which Taylor fox-hunted and competed. "By the time I was 13, I knew I wanted to work with horses," she says.
The Channon family immigrated to Maryland in 1970, where Taylor's father had taken a new job. "I remember being heartbroken because we had to sell Paintbox and Katie," she says. "I felt so lost then, but I still had my grounding force — horses. From the age of 14 to 17, it was horses and school for me. Totally."
Horses Became a Career
After high school graduation, Taylor worked at a broodmare farm in Maryland. There, she learned about raising foals, and even worked a horse auction in Lexington, Ky.
"I also learned how to sales-prep a yearling for auction, which is similar to a 4-H project. We do that here at Channon Farm, too, but on a smaller scale," she explains.
In 1978, Taylor accepted a job breaking yearlings at Foxfire Farm, a thoroughbred operation near Alexandria, La., and ended up as manager. "Everything I learned there was very instrumental in what I do today," she says.
After the owner, Mason Grasty, sold Foxfire, the new owner moved the operation to Greenwood, La., and Taylor moved with it.
Her Own Business
It was at the urging of clients that Taylor started Channon Farm, operating for seven years on leased property. Then, in 1997, she found her present 86-acre farm near Doyline, and financed it with Louisiana Land Bank.
"Gillian purchased the farm with not much more than a dream and a loan with us," says David Ogletree, Land Bank vice president and Shreveport branch manager. "It's gratifying to know that we can play a small part in her success." (Taylor has since paid off that loan.)
Initially, Channon Farm focused mostly on racehorse lay-ups. "Then we started getting a good reputation for rehab work, which we still do," says Taylor. "For instance, LaHarpe, a racehorse that belongs to trainer Al Stall Jr., recently arrived after surgery on his front leg. He'll probably be here about 90 days. Horses can stay a couple of weeks or up to a year for rehab."
It's All in the Breeding
In the last three years, she and her husband, Roy Taylor, have tripled their broodmare business, foaling 80 mares this year. "We retain the breeder's rights for life on any foal we own that is born here on the farm. That means we receive 22 percent of any purse money that's won by that horse."
Two horses bred at Channon Farm and owned by Taylor stand out as high-stakes winners. Ida Marie, winner of the $100,000 Victoria Stakes at Louisiana Downs in 2007, earned $273,000 in her career. Hail To Bag earned $238,806.
Even the state's top racehorse started off at Channon Farm. "Happy Ticket — who's the all-time leading Louisiana-bred earner with more than $1,688,838 in winnings — was foaled right here," Taylor says.
For her, working with racehorses is a labor of love. "The downsides are hard, like losing a foal," she says, "but then seeing a horse you bred and raised win a race — that's such a high!"
For more information, call (318) 745-9974.
-Sheryl Smith-Rodgers
---