---
When Colton and Casey Russell married three years ago, they set up a "goal board" in their kitchen. Topping the list: Buy a house.
Last winter, the couple finally accomplished that goal, thanks to the support of Plains Land Bank. But for a while, they didn't know when they would ever purchase their first home together.
A tight real estate market
For months, the Russells scanned online rural property listings looking for the perfect country home. They simply wanted a house and a bit of land in West Texas where they could rear their three children and raise their horses.
In Texas' tight rural real estate market in 2020, offerings were few.
"At one point, we drew a circle on the map on Realtor.com between Fort Worth and Lubbock. We checked listings every night," Casey says. "There weren't many places on the market that fit what we were after."
Complicating their search, they discovered not all lenders want to finance rural real estate — especially not for self-employed entrepreneurs.
"Conventional banks don't like to take a chance on rural property," Colton says. "Then you add in a successful network marketing business, plus horses and cows, and that really sets them off."
A comfortable financing relationship
In October 2020, the couple made an offer on their dream place — a house south of Plainview on 12 acres with corrals and two barns. For financing, a fellow self-employed entrepreneur recommended Plains Land Bank, where the couple met Loan Officer Ryan Pierce.
"Ryan took a chance on us, and we took a chance on him and Plains Land Bank, and it worked out," Colton says. "We could talk to him about agriculture and rural life, and it was just a comfortable relationship."
Soon after the loan process began, their offer was accepted.
"We went through COVID distancing and 'snowmageddon' last winter, and Ryan stuck with us and got the loan done," Casey says.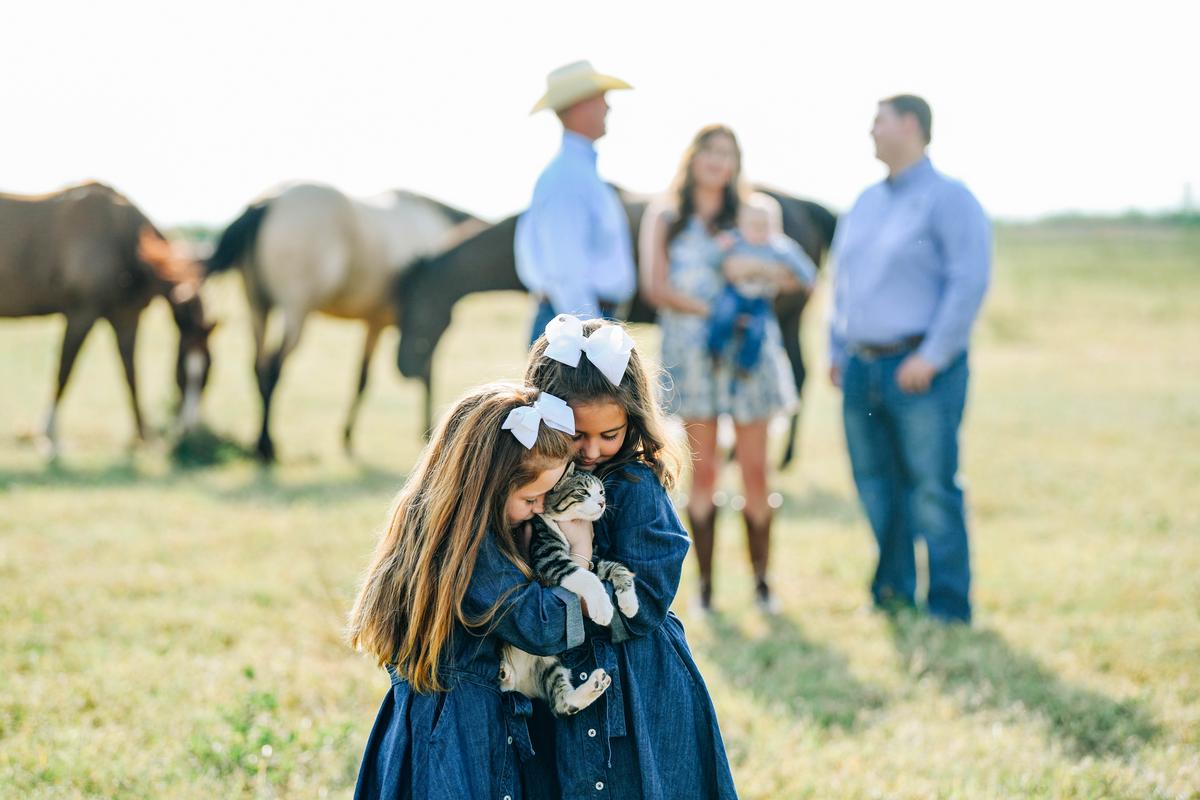 Perfect for children and horses
Built in 1939, the four-bedroom house features original hardwood floors and play areas for daughters Lincoln and Cherokee and baby son Towns. For Colton, the property is driving distance to their land, cattle and horses in Motley, Hale and Briscoe counties.
And for Casey — a home-based entrepreneur, author, motivational speaker and social-media maven — the house offers plenty of space to work and fulfill her role as mom.
The property is also perfect for the Russells' quarter horses. Colton and Casey come from families steeped in ranching and horse breeding. They hope to carry on those family traditions for generations.
Casey's parents, David and Gayle Graham, instilled the Western way of life and an appreciation for horses in her. From rodeo arenas to racehorse tracks, she was involved with horses and cattle her entire adolescence. Like her dad, a state champion calf roper, Casey competed in rodeo and was fortunate to ride top-of-the-line horses.
Her family still breeds and raises quarter horses in Central Texas, and she's excited about doing the same with Colton and their children.
Colton's background is similar. An eighth-generation cowboy, he was reared on the Matador Ranch outside Matador, Texas, seven hours from Casey's home. His maternal grandfather raised ranch horses.
Although he was involved in numerous activities, his passion was rodeo. He rode broncs and later qualified for the national cutting horse competition. Barely out of high school, he financed his first 10 head of cattle with a Farm Credit operating loan. Today he owns 100 head through his Buzzard X Cattle Co.
Next plans and goals
The Russells are thrilled to have a place where they can raise and train horses. With sights set on developing roping horses, Colton and Casey are working to build their dream place — a complete horse facility that will include a riding arena, round bronc pen and horse walker.
Their band of broodmares includes one Colton purchased from the Matador Ranch, where his dad is general manager, and two mares his grandfather raised. They plan to grow the herd by continuing to breed a few mares to high-performing cutting studs.
For now, the couple is leasing land for hay and pasture. However, they hope to expand their operation by purchasing more land for both their cattle and horses — and to involve Plains Land Bank in their plans.
"We've been so happy with the Land Bank," Casey says, reflecting on their homebuying experience. "We prayed for this home. We knew we could do it financially, but we just needed someone who believed in us."
Now, it's on to the next goal.
— Staff
---