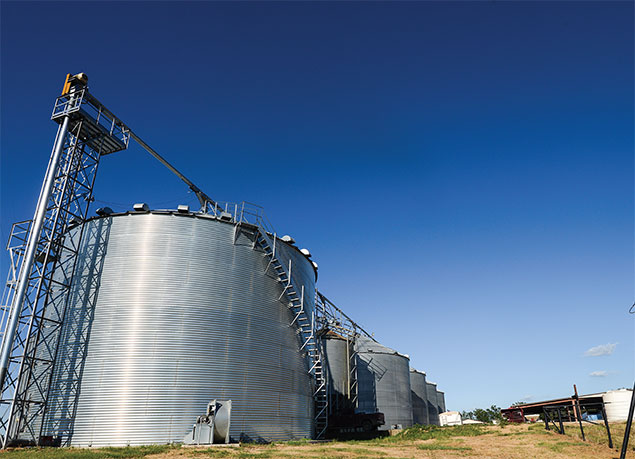 ---
It's August in northern Mississippi. The air is thick and a scalding 95 degrees on a Friday afternoon, driving many folks indoors or to the cool waters of the nearest swimming pool.
But row-crop and cattle farmer Gary Jamerson is indifferent to the heat. He takes a break from crunching numbers in the office of his Byhalia, Miss., farm to venture into the oppressive heat and visit with a few members of his black Angus herd.
"This is my idea of relaxation," says Jamerson, as he rubs the broad forehead of his favorite cow, 98. "Oh, I just refer to them based on their ear tag number. Ninety-eight is just a big ol' pet."
The Mississippi Land Bank customer's no-nonsense approach to naming his cows is indicative of his method of farming. He has built one of the largest operations in the area by keeping a diverse crop portfolio, limiting his dependence on others, and keeping a close eye on the markets.
"I've always been a numbers guy," says Jamerson. "It's just something that comes naturally, I guess."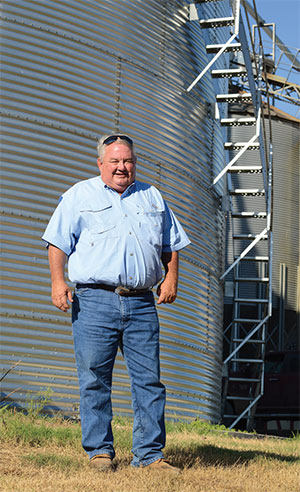 Row Crops, Produce, Cattle and Hens
The numbers that Jamerson wrestles with daily would daunt some mathematicians, not to mention farmers. Currently, his enterprise includes 1,500 acres of purple-hulled peas, 8,000 acres of soybeans, 2,000 acres of corn and 1,000 acres of rice. He also double-crops 4,500 acres of wheat, runs a 450-head cow-calf operation, and recently began growing 40 acres of produce. The operation involves more than 20 full-time employees who operate a fleet of combines, tractors and planters on farms from West Tennessee to Sunflower County in the Mississippi Delta region.
He even keeps a couple dozen laying hens.
"Those hens have more personality than most people," says Jamerson, his face creasing into a grin. "Now, I've just got to figure out how to profit from the eggs!"
Whether the subject is chickens or corn, peas or produce, Jamerson brings an unusual skill set to Delta agriculture. Although he was raised on a Collierville, Tenn., dairy farm and has worked outside agriculture, he took an unusual career path upon graduating from the University of Tennessee at Martin in 1980.
"Agriculture was in trouble at that time, and we weren't farming big enough to make a living, so I needed to do something else," he recalls. "I had an acquaintance on a Farm Credit board of directors, and he talked me into going to work for them."
For the next 15 years, Jamerson worked full time in the finance sector, with both Farm Credit Services and a Federal Land Bank Association in Tennessee, while farming on the side.
"This is really where I developed the skills and experience to operate a successful business," he says, referring to his Farm Credit lending positions. "I worked with good loans and bad ones, learning what to do and what not to do."
Lending Proves Good Training
It was during those years that Jamerson fine-tuned his philosophy of independence and a careful attention to numerical detail.
"I learned from a large egg producer in Fayette County, Tennessee, that every component of a farming operation should be self-sufficient," he says. "If he had row crops, they should carry themselves. If he had cows, they carried themselves. Every operation should have its own set of books to show if it's profitable or not. He showed me how to watch over the different entities, which is important in an operation that's as diversified as ours."
Matthew Raff, vice president of the Senatobia branch of Mississippi Land Bank, says Jamerson embodies a rare mix of financial training and "old-fashioned horse sense."
"His understanding of all the aspects of a very complex operation is off the charts," says Raff, who has worked closely with Jamerson for more than 10 years. "Most big-time farmers are good with their books, but Gary is really unusual in that respect. He can do it all."
"I worked with good loans and bad ones, learning what to do and what not to do." – Gary Jamerson
Juggling Agriculture and Construction
In 1996, Jamerson took a leap of faith and stepped out of the financial industry into full-time farming. But as was his tendency, he approached it from a slightly unconventional angle.
"We were fortunate to pick up several farms in the Collierville area from farmers who had retired," he says. "Around that time, we kind of backed into the construction business, as well. A friend of mine called out of the blue and asked if I would finish the earthwork on a new golf course in Collierville."
Although Jamerson had never done construction work before, his friend convinced him to use his farm tractors after planting season to move dirt on the golf course.
For the next several years, his company juggled production agriculture with construction, including grading new homesites and building concrete foundation pads in Memphis-area subdivisions.
"In those boom years, we were building 10 to12 house pads per week," Jamerson says. "It was a crazy time. When the real estate market tanked, we were able to quickly sell a bunch of our earth-moving equipment before the market got really bad. We were very fortunate, honestly."
For the first time in his adult life, Jamerson began farming full time. When an opportunity to lease a substantial amount of cropland in northern Mississippi presented itself about a decade ago, he and his wife, Susan, and daughters, Suzanne and Megan, moved to Byhalia.
"By the time we got here, I'd made a lot of connections in agriculture in this part of the country," he says. "I had learned from some other guys that selling our crops a year in advance was the way to go. It gives me more control over how I plan my year. You may not hit all the highs in the market, but you also avoid the lows. This allows us to pick our own seed that we're going to plant, figure out our chemicals, look for our own bugs, and market our own crops. We don't have all these consultants telling us what to do."
On-Farm Storage Is Key
Jamerson says that purchasing seven grain bins in 2007 was one of the best decisions he's made in agriculture and one of the biggest elements in keeping him in control of his own economic destiny.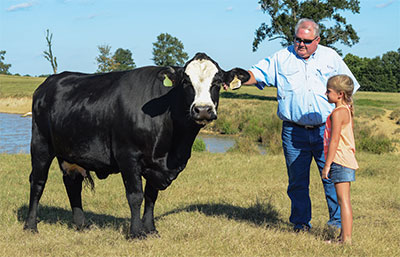 "I will always recommend a farmer getting grain bins if he can," says Jamerson. "Make it the first thing you get. A grain bin allows you to harvest when the time is right without getting bogged down at the elevators.
"Growing commodities is largely about marketing your crop in a profitable way, and having on-farm storage allows you much more leverage in that process."
He points out with a smile that production agriculture is, in many ways, a "numbers game."
"And that works out in my favor," he adds. "Remember, I'm a numbers guy!" – Mark Johnson
---