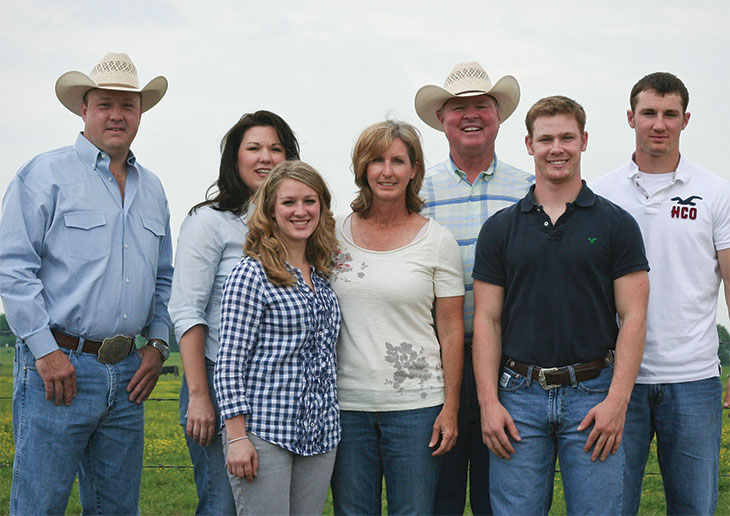 For cattleman George Harrington of Hugo, Okla., Christmas comes in July. There may not be snow or presents, but it does come with a feeling of anticipation — the anticipation of the year's best prices.
Harrington has learned by diligently following the cattle markets in nearby Oklahoma City that the week of July 25 is the best time of the year to sell his 900- to 1,000-pound stocker cattle.
"Something like high corn prices may happen to alter it, but on a 10-year cycle the high date is traditionally going to be July 25," says Harrington, who grows and markets approximately 2,500 to 3,500 head annually.
Prepared for Market Changes
In addition to running a stocker operation, which straddles the Texas–Oklahoma border between Paris, Texas, and Hugo, Okla., he plants approximately 1,000 acres of corn and 400 acres of soybeans annually. With the combination of these, he is able to adapt his operation to the changing grain and cattle markets. In years when corn prices are low or he has yielded a short crop, Harrington can chop the corn for silage or store it in grain bins to feed to the cattle. Otherwise, he sells the corn and grazes fewer steers.
"Ultimately, I'm growing a corn crop and trying to market it the best way I can, whether it be through cattle or by selling it as grain," Harrington states.
"It's a labor of love," Harrington says. "I tell my kids that some people grow up wanting to be an astronaut or a doctor, but I never wanted to be anything but a farmer and a rancher."
He can graze approximately 1,500 head annually on the ranch with no additional supplements. However, with the capacity to store up to 100,000 bushels of shelled corn and 10,000 tons of silage, he can feed an additional 1,000 to 2,000 head each year. During one particularly good year, when he had an abundance of silage and corn was cheap, he fed and sold 5,200 stockers.
Harrington begins buying steers in May. He purchases locally weaned calves that weigh roughly 250 pounds and calves from Florida with weaning weights of 300 to 350 pounds. He continues to stock his herd until October, and purchases calves with higher weaning weights later in the season so that all of the calves will weigh relatively the same amount upon finishing.
The stockers are kept on the ranch for approximately 12 to 15 months — until the next summer — to take advantage of the high market in late July. Realizing that the steers can't all be sold in one day, Harrington begins selling them in late June and continues marketing them through August.
Pecans Add Diversity
With the ranch's close proximity to the Red River, it has an abundance of native pecan trees, which have provided Harrington with another business opportunity. He has harvested pecans for 20 years, and in recent years has planted more trees, which have yet to begin producing.
Today, Harrington can harvest up to 250,000 pounds of pecans in a good year. The pecan trees are a complementary endeavor to the cattle: Where there are pecan trees, he plants Tifton 85 Bermuda grass for the stocker cattle to graze, thereby doubling his return from the land. "The great thing is that when I fertilize the grass, I'm also fertilizing the trees," he says.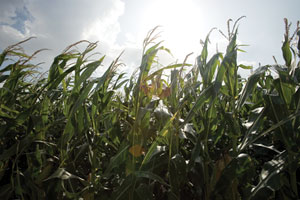 Even though the land is working double duty, Harrington is always ready to add more acreage and expand.
"I love to buy land and I love to buy cattle. If either of them comes up for a good deal, I'm going to buy them," he says.
With this philosophy, it is important for Harrington to work with a lender that can grow with him and adequately handle the scope of his business. According to Harrington, James Welch, regional president for Lone Star Ag Credit, has proved more than up to the task. Harrington says he went with a good "gut feeling" when he moved his business to the Farm Credit cooperative from a commercial bank. In 2001, he obtained one of the first operating loans that Lone Star originated, and has been a borrower ever since.
"George is one of the most detailed and analytical borrowers we have and is very forward-thinking in terms of his business," Welch says. "He's always willing to entertain new ideas and is not afraid to challenge tradition. I value the relationship we have developed with George and his family and look forward to continuing it for many years to come."
Finding His Niche
Harrington is quick to admit that he couldn't run such a diversified operation without help. The business is truly a family affair. His wife, Beth, is a veterinarian with a practice in Paris, but she also works on the ranch most days.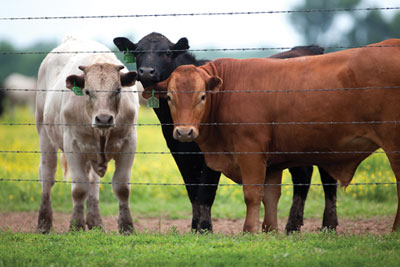 The couple has 17-year-old triplets — Emma, Sam and Will — who are all active in FFA and enjoy the lifestyle that comes with living in the country. Both boys are certain that they will join their father in the agricultural operation someday. Harrington's older daughter, Jennifer, loves agriculture, and she and her husband, Jack, live just a few miles away.
"It's a labor of love," Harrington says. "I tell my kids that some people grow up wanting to be an astronaut or a doctor, but I never wanted to be anything but a farmer and a rancher."
Despite Harrington's lifelong ambitions, his father — who ran a dairy on land where the Dallas-Fort Worth International Airport sits today — tried to discourage the son from following in his footsteps. But Harrington never doubted that he would be successful.
"It's like anything else — once you get into it, it's so hard to make a living in agriculture that you have to find a niche," Harrington says. "I've found mine in corn and growing steers."
– Staff
---