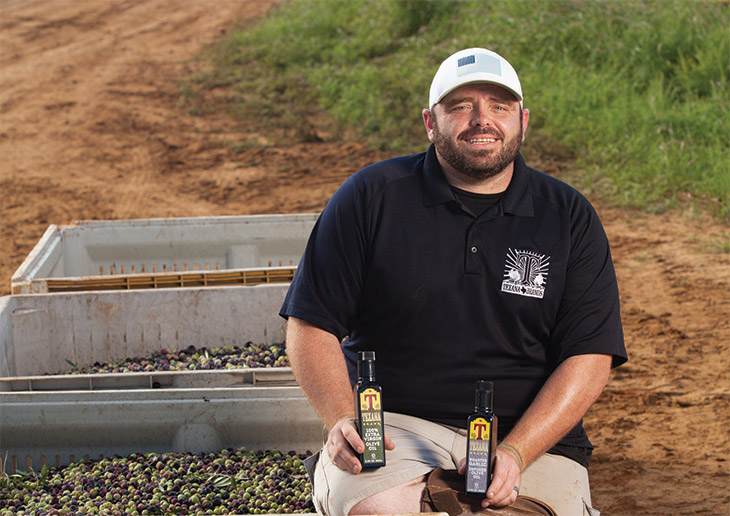 ---
For the past 10 years, the South Texas brush country has become a hotbed of economic activity, thanks to the boom in the Eagle Ford Shale, one of the nation's largest oil and natural gas formations.
But Stephen Coffman, his sister, Mary Rose, and her husband, Michael Paz, are aiming to put another kind of South Texas oil on the map — olive oil produced from their family's 125-year-old ranch.
"We wanted to do something to put the land back into production, and have something to pass on to my daughter and my brother-in-law's kids," Michael says, explaining how the former cattle ranch became home to thousands of olive trees. "But we didn't want to do anything typical."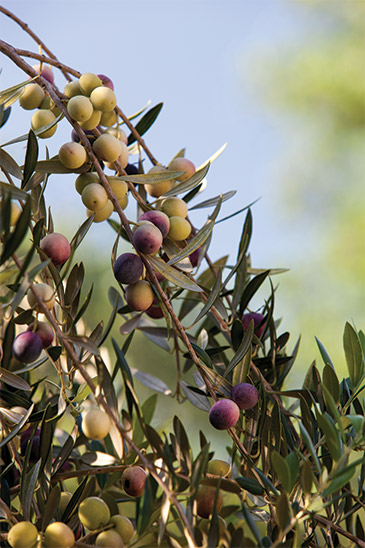 The family's business success has been anything but typical. After planting their first olive trees in 2012 with hopes of seeing a harvest in six or seven years, their Texana Olive Ranch had its third harvest in 2018, and over the past several years, their Texana Brands extra virgin and infused olive oils have been finding favor with Texas taste buds.
200,000 Trees and Counting
The 150 acres that are now known as Texana Olive Ranch were once covered with watermelons and grazing beef cattle, both common agricultural enterprises for La Salle County, located along Interstate 35 between San Antonio and Laredo. In 2012, the family planted 7,000 trees, thinking that number would be sufficient.
"We did our research and traveled to California and Australia, both major players in the olive oil industry," Michael says. "We quickly found that those 7,000 trees weren't a big enough operation to compete, so we planted an additional 23,000 trees the next year."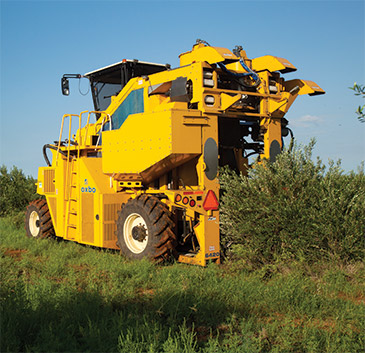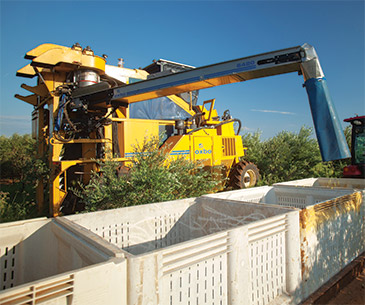 Olives grown for oil are smaller in size than table olives, but have a very high oil-to-flesh ratio. Today, the ranch has almost 200,000 trees that are capable of producing 30 to 50 gallons of oil per ton of olives.
"When we were business planning, we didn't plant everything at one time," explains Michael. "We planted some in the spring, some in fall, some this year, some that year — we even skipped a year. We're always going to have something to harvest."
The ranch's location is a major advantage, offering them cool winters while avoiding extreme weather.
To harvest a crop each fall, the family uses an adapted grape harvester that was built in Washington. Rods in the harvester shake the olives off the tree and send them directly into a mobile olive mill. The mill, which allows the olives to be pressed into oil and ready for aging within eight hours, presses and pulverizes the whole olive — flesh, skin and pits — into a paste.
From there, several steps remove water and oil from the paste. The oil is then transported to the family's production facility in Kyle, Texas, just south of Austin, where it "racks" for 30 days in stainless steel tanks, a step that removes sediment. Some of the product is infused at this stage, creating some of Texana's most popular varieties, such as roasted garlic, smokey mesquite and fresh jalapeño.
Setting a Standard for Texas Olive Oil
In addition to growing their own operation, the family wants to see the entire Texas olive oil industry prosper.
Michael is currently president of the Texas Association of Olive Oil, a role he accepted in order to help create a research platform for the industry. Stephen notes that research and collaboration with state agencies, organizations and other growers are important to the industry's success.
"We've been blessed to work with fantastic folks, both here at home and from around the world," Stephen says. "Texas A&M AgriLife Extension, the Natural Resources Conservation Service and the Texas Department of Agriculture are huge helps to growing the industry, but honestly the biggest help has come from our fellow olive growers."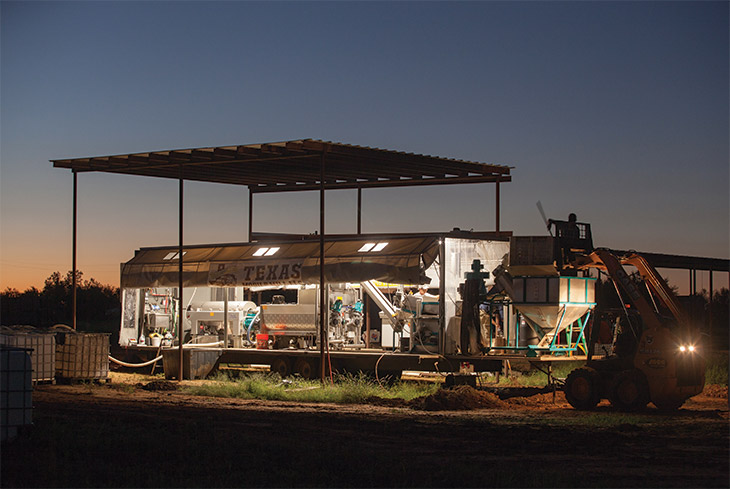 ---
One of Michael's priorities is establishing an advisory board that would help the industry get funding through legislation — something he thinks would help make the Texas olive oil industry a serious market contender.
"We know that Texas will probably never make as much oil as places like California or Australia — that's why the olive oil that we produce has to be superior in quality," he says. "What's in the bottle matters to us."
According to Michael, the association has more than 60 members and represents about 150 growers and 4,000 acres across the state.
"The industry is moving in the right direction," he says. "We're gaining more exposure, more momentum, and more farmers are looking at olives."
From the Grove to the Grocery Store
Texana Brands uses several avenues to market its product. A variety of oils are sold through H-E-B, a Texas-based grocery company with stores across the state, and Michael promotes and sells oils at fairs, trade shows and stock shows throughout the year. Online sales account for a small portion of business. The company also has a number of restaurant customers.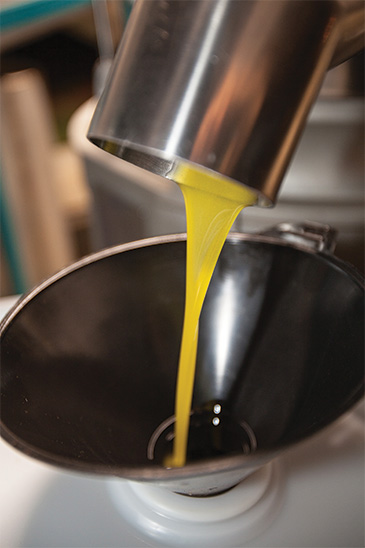 "It's our hope that Texana's crop will show the industry that commercial tonnage can be grown outside of a Mediterranean climate," Stephen says. "The extra virgin olive oil produced here can hold Texas a spot on the top shelf, with the best olive oils."
Even though the company markets all over the state, some of Texana Brands' biggest fans are close to home. Debbie Martinez, the family's Capital Farm Credit loan officer, says she only cooks with olive oil, and has used Texana's infused oils to make some delicious dishes at home. In addition, the branch office has sent sample packs of infused oils as holiday gifts to customers.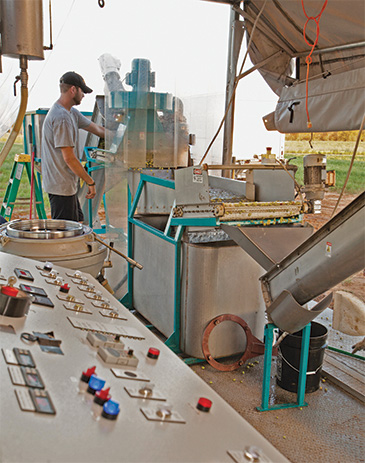 "I get excited seeing their products in the grocery store," she remarks. "We get to know our customers so well and of course are happy for their successes."
Capital Farm Credit's Jourdanton branch office provided an operating loan for the family, and financed the olive harvester through AgDirect, an equipment financing program offered by participating Farm Credit associations. AgDirect can be used at equipment dealerships, auctions, online auctions and for private party equipment purchases, no matter if the customer chooses to purchase, refinance or lease.
The family's relationship with Capital Farm Credit has been important from the start, according to Michael.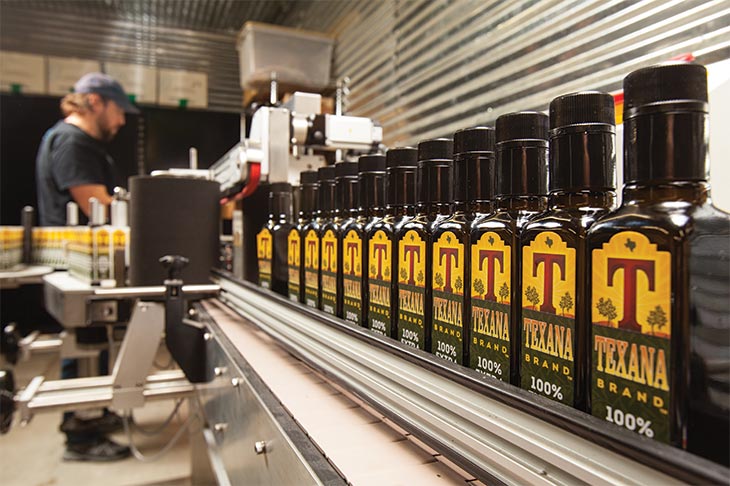 ---
"It looks good for us to be associated with an established lender like Capital Farm Credit, not just for right now, but for the future," he says. "We're in this for the long haul. We don't just have olives, we are olive farmers."
To order Texana Brand Olive Oil products, visit TexasOliveOilStore.com

 @TexanaBrands

 @TexanaBrands
U.S. Olive Oil Production
According to the American Olive Oil Producers Association, there are approximately 45,000 acres of olives planted exclusively for the production of olive oil in the United States. Olive oil is produced in California, Arizona, Texas, Georgia, Florida, Oregon and Hawaii. The U.S. produces about 5 percent of the olive oil consumed in this country each year.
Deciphering the Bottle
Extra virgin olive oil is produced by crushing olives without heat or chemicals to maintain the natural antioxidants, polyphenols and flavors. It also must meet both taste and smell standards in order to be classified as extra virgin. Often it is marketed as "first press," "cold pressed" or "cold extracted," although all extra virgin olive oil is produced this way.
Pure or classic olive oil is a blend of refined and extra virgin/virgin olive oil, and has a milder flavor than virgin olive oil.
Color is not an indicator of quality or flavor. Quality olive oils range in color from pale yellow to dark green depending on variables like the olive variety, where it's grown, climate and harvest timing.
In the Kitchen
Olive oil can be used in all types of cooking. Studies have shown that its smoke point is high enough for baking, sautéing, grilling and frying.
Olive oil does not get better with age. Check the best-by date when purchasing olive oil, and use the oil within a few months once the bottle is opened.
Avoid heat, air and light to prolong the shelf life and maintain quality of olive oil.
Health Benefits
Numerous studies have shown that olive oil has a positive impact on cardiovascular health, diabetes and metabolic conditions, reduction in cancer rates, and other common illnesses. 
Sources: American Olive Oil Producers Association; North American Olive Oil Association
---