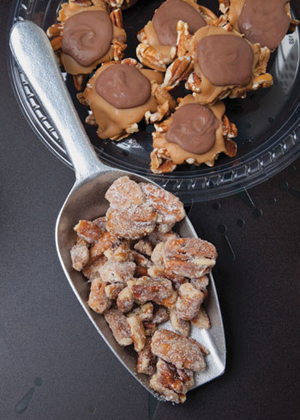 It was 2002, a year before their college graduation and only weeks before their wedding, when Winston Millican popped an unexpected question to his soon-to-be-bride, Kristen: "Do you want to start a business with me?"
Winston's family owned Millican Pecan Company in San Saba, Texas, which had been growing and selling pecans since his great-great-grandfather, E.E. Risien, founded the West Texas Pecan Nursery in 1888. Winston was looking to take the business a step further by setting up an online site and selling not only fresh pecans but also candies and pies.
Kristen recalls that a series of thoughts raced through her mind at the possibility, but it did not take long for her to say yes.
"I figured we might as well change everything at once," she says.
Learning the Ropes
For the first year, they ran the business remotely from College Station, while they finished their degrees at Texas A&M University — Winston's in agricultural economics and Kristen's in management information systems.
At the time, there were not many Internet companies selling pecans, so they believed that it was a good time to get into that market. The pair used their senior year classes as a training ground to implement their ideas.
"We'd tell our professors that we were starting a business, and they would really help us. It was fun to have our professors supporting us," Kristen says. "There were a lot of practical lessons in class. We thought, 'Wow! This stuff is really applicable.'"
Fortunately, the couple did not have to tackle the entire effort alone. It was — and still is — a family effort. In the early days, the family members would converge on the small kitchen at the shop in San Saba to test recipes for candies and pies.
"Winston's mom has a home economics degree from the University of Texas. She knows a lot about what ingredients work together," Kristen says. "My mom also loves to cook. It was truly a family effort to come up with all our products."
Featured on the Food Network
The family developed outstanding recipes for tasty pecan treats — at least the Food Network says so. The Millican Pecan Company pie was featured on the network's show "Unwrapped," on an episode featuring Lone Star snacks.
"That is one of our favorite shows," Kristen says. "We were watching it one night, and Winston, who is a big joker, said, 'We're going to be on there one day.' A year later, a producer called from the show," she says.
It took a second for Kristen to get over her surprise at the call. The woman explained that they were looking to include a pecan company in the Texas episode and had found them online. They were interested in their history and requested samples.
The "Unwrapped" staff liked what they tasted, and the company was included in the show's lineup. The show originally aired in January 2007 and is re-run occasionally.
"God has blessed us, and I don't know why," Kristen says. "You can try and try to get exposure like that, but for someone to call you up out of the blue," she shrugs, "how else do you explain it?"
As a result of that show, they have supplied products to larger companies, such as Hickory Farms. It has generated interest among individual consumers, as well. "We still get calls from people who say they saw us on the Food Network," Kristen says.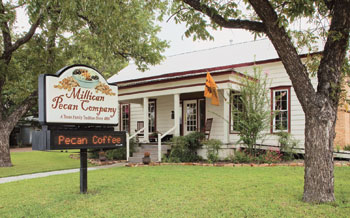 Branching Out
The Millicans initially intended to sell their pecan food products entirely online, and in the early days, the Internet accounted for about 90 percent of sales. Today, however, they have branched out with a catalog, retail store and a tea room. Winston also has started a pecan tree nursery, which will start selling trees in the spring of 2010. Their Web site, however, still does the majority of the work.
"Business would not be the same without our online efforts," Kristen says. "We rely on the Internet to make things easier and to organize our business."
The retail store is open year-round, Monday through Saturday, except on major holidays. Family members and friends take turns staffing the store. The business also sells and ships food products year-round.
In April 2009, the Millicans started a tea room, which is open for lunch on Tuesdays and Thursdays. The goal of the lunch business is to show that pecans can be used in everyday cooking. The menu includes items such as chicken salad with pecans and salads with pecan meal sprinkled on top. They also serve desserts, like pies and cheesecake.
"Business has more than doubled since last year," Kristen says. "And much of the growth has been from the tea room."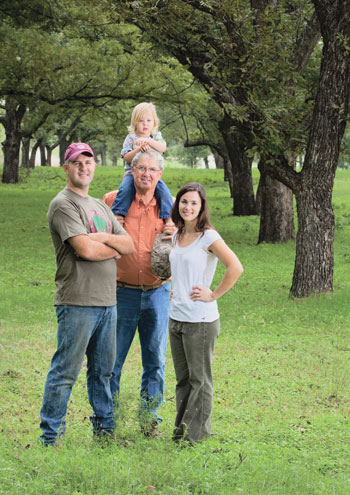 Hands-on With the Business
Winston and his father, Bob, head up the pecan production side of the business. They have several employees who work with them throughout the season and hire additional help during the harvest, which runs from October to December.
That time frame is also peak season for selling their pecans and food products. The couple hires temporary employees to pack and ship from a facility down the street from their retail store. When needed, they even run a night shift to get orders out on time. Kristen and Winston will often work nights, too.
The couple has one daughter, Anna, who is now 2 ½. Kristen recalls Anna's first pecan harvest season. "We strapped her in a carrier and went down and worked the night shift," she says.
Working every aspect of the business is important to the Millicans. "We're small enough that we can be hands on with the business. I hope we can maintain that as we grow," Kristen says. "I think it's important to not just delegate but to work hand-in-hand with those working for you."
A Good Lending Partner
As the Millicans have grown their business, they have relied on Capital Farm Credit to help. "They are great to work with and have been accommodating with a seasonal business like ours," Kristen says. "It is comforting to know that they believed in us and trusted that we would accomplish what we set out to do."
Joe Ellis, assistant vice president in Capital Farm Credit's San Saba office, serves as the couple's loan officer. He has welcomed the opportunity to work with the Millicans. "It is a true reward to work with young people such as the Millicans who have that burning desire to carry on a business in agriculture that ties back to their family heritage," Ellis says. "They are adapting to many changes, and through the use of modern technology, they are able to continue and grow the business."
Most recently, Capital Farm Credit provided financing for the pecan tree nursery. It takes four years before the first trees are ready to be sold, which means four years before receiving a return on the investment. "Capital understood that and worked with us. We couldn't have done it without them," she says.
Kristen encourages other agricultural entrepreneurs to give Farm Credit a try. "If you believe in your dreams and your ability, don't be afraid to talk to Farm Credit. They're there to help you," she says.
For more information about Millican Pecan Company, visit www.pecancompany.com.
– Staff
A Texas Tradition Since 1888
Millican Pecan Company is rooted in history. Winston's great-great-grandfather, E.E. Risien, was born in England and came to the United States in his teens. After a stay in Galveston, Texas, he headed to California. Along the way, however, he detoured to San Saba, Texas. A mob had raided the Texas town, leaving many dead, and Risien's skill as a cabinetmaker was needed to make caskets. While he was there, he fell in love with the place and with pecans. He never left the area, choosing instead to make a living from pecans. His efforts left a lasting impact on the pecan industry.
Risien bought property at the junction of the San Saba and Colorado Rivers. From this location, he developed many great pecan varieties and an orchard that still prospers today.
Customers of Risien's included such notables as Lord Tennyson, Queen Victoria of England, Secretary of State John Jay and the cereal company giant, C.W. Post.
Millican Pecan Pie
One 9-inch unbaked pie shell/deep dish
3 eggs
1/8 tsp. salt
½ cup sugar
1 tbsp. plain flour
1 cup clear or white Karo® syrup (see note)
¼ cup melted butter
1 cup Millican Pecan Halves
Preheat oven to 350 degrees. Beat eggs and salt. Mix in flour and sugar. Gradually add syrup. Beat well. Add melted butter and pecans.
Pour into pie shell. Bake 45 minutes to an hour. Pie is done when top cracks.
Note: Syrup choice can vary by your personal tastes. A thick, clear syrup gives a mild, sweet pie. A more traditional darker syrup will add more distinct maple flavor, and an in-between syrup gives yet another distinct variation. The choice is yours, so experiment to see which one you prefer. For best results, use only thick syrup.
---