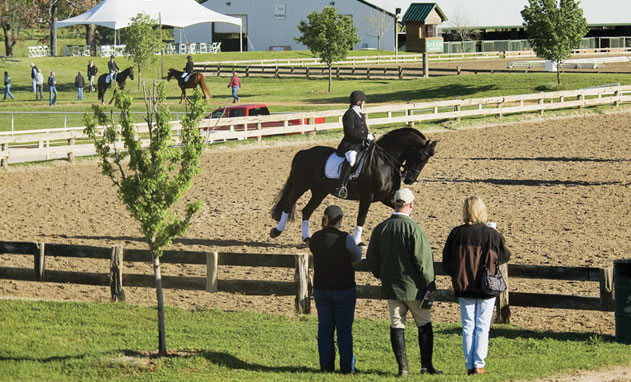 ---
When Kathy Brunson designed Texas Rose Horse Park near Tyler, Texas, in 2007, she wanted it to be an equestrian center like none other she had seen before.
"Some people helping with the design told us that it needed to look just like a Kentucky horse park with white fences and all," Brunson says. "I told them three things: 'First of all, this is Texas. Secondly, this is East Texas, so it should be cedar. Lastly, I'm running this show!'"
While she may have been talked into a white fence or two, it's still Brunson's show — and one that she has run well for almost six years. Today the scenic and distinctly Texan equestrian facility attracts premier competitive events ranging from hunter-jumper shows to dressage competitions to agility trials. The park can handle concurrent events and has stalls for 500 horses at any given time, allowing Brunson to host more than 60 events annually for competitors who come from across the country.
Wide Open Space to House a Growing Business
Kathy and her husband, Robert, who passed away in 2008, purchased the property in 2006 after deciding to relocate from the Dallas–Fort Worth area. The Brunsons had operated various types of horse boarding, training, showing and recreational centers since moving to the area in the 1970s. Tired of the city encroaching onto their facilities near Grapevine, the couple decided to look at property in East Texas, where they could find wide open space that could handle a growing business.
"We were frantically looking for land in other parts of the state because our dream was to start a show facility that would make Texas proud," Brunson says.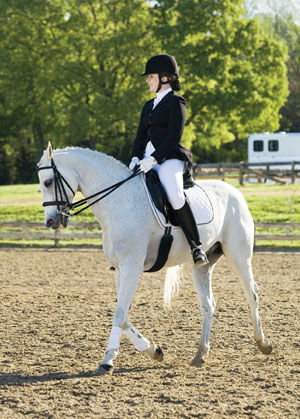 At the time of the purchase, the 1,700 acres and its few buildings were showing signs of neglect, as the Brunsons were the property's fourth owners in 20 years. The couple knew the property had potential and quickly got to work building new barns, arenas and paddocks.
Brunson also wanted competitors to be able to relax and enjoy themselves while visiting Texas Rose Horse Park. Growing up in a farming family in Texas' Rio Grande Valley, she developed a deep respect for the land, and put a high priority on incorporating the landscape's natural beauty into the park's design.
To be able to host multiple types of shows, the horse park today includes two jumper rings, three hunter rings, an indoor arena and three stall barns. A Texas-shaped pond with a fountain is the gem of the park's cross-country course. The Brunson Equestrian Center also allows Brunson and her family — daughter, Kim, and son, Bryan — to host summer camps and riding lessons.
"We come from a diversified background, as far as the horses are concerned," she says. "We love all levels of competition and have a sincere drive to have a facility that allows for all types of events.
The facility was recently chosen as the site of the 2013 Nutrena United States Eventing Association's American Championships.
Providing Texas Hospitality and a Home Away From Home
In addition to offering top-notch facilities, Brunson says that extending Texas hospitality is also an important aspect of the business. Understanding that many of the competitors are traveling long distances and may be away from home for weeks at a time, she wants to provide them with many of the comforts and conveniences of home.
"We are a full-service facility for our competitors," she says. "We provide them with anything from dentists, doctors and auto repairmen to feed and hay."
The hay is homegrown, too. Brunson says they bale 10,000 to 15,000 bales of hay annually. The family spent many months clearing and rehabilitating 300 acres of land for hay production in 2007, and turned to Heritage Land Bank when they were looking to refinance a portion of the acreage last year.
"As her lender, I appreciate that Kathy runs a tight business and is an excellent manager," says Jennifer Dobbins, branch manager of Heritage Land Bank's Tyler lending office, and Brunson's loan officer. "Personally, I really like that she involves so much of her extended family in the business."
Brunson works night and day to make Texas Rose Horse Park a memorable experience for visitors, but also takes some time to enjoy the fruits of her labor. A self-proclaimed "outdoors person," Brunson likes to revel in the scenery and Texas landscape she has worked so hard to preserve.
"The sunrises and the moon views here are gorgeous," she says.
– Staff
For more information about Texas Rose Horse Park, visit the website.
An Introduction to Competitive Equestrian Events
Jumpers are judged solely on their ability to jump obstacles. They are required to complete a course of approximately 12 to 16 obstacles ranging in height from approximately 3 feet for beginners to more than 5 feet for veteran jumpers.
Hunters are judged and scored on their ability to negotiate obstacles, but unlike jumpers, what counts are their style of jumping, manners, even pace and quality. In conformation classes, horses also are judged on their build and beauty.
Dressage comes from the French word dresser, meaning to train. While an Olympic equestrian sport, dressage is considered a basic training discipline for any horse. Dressage principles are a logical, step-by-step progression from simple to increasingly complex movements.
Why Refinance With Farm Credit?
Texas Rose Horse Park owner Kathy Brunson refinanced a real estate purchase with Heritage Land Bank in 2011. Her loan officer, Jennifer Dobbins, says that while most people think of refinancing only as a way to get a better rate, there are several other reasons to refinance with Farm Credit.
"Kathy wanted to switch lenders because she wanted to deal with someone local," Dobbins says. "Farm Credit institutions make their loan decisions locally with people who know and understand the communities they serve."
Dobbins says that customers who choose to refinance with Farm Credit also get to participate in the lender's patronage program, which is a benefit of the Farm Credit System's cooperative structure. Even though Brunson's loan only closed in 2011, she was able to share in Heritage Land Bank's earnings from that year and was presented with a check from Dobbins in early 2012.
"I wish I had found y'all four years ago," Brunson says, referring to her portion of the payment.
To find the Farm Credit lender nearest you, visit findfarmcredit.com.
---