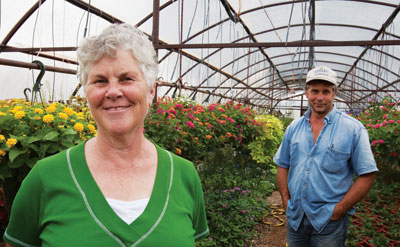 The rock road just outside of Bogata (pronounced BUH-go-ta), Texas, is long and winding as it meanders from Hwy. 271 through the woods and over a hay field to Barbara Kelley's house.
The way Barbara describes it, the road is an appropriate symbol of the journey her family has taken — a journey that has led them from selling sod grass in the big city in the 1970s to running an expansive wholesale plant farm today.
From the house, to which her offices are attached, she can see row after row of plastic-covered greenhouses that sit atop a hill overlooking the hay field. In each greenhouse are numerous varieties of plants in various stages of growth, all destined for a bedding-plant retailer in Texas, Louisiana or Oklahoma.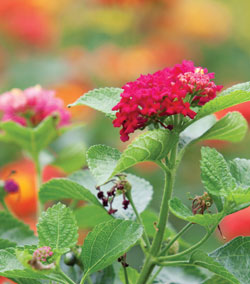 Humble Beginnings
"We built our first greenhouse to help out our sons, Keith and Kenneth, when they were in junior high," says Barbara. "They started growing vegetables and truck farming in Bogata. Dan (her late husband) and I built the greenhouse to help them out with their business, by growing vegetables that they could sell."
Truck farming, for the uninitiated, is the practice of growing produce on a relatively small scale and trucking it to various places where the products are sold. As it turns out, Keith had a knack for the business and took over ownership of the produce business in the late 1980s after Kenneth graduated from high school and went on to another career.
According to Barbara, it was the willingness to work hard and take chances that allowed her and Dan to hang on to their dream of living on a farm, after they left the bustle of the Dallas-Fort Worth metroplex in the early 1970s.
In Arlington, the two had a St. Augustine grass business, and in the winter, they sold firewood. On frequent trips to southern Red River County to pick up firewood, they fell in love with the farm where Barbara still resides. They were so enamored with the property that they decided to purchase it and try to make a living in the country.
"We started out with cows and tried to sell off their calves, but that was a tough living," she says. "So we tried different things like raising hogs and building trailers and cattle feeders, before we settled on the produce and plant business."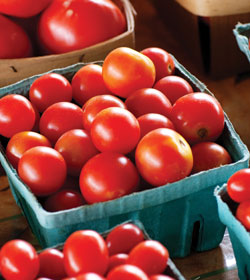 Hard Work Pays Off
Today, with the help of their AgriLand Farm Credit lender, the Kelleys continue their legacy of innovation.
"The Kelleys' operation is unique due to its scope, and Keith and Barbara's level of involvement in the management and operation is impressive," says Jake Aragon, vice president of the AgriLand branch office in Clarksville. "They are a pleasure to work with and are truly some of our best borrowers. We enjoy being able to watch their plants and their business grow!"
Aragon says the Kelleys have achieved a very successful operation through hard work and excellent management practices.
"AgriLand is proud to be their lender of choice and is very excited to have the opportunity to continue this lending relationship," he says.
Plants and Produce
Even though the Kelleys now have a diversified agricultural enterprise that still includes a cow-calf herd and hay operations, the plant farm and produce stands remain the centerpiece of their efforts.
"Over time we felt like it was a better return on our investment with produce stands instead of truck farming," explains Keith. "So today we operate four, year-round produce stands in the area, and we operate a produce market in Paris, Texas, from May through October of each year."
In the beginning, their business volume consisted of approximately 80 percent vegetables and 20 percent flowers. Now, due to their emphasis on developing the bedding plant business, those percentages have reversed.
Adapting for Success
Today, Kelley Plant Farms is a well-known brand in the horticulture industry because of the family's willingness to provide customers with the plants they want in the varieties they seek. As such, their trade area has grown to proportions that cover a large geographic area. Currently, they service all of Oklahoma and northeast Texas, parts of Louisiana, and northwest from Bogata all the way to Amarillo in the Texas Panhandle.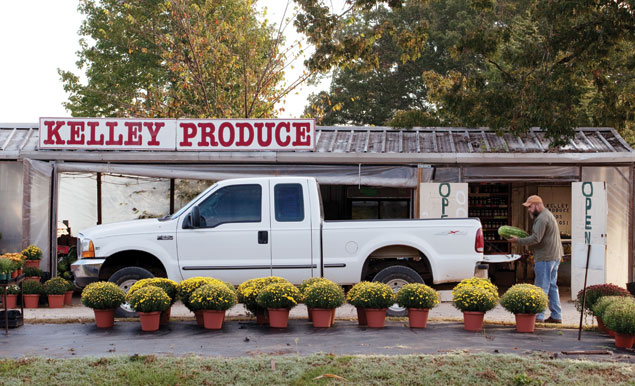 By specializing in annual bedding and vegetable plants, they are able to stay current with the demand for their products. At the same time, they've been careful to adapt to industry trends and grow the types and varieties of plants that consumers demand.
Barbara admits that the journey hasn't always been easy. With the death of her husband a few years ago and the ever-present pressure of running the day-to-day business, there have been challenges. However, she and Keith have handled the challenges in stride.
"We've always loved trying new things and adapting our business to fit what's needed," she says in her easy, unassuming way. "I've been on this farm a long time and don't plan on leaving anytime soon."
– Russell Graves
---