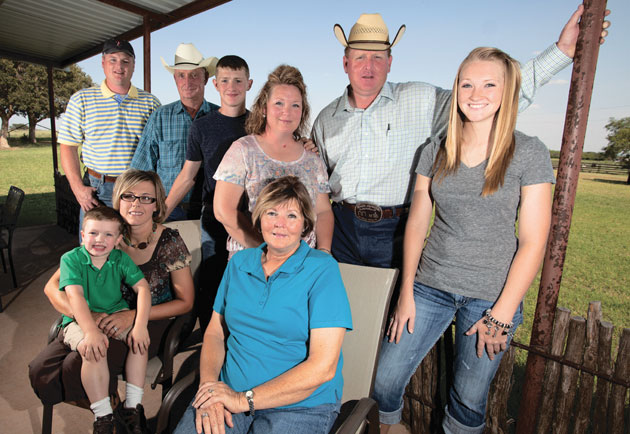 ---
"Everything you see out here is food or cover for some sort of wildlife," says David Estes, as his pickup bounces along a dirt road on his family's Double Horseshoe Ranch in Jones County, Texas.
Under a nearby sand shinoak, a bobwhite quail rooster eyes the truck cautiously as he eases toward thicker cover in which he'll hide. A few yards beyond the quail, two white-tailed does bound across an open field of grass and forbs. Anchored by fine sand, the pasture is a patchwork of oak mottes and grass flats that the wildlife loves.
Persevering Through Drought
Driving the truck is David's son Steve, and for the past hour, he's been talking about cattle, wildlife and how tough life can be on the western edge of the Texas Rolling Plains.
"People all around us have been getting rain," says Steve, who helps with the ranching and wildlife operations and is also a county extension agent with the Texas AgriLife Extension Service. "But the drought never has let up much around here. Last year was terrible, and this year is nearly as dry."
The Estes family, however, perseveres.
For nearly 40 years, David and Bonnie Estes have ranched through good times and bad in West Texas by paying attention to livestock market fluctuations and adapting their land stewardship practices to maximize their ranch income. In turn, they've created a place that hosts out-of-state hunters while maintaining deep familial connections.
Back at the headquarters, the family connection is evident.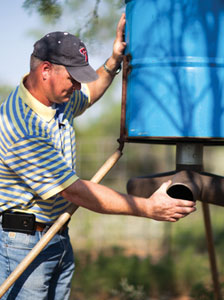 "The bottom line is that this ranch is a family-run operation," Bonnie says, while sons Steve and Chris and their families gather in the hunting lodge they built in 2001. "Everyone in the family has their own job to do, and we don't employ any paid staff."
Taking the Traditional Route
With a cow herd, haying and farming operations, and a hunting business that runs from fall dove season through spring turkey season, there are plenty of jobs to be done. In all, the ranch consists of more than 5,000 acres in the big ranch country northwest of Abilene.
These days, the cornerstone of the Double Horseshoe Ranch is the 250 mother cows that brood the stocker calves the ranch sells each year. Additionally, the family bales hay from reclaimed cotton ground that now grows bermudagrass. They also grow hay, wheat and other small grains.
"The wheat is used as a dual crop for both cattle and wildlife grazing," Steve says. "It is also harvested for grain as a cash crop, and for wildlife feed. Other small grains are sometimes planted, and are used as either cattle forage or wildlife feed."
The family once raised Angora goats, primarily for mohair production. However, as U.S. trade policies evolved and mohair became less profitable, they phased out their goat operation and slowly replaced it with hunting for income diversity. As they did so, they noticed that the deer population began to increase, primarily because the deer no longer had to compete with goats for the browse plants that feed both species.
Adapting to Quail Decline
In the 1970s, hunting played only a minor role in the Double Horseshoe's operations. The ranch offered lease hunting, which brought bobwhite quail hunters from across the United States. By managing their range for the benefit of quail, the Estes family produced large numbers of birds that kept earnest hunters returning year after year.
Over the past decade, however, they've seen quail numbers decline precipitously — despite their thoughtful habitat management. Quail population decline is occurring throughout the bird's range, not merely on the Double Horseshoe, and no one can pinpoint the exact reason, although area wildlife biologists are fervently trying to discover why. As a result of paltry bobwhite numbers, the ranch has not offered quail hunts since 2009. "We just take it from year to year, depending on numbers," Steve explains. Despite that loss, the hunting operation remains strong.
"Our hunters love this place and keep coming back," he says. "We've got good numbers of deer and good bucks." In fact, the Double Horseshoe usually has several bucks recognized by the annual Texas Big Game Awards program, with more than 60 bucks recognized over the past decade.
The deer herd performs well not by chance but by careful management, according to Steve. In the off season, the Estes family practices brush management, plants food plots and works with area biologists to track the bird and deer populations and the deer sex ratios. During hunting season, David, Steve and Chris all serve as hunting guides to help the hunters harvest only mature deer in keeping with their management goals.
"We laid water lines and provided steady water for the wildlife," David explains. "That's done more to benefit the wildlife than anything else we've ever done."
Diversifying Makes Sense
Customers of Lone Star Ag Credit since 1989, the Estes family has figured out how to manage livestock, hunting and farming operations side by side and make it all work, their Lone Star loan officer, Trevor Thompson, notes. "That's what you have to do to take full advantage of your land in this part of the country," he says.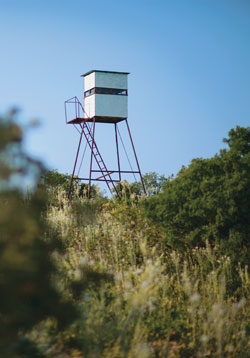 In the early days, the Double Horseshoe's hunters found their lodging and food off the ranch. After being asked to provide a meal one evening, Bonnie says the family eventually started cooking for their hunters every night, because the local restaurants were often closed by the time the hunters left the fields.
They also built a full-service hunting lodge, which now acts as the center of their hunting operation and is the anchor location for the four-day deer hunts they routinely offer. The ranch is also open for spring turkey hunts.
Deer mounts and other outdoor-themed décor adorn the lodge. In one corner is a full-service kitchen, where Bonnie, with help from Chris' wife, Leindy, cooks for the hunters and heads up hospitality. On the broad dinner table opposite the kitchen are framed photos of smiling hunters with impressively antlered white-tailed deer.
Steve handles marketing and social media for the business. "I can take a photo of a hunter's deer in the field right after he's harvested it and post the picture on Facebook so his friends back home can see it right away," he explains. His wife, Rebecca, cleans the lodge and maintains the grounds. The grandchildren have their chores, too.
"Everybody in the room has a job to do during hunting season," says Bonnie, grinning with pride at the operation that her family runs together. "The fact that we've done it as long as we have and everyone still gets along with each other ought to say something!"
A Quest for Quail Data​
The Double Horseshoe Ranch is not offering quail hunts this year due to a decline in the bird's population. It is not alone. Drought and other factors have impacted quail numbers throughout the Rolling Plains region, once considered the heart of Texas quail-hunting country.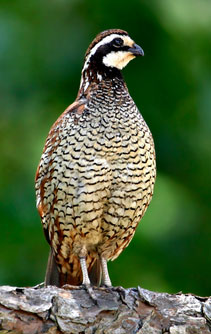 Through the Rolling Plains Quail Research Ranch, directed by Dr. Dale Rollins of the Texas AgriLife Extension Service, research is under way to study factors impacting quail. These include habitat, disease, weather and parasites, especially a high incidence of eye worms. The ranch, located near Roby, Texas, is a public-private effort that combines the resources of private landowners, government agencies, universities, businesses and wildlife organizations.
"Quail are important to the biodiversity and rural landowners of West Texas," says Lone Star Ag Credit Marketing Manager Lydia Laske. "Lone Star Ag Credit supports the quail research efforts through our sponsorship of Park Cities Quail and Cross Timbers Quail. We urge other businesses and organizations to also support this important cause."
---