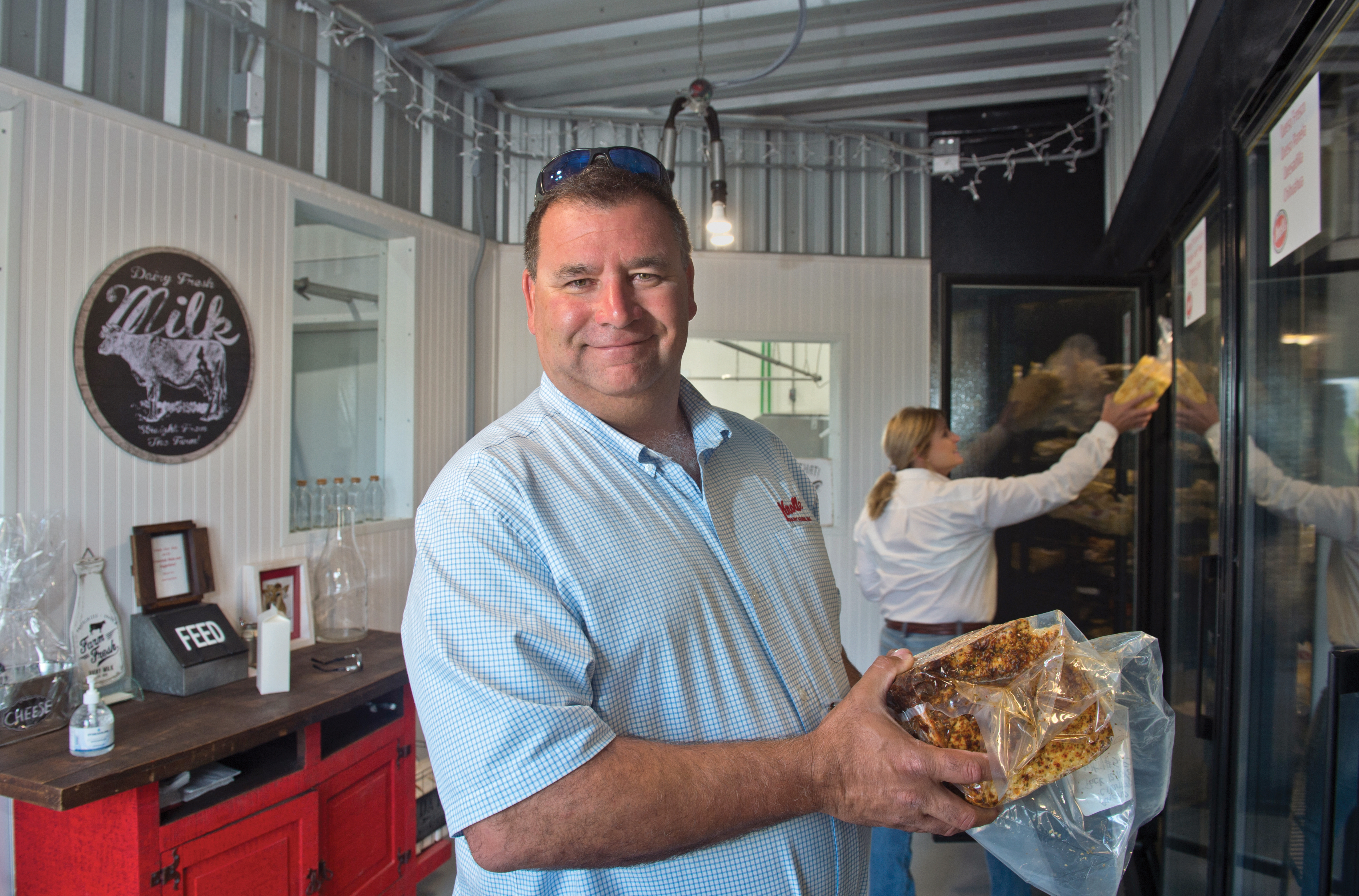 ---
Joe Knolle Jr. didn't intend to launch a new business in the middle of a pandemic.
For four years, he and his wife, Christina, had been hatching a plan to add value to their South Texas Jersey dairy operation. Their goal? To make and sell fresh Mexican-style cheese — queso fresco, in Spanish — on their farm at Sandia, northwest of Corpus Christi.
But in January 2020 they had to cut production because of industry milk surpluses. Then COVID-19 hit, and their milk market dried up even more.
There was only one thing to do — fast-track their business plan and start making cheese, a move supported by their lender, Texas Farm Credit.
A destination for cheese lovers
As it turns out, the timing was good.
Since their November 2020 launch, Knolle Dairy Farms has become a day-trip destination for cheese lovers and families looking for "agritainment."
"People have been cooped up in the house for a year, and they're ready for some fresh air and a drive in the country," says Knolle. "They can buy fresh cheese and even watch it being made. The kids get to run around and see baby calves. And people love to take pictures of my cows out in the pasture."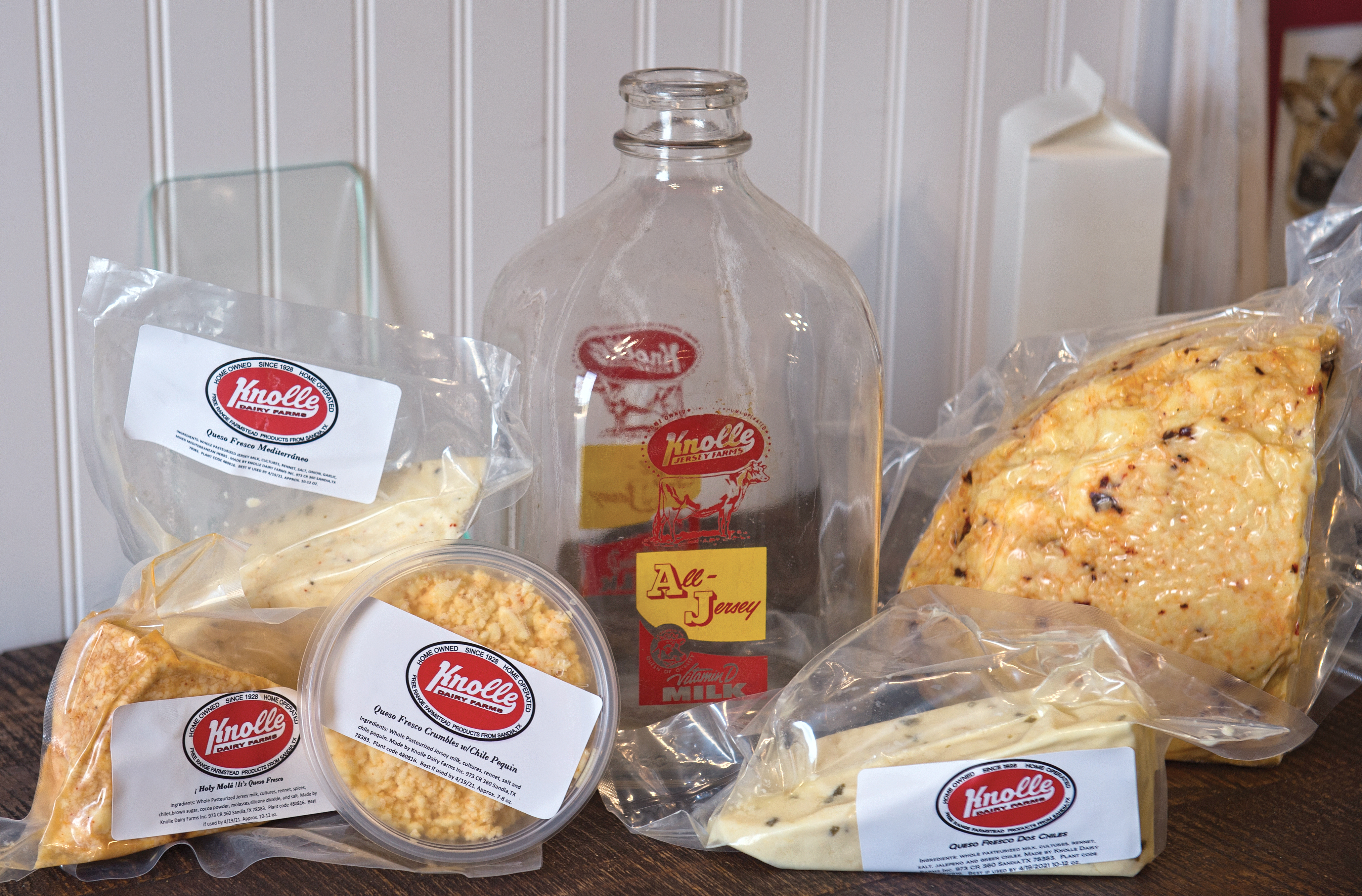 World's largest Jersey herd
This is not the Knolle family's first venture into the dairy products business. Fifty years ago, Knolle Jersey Milk Products was a popular South Texas brand. Knolle milk was delivered door to door. Their cottage cheese, butter, cream and ice cream were sold in local stores, and they had three regional distribution centers.
Knolle Jersey cattle were respected internationally, too. At one time, the herd numbered 8,000 cows — the largest Jersey herd in the world. Established in 1928 by Knolle's grandfather and great uncles, it was also one of the best.
One of the last in South Texas
By 2005, when Knolle joined his father in the business, they were milking 2,100 cows. But much of the state's milk production and processing had moved to West Texas.
"We had some conversations about keeping the herd going," says Knolle.
In 2012, the family sold most of their herd, and Joe and Christina downsized to a 300-cow operation — now one of the few dairy farms in South Texas. 
"We decided the only way to control our milk prices was to add value, by processing some milk ourselves."
Joe Knolle Jr.
The leap to value-added
But producing milk near the Gulf Coast is tough when it must travel 250 miles for processing, Knolle explains.
"We knew we had a broken business model and had to do something to remain viable," says Knolle, who has a degree in industrial distribution. "We decided the only way to control our milk prices was to add value by processing some milk ourselves."
To do so, they required a lender who understood agriculture.
"We needed an advocate for what we wanted to do," he says. That's why they approached Texas Farm Credit to finance their operating expenses.
After extensive research, the couple set a new focus — to produce fresh cheese for the local market.
"As a dairy in South Texas, our greatest liability is our location," Knolle says. "We decided to turn our liability into an asset by making a product that wasn't available here."
A plan in motion
When the pandemic struck, the couple had already started to convert an existing barn into a processing facility and retail store. Construction and product development shifted into overdrive. By November, they were ready to market nine flavors of traditional Mexican cheese — several infused with herbs and spices — and fresh curds.
The Mexican-style cheeses are made in two to three days, 400 pounds per batch, and are best eaten fresh.
"In Mexico, the best food is made with regional fresh cheese. But you can't find that kind of cheese here," says Knolle. "We want people in South Texas to taste the difference whole Jersey milk makes."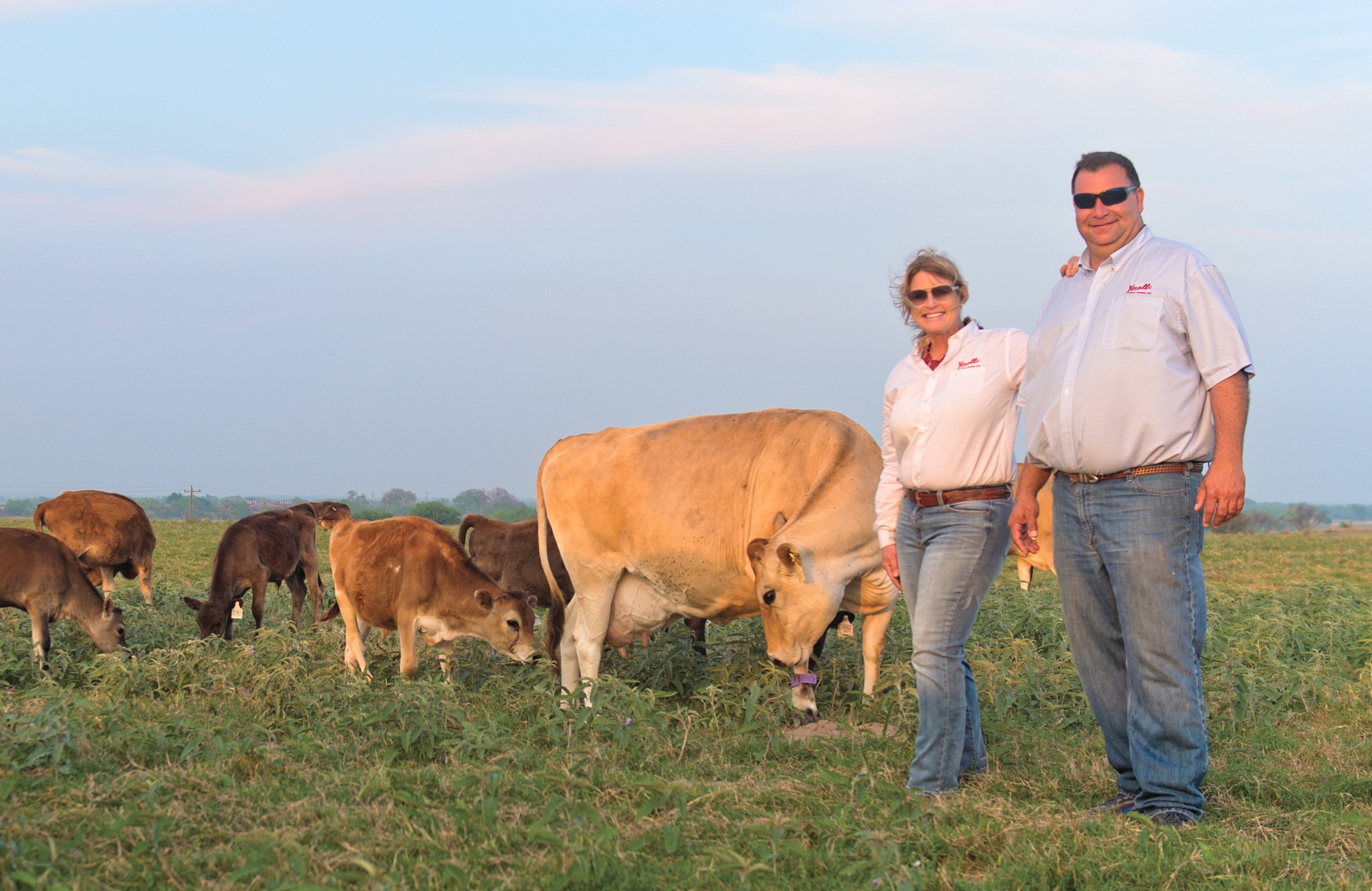 Product promotion
Traditional and social media helped spread the word that Knolle dairy products are back. Weekend events at the farm started drawing visitors. Customers volunteered to help. And people began booking private tours.
The Knolles invited food trucks to the farm on Saturdays to serve foods made with their cheese. They also began working with a specialty retailer to place their cheeses in local stores.
But on-farm sales remain their bread and butter.
"We want to be a local niche producer," says Knolle. "We don't have aspirations to get too big."
Big or small, the Knolles look forward to celebrating the dairy's 100th anniversary in 2028, and Texas Farm Credit is eager to help.
"We want to be a part of helping them reach that goal and continue the family business for years to come," says John Mayo, relationship manager with Texas Farm Credit in Robstown.
— Staff
---