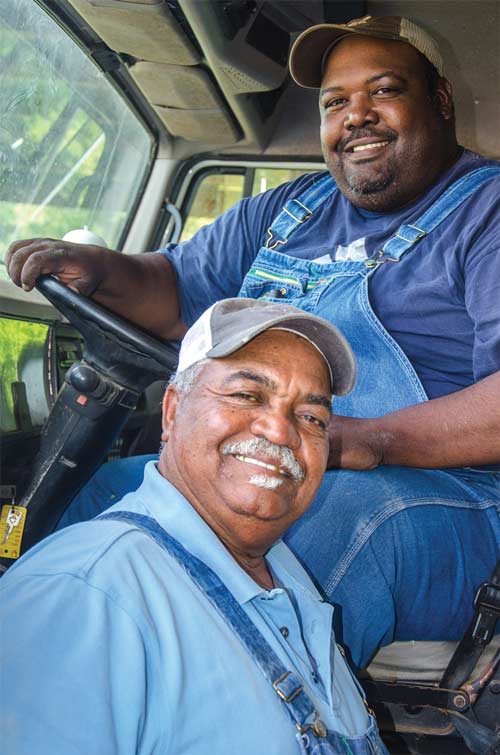 Farmer J.K. Lovett cracks a smile when he recalls meeting a close friend for lunch one day in 1990.
"Over hamburgers, Rev. Triplett just casually asked if I'd ever thought about getting into chicken houses," says J.K., who farms outside Heidelberg in Jasper County, Miss. "I thought 'Me? Raise chickens? What?' But I listened. You know, you can learn a lot whenever you listen."
J.K. didn't just listen, however. The next day he met with associates at Wayne Farms LLC, an integrated poultry producer in nearby Laurel, and soon signed up as a contract grower for the company. By year's end, three new broiler houses were operating on J.K.'s rolling farmland.
"Rev. Triplett's a smart man," he says, grinning. "But I bet he had no idea I'd actually do it!"
That can-do spirit, combined with a strong work ethic and a willingness to diversify, characterizes J.K. and his close-knit family, who have farmed in this South Mississippi community for four generations. Today J.K., his son Anthony DeWayne "Wayne" and his uncle J.B. Lovett are all in the chicken business, and they all finance their poultry houses with Southern AgCredit.
It was partly the desire to give his sons — Kerry and Wayne, then 19 and 17 — the option to farm that motivated J.K. to take his friend's advice.
"One reason I did was because I didn't want my sons to go through what I did," says J.K., who for a short time did factory work before becoming a logger. "It's always better when you can work for yourself.
When you hire people for a job these days, they want a lot of money, but they don't want to do any work."
Fiercely Independent
J.K. had grown up helping his father, Mike Lovett, also a logger and farmer, to work the family's land. After graduating from high school, he headed north to Chicago, where he spent two years working in factories. He returned in 1970, married his wife, Beulah, and started his own logging business with a pulpwood trailer.
Branching out into poultry was a good business decision, but early on, a catastrophe destroyed one of J.K.'s chicken houses. "The man who'd done the dirt work warned me that a nearby spring might cause a cave-in," J.K. says. "Well, the last 20 feet of the foundation did crack and slide off. Even the chickens fell in. I went to bed so scared that night."
Despite the loss, he forged ahead and built a fourth chicken house in 1993. Six years later he expanded into the cattle business, and still keeps 28 Angus cows today.
Through all the ups and downs, however, the Lovetts' relationship with Southern AgCredit has never wavered.
"I've been with Glen (Sowell)18 years, and he's never turned me down for a loan," J.K. says, flashing a smile. "It's hard to find a good banker like him. Glen's a fine man. We love his staff in Newton, too."
"The Lovett families are all success stories," says Sowell, regional vice president with Southern AgCredit in Newton, Miss. "We're pleased to partner with them in their individual journeys to reach their financial goals. I always enjoy visiting their farms, because they're so warm and friendly and willing to do what it takes to succeed."

---
Like Father, Like Son
Wayne followed in his father's footsteps, while Kerry found a career in the oil and gas industry.
After studying education in college, Wayne returned to the farm in 1995 and worked with J.K., logging and running the chicken houses. In 1999, he married his high school sweetheart, Stephanie, a pharmacist, and built three chicken houses, where he produces 9-pound broilers for Wayne Farms.
But two years into the business, tragedy struck Wayne's flock when he lost 18,000 chickens in one house.
"My uncle J.B. heard the siren going off, and 15 minutes later, they were dead," Wayne says of the alarm that sounds when something goes wrong in a poultry house's power supply or equipment. "To this day, we don't know what happened. Our neighbors came over and helped us dig a big hole, 20 feet deep, to bury the birds in."
The disaster didn't discourage him long, and in time, he added three more chicken houses.
"Every time I put chickens in my houses, it's a gamble that they'll come back out," he says. "So I keep everything serviced and well-maintained. We grease the fans and feeders, even if they don't need it. I check the water well regularly, too."
Wayne is especially watchful in the winter and summer months, precarious times for the temperature-sensitive birds, and expensive times for their owner.
"I lay down at night with the chickens on my mind, and I wake up with them on my mind," he says of the summer. "If I wake up in the middle of the night and I don't hear the fans running, I jump out of bed and go check them just to settle my mind."
Strongly Diversified
Like his father, Wayne has diversified beyond poultry and logging. He runs a cow-calf operation consisting of 45 mother cows, and retains the steer calves to grow out for market. On the side, he tends 20 acres of loblolly pines that he planted, and cuts hay for his own use and for his dad and Rev. Triplett. He also stores hay to sell to horse owners in wintertime.
Dedicated to taking care of his land, Wayne has worked with the USDA's National Resources Conservation Service to implement a number of conservation measures. With the agency's help, he fortified a levee near his pond and monitors lime and fertilizer use. He cross-fenced pastures and adopted a rotational grazing program that reduces erosion and allows the grass to rest. He also composts poultry waste and remains for use as organic fertilizer, thereby saving on input costs while reducing surface and groundwater pollution.
"Dad taught me to be a strong man, to take care of business first, and to take pride in everything I do," Wayne says. "He's also stressed how important it is to be a leader in my community. That's why I'm a deacon in my church."
All In the Family
Wayne also helps out his great-uncle and great-aunt, J.B. and Elnora Lovett, who live close by. In 1995, the couple contracted with Wayne Farms and built four chicken houses on their land.
"I worked in banking for 18 years, and J.B. was in the oil field," Elnora says. "After he got laid off, he bought a logging truck and worked with J.K. Because of J.K., we got into the poultry business nearly 20 years ago."
Recent health issues prevent J.B. from working in the chicken houses and helping J.K. and Wayne with repairs like he used to. Now Elnora and their son Joseph monitor and maintain the houses, with occasional help from Wayne.
"It's wonderful having such a close family and knowing that if we have any problems, we can count on them to help us out," Elnora says. "Being in the poultry business together definitely keeps us close."
From J.K.'s perspective as a grandfather, the poultry business offers other benefits as well. Now retired from logging, he can take care of the chickens and drive a school bus — a part-time job he thoroughly enjoys.
"My grandson's on my route," he explains, "so a lot of the (other) kids call me Papa, too."
---