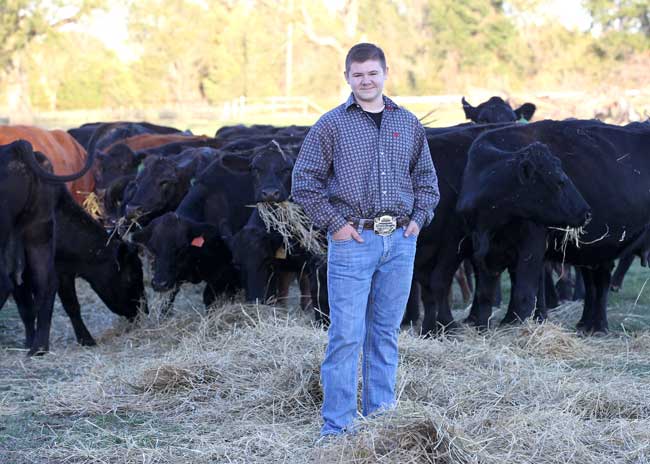 ---
With some youths, trouble starts when their parents are away. That was not the case with Trey Denny of Detroit, Texas.
Two years ago, while his parents were on a trip to Alaska, the northeast Texas 4-H and FFA member stayed home and devised a plan to start his own business of raising and selling club calves.
Just 12 and about to enter seventh grade, Trey already was passionate about producing and showing cattle. Since he was a little tyke, he had shadowed his dad, Todd Denny, and his grandfather, David Hicks, on the family ranch, and began helping them work cattle as soon as he was old enough to ear tag calves. At age 10, he bought his first calf for $800 and sold it for $5,000. And by 12, he knew he wanted to be a cattleman.
So while his parents were away celebrating their 20th wedding anniversary in the summer of 2012, Trey and his grandfather began planning Trey's business.
"We called home, and Trey said, 'I can't talk now — I'm choosing which bulls to breed to my cows,'" recalls his mother, Tracy Denny.
Launching His Operation
His granddad had agreed to help launch the venture by letting Trey use 40 of his best cows, which together they selected from Hicks' commercial Angus herd. Trey would feed and halter-break the calves, due in the fall, and sell them come spring.
From the 40 cows, 39 calves were born, of which 31 were heifers. Over the winter, Trey worked with the steer calves until they were "puppy dog gentle," in his mother's words, often spending four hours a day with them. In March, he sold four steers to fellow Lamar County 4-H and Chisum FFA members "at a price they could afford," Tracy explains, and the remaining four at auction, keeping the heifers as replacements for his own herd.
Meanwhile, Trey was winning show after show last winter with Magnum, a Chianina steer that he'd purchased with a $3,000 youth loan from Texas Farm Credit, his grandfather's lender.
Farm Credit Loan Helps
"Ms. Allison at Texas Farm Credit is a big supporter of Lamar County 4-H," Trey says. "She told us there was an opportunity for three members to receive loans." The interest-free loan program was designed to help 4-H and FFA members buy club calves for the coming year.
"With these loans, we wanted to provide students with an avenue for success," explains Denise Allison, loan administrator in Texas Farm Credit's Paris office.
Magnum turned out to be a moneymaker. During the 2013-14 show season, he won seven major awards, including grand champion overall steer at the East Texas State Fair, and sold for $8,600 at the Fort Worth Livestock Show, after placing third in his European class.
"With these loans, we wanted to provide students with an avenue for success." - Denise Allison
"The loan was very helpful," says Tracy, "because it gave Trey the money to purchase the steer, and then he just had to pay for his feed and other expenses."
Excellent Record-Keeping
Already a budding businessman before establishing the club calf business, Trey won first place for his 2012-13 4-H record book at both county and district competitions.
"His record book actually helped him get the loan from Texas Farm Credit," says Tracy, who teaches agriculture at Chisum High School in Paris, Texas, and once showed grand champion Limousins at major state and national shows.
Like any business owner, Trey established his own checking and savings accounts as well as charge accounts at the feed store and veterinary clinic. He also started using social media to promote his calf business.
"I'd like to sell about 30 club calves a year," he says. But he emphasizes that he won't sell just any calves — those that don't meet the Dennys' show standards will be culled.
Focused on the Future
While he waits for this fall's calf crop — sired by bulls he selected himself — Trey, now 15 and in ninth grade, is also focused on the future. His long-term goal is to earn a degree in animal science and ranch management and then return to the family ranch. Along the way, Texas Farm Credit will be cheering him on.
"Trey is a special person. We hope to continue our relationship with him in the future, whether as a customer, a director or an employee," says Allison.
- Staff
---