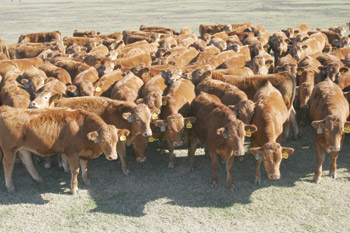 Hidden well off a highway in South Texas, the reddish-blond cattle behind the gates of HeartBrand® Beef, Inc. don't look much different from other cattle you might see grazing throughout this prominent beef-producing region.
But appearances can be deceiving. What you don't see looking at this herd — Akaushi in breed — is their own geneticist, their own private beef label and the route they took to get here from their native Japan. Truth be told, these cattle have little in common with any others in the United States.
HeartBrand® Beef, Inc. is located in South Texas and is home to the only herd of Akaushi (pronounced ä-kä-ōō-shē) cattle outside of Japan. The cattle and the ranch are owned by a group of shareholders, mainly Eddy Packing Company, Inc. and its owner, Ronald Beeman.
Akaushi cattle are a breed of Wagyu cattle that is native to Kumamoto, Japan, located on the island of Kyushu. They are the only free-grazing cattle in the country and graze on a sacred region of Mount Aso, where limited space has capped the cattle population at about 58,000.
This one-of-a-kind Texas Akaushi herd has a one-of-a-kind story of its beginnings in America. In 1994, a Texas physician and rancher was able to import a small nucleus of eight Akaushi cows and three bulls to the United States from Japan thanks to a loophole in a 1992 trade act between the two countries. The idea to bring the cattle here was inspired by studies that found that they possessed a unique fatty acid composition not present in any other cattle breed. The studies also showed that this composition gave Akaushi beef added health benefits over beef from other breeds.
"The idea was to provide society with a source of animal protein with something more than the essential vitamins and nutrients," Dr. Jose Antonio Elias Calles, the herd's geneticist and HeartBrand® Beef's president, says. "That something else was the essential fatty acid composition."
A Long Trip from Japan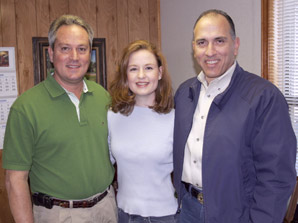 Flown over in specially equipped Boeing 747s, the cattle did not come without a dose of controversy.
"The Japanese people protested our bringing the cattle to Texas by lying down in front of trucks and trying to poison the cattle," says Catherine O'Gorman, senior vice president of marketing. "Our cattle actually had to have bodyguards."
Despite the rocky start, HeartBrand® Beef has a strong relationship with the Japanese Association of Akaushi today. Calles works very closely with the association, which was established in the 1940s and has documented the lineage and performance of every Akaushi calf born in Japan for the past 60 years. Usually these records are only accessible to Japanese master geneticists and scientists, but the association made the ancestry for the 11 cattle exported to Texas available to Calles and HeartBrand® Beef. Calles is committed to the same techniques and detailed record-keeping. Between the records from the Japanese association and his own, Calles is able to trace the lineage of each of the Texas Akaushi back over 30 generations, making the beef 100 percent source-verified.
"If a person consumes a diet containing monounsaturated fat and CLA on a regular basis, their chances of high cholesterol, high blood pressure and diabetes will decrease." — Dr. Jose Antonio Elias Calles, president, HeartBrand® Beef
Fatty Acid Composition Contributes to Great Taste and Health Benefits
Because of the unique fatty acid composition, Akaushi cattle naturally produce beef that is exceptionally high in marbling content and grades above U.S. Prime. This marbling is credited for the beef flavor, making it a more palatable product. All of the Texas Akaushi beef is guaranteed to be Prime Plus, and a majority of the meat grades out above that.
"These cattle have quality grades two grades above U.S. Prime," Beeman says. "It's not one animal out of 100, it's 100 percent of them."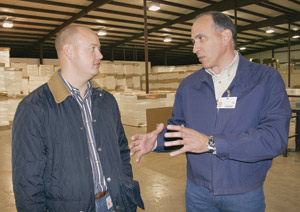 In addition to its exceptionally high quality, Akaushi beef has some unique health benefits associated with its unique fatty acid composition. This composition has shown to contain a higher concentration of monounsaturated fat relative to saturated fat, is a significant source of heart-healthy oleic acid and provides conjugated linoleic acid (CLA), which has been thought helpful in fighting a variety of cancers and reducing the risk of heart disease.
"If a person consumes a diet containing monounsaturated fat and CLA on a regular basis, their chances of high cholesterol, high blood pressure and diabetes will decrease," Calles says.
Beeman believes that the combination of high quality and high health benefits will allow HeartBrand® Beef to significantly change the American beef scene.
"Will this revolutionize the entire U.S. cattle business? You bet it will," he says.
New Owner Brings New Way of Business
Calles has been involved with the herd since its importation in 1994. However, Beeman and Eddy Packing Company became the major stockholder in HeartBrand® Beef in May 2006. With more than 30 years experience in the meat-processing industry, Beeman has helped streamline the operation.
"We are involved in everything from the selection of matings and embryos, all the way up to the marketing and delivery," Beeman says. "Our people are involved in the feedlot process and are on the kill floor. Being that involved is unique in this business."
The only step in the process that occurs outside of the company is the slaughtering, which is done in Stephenville, Texas. Once slaughtered, the carcasses are brought back to Eddy Packing for processing, sale and shipment.
Growing Business Gets Help from Texas AgFinance
Another change that Beeman implemented was how the operation was financed. Shortly after he became affiliated with HeartBrand® Beef, he became a borrower of Texas AgFinance.
"When this opportunity came to us, we knew that we would need a good financial institution as a lender," Beeman says. "Texas AgFinance had come in before and given us a presentation, and everyone we met with was really helpful, and we are proud to be working with them to grow this business."
If the past 12 years are any indication, the business will be booming. What started with the 11 cattle brought over from Japan in 1994 has flourished into today's herd of 5,000 head. Calles also credits HeartBrand® Beef's geographic location for the Texas herd's success.
"The reason these cattle perform so well in South Texas is because the climate is so similar to Kumamoto, Japan," he says. "These cattle can perform well in semi-tropical ecosystems and the climate conditions — rainy seasons, daily highs and lows, and amount of humidity — of the two are almost identical."
HeartBrand® Beef Finding Its Way to Restaurants Across the Country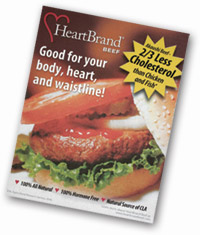 HeartBrand® Beef steaks can be found on menus at high-end steakhouses and country clubs in New York City, Dallas, Houston, San Antonio and Victoria, Texas. Several additional restaurants serve Akaushi hamburgers. At these establishments, Beeman says that HeartBrand® Beef's goal is to be a beef option on a menu, not to be the entire menu itself.
"We are not trying to replace their menus, because we don't have the volume to do that," he states. "We want to be the ultimate beef because there are people looking for the best steak they can buy."
Akaushi beef can be purchased directly from HeartBrand® Beef through their Web site, www.heartbrandbeef.com. The site also features more information on the company and a list of restaurants where HeartBrand® Beef is served.
– Article by Sarah Harris
---