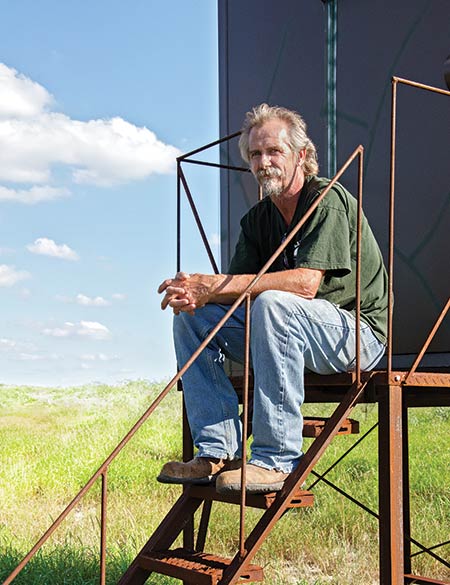 Before heading home to central Texas from his weekend ranch in the South Texas brush country, Jim Foulkrod always spends some time at his desk. He opens a black spiral binder and jots down notes about the work he completed during his latest visit. It's a habit he started after purchasing nearly 1,000 acres of high-fenced ranchland in South Texas in 2007.
Sometimes, Foulkrod says, "I'll look around and wonder, 'What have I gotten done after all this time?' Then I thumb through these pages and realize that I've accomplished a lot."
The pages testify to the countless hours he's worked almost singlehandedly to improve his L J Blessings Ranch. For the Buda, Texas, business owner, the ranch is a labor of love, and his weekend visits are dedicated to improving native habitat for white-tailed deer and other wildlife, and creating a place for commercial gun and bow hunts.
"In the six-and-a-half years that I've owned and hunted this place, I've only missed coming here 38 weekends," Foulkrod says. "The reasons why I didn't were family-related, like holidays and weddings."
When he bought the place, the deer were in poor shape.
"Now my bucks score from 140 to 185 inches [on the Boone & Crockett score]," he says. "I have one this year that measures 195. Ultimately, my goal is to produce 250-inch deer, and I believe I'm only a few years away from that."
Finding His Passion
Growing up in Pennsylvania in the 1960s, Foulkrod occasionally hunted raccoons and rabbits with his paternal grandfather and his Uncle Bob.
"My dad was going to school and trying to make a living, so I only hunted once with him," he recalls. And although he shot his first buck at age 15, hunting was not something he did often.
That would change about two decades later.
In 1981, Foulkrod moved to Texas and started Foulkrod Custom Drywall Inc. in Buda. One Christmas, his uncle gave him a bow.
"Like people, deer need a haven where they're not pressured. In the sanctuary, does can bed with their fawns, and big bucks can go there and not be bothered." - Jim Foulkrod
"I started bow hunting, and it became my passion," he says. "I hunted all over South Texas, which is known for trophy whitetails."
In 1996, Foulkrod joined hunting leases at two small ranches owned by friend George Semple, a customer of Capital Farm Credit. Seven years later, Foulkrod bought both properties.
"Since George recommended Capital Farm Credit so highly, I financed the buys through them," he says. "They've been great to work with."
One problem, however, kept the 79- and 240-acre properties from being ideal: low fencing.
"I put out protein for the deer, but my neighbors kept hunting the young ones," Foulkrod says. "I was spending astronomical amounts on protein and not getting good value for my money. No one would sell me any adjoining property, so I began searching for another ranch."
Months of looking finally turned up a large, high-fenced ranch northeast of Freer in Duval County. Its thick brush and rolling topography didn't interest him at first, and it lacked the beauty of one of his other ranches, located on the Nueces River. "But I felt like the Lord had led me to this ranch for a reason, so I bought it with financing from Capital Farm Credit," he says.
"I always said what a blessing it was to have a piece of property," he comments. "So I named this place the L J Blessings Ranch in honor of my daughters, Leah and Jayme — because they're huge blessings in my life."
Five Requirements
On a breezy fall afternoon, Foulkrod drives his pickup along a bumpy caliche road, one of many senderos (Spanish for "path") that crosses his ranch. Half of these paths existed when he bought the property; the other half he cut in himself, using a tractor to shred the dense guajillo, cenizo, mesquite and whitebrush.
Why so many roads?
"Trophy bucks require five things: age, genetics, water, supplemental feed and natural forbs," Foulkrod explains. "Guajillo is a native forb that's like ice cream to deer. But when it grows too tall, they can't reach the leaves."
By cutting in senderos, he creates more food for the deer. Then, every five years, he shreds the senderos back again, which cuts the guajillo to the ground, so the deer can access it.
When Foulkrod first bought the ranch, there were only four places where the deer could drink. After trenching and putting in more than 5 miles of water lines, he now has a total of 14 water sources throughout the property. The impact on the wildlife population has been tremendous.
"The deer used to stay in one area. Now they're dispersed across the ranch," Foulkrod says.
Protein feeders also dot the ranch, and the deer are fed from February through September. "I spend about $40,000 a year on protein," he says. "My deer eat better than I do!"
With time, he has devoted more attention to his herd's genetics.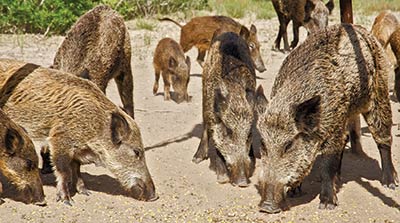 "The previous owner had brought in new genetics, but the deer were mostly gone by the time I bought the place," he says. "Over the years, I've selectively culled and added four new bloodlines."
For his scientific deer-breeding program, Foulkrod divided a 12-acre pen located in the middle of the ranch into seven "soft release" pens.
"The term means we've kept the native vegetation intact, instead of using dirt pens," he explains, "so when the deer are released onto the ranch, they're familiar with the habitat and know better how to survive."
Four pens each contain a breeder buck, does and fawns. The other three hold bucks of progressive ages. They are rotated into different pens annually until they turn three years old. Then the bucks are released onto the ranch in March for fall hunting.
Commercial Hunts
Since becoming a South Texas ranch owner, Foulkrod has always leased to hunters. But since purchasing the L J Blessings Ranch, he has introduced commercial packaged hunts, as well. Hunters stay in a nearby four-bedroom house and eat their meals at the main lodge.
"We host only four hunters at a time," Foulkrod says. "That way, we don't put too much pressure on the ranch."
To accommodate additional ranch guests, he designed and built the place he calls The Lodge. Rooms for guests, seasonal staff and hunting guides are located at the back of the multi-use structure. An enclosed open-to-ceiling garage separates the guest area from the family's two-story home, which includes a roomy den, large kitchen, dining area, game room and four bedrooms.
"Hunting has changed," says Foulkrod. "People can't stay on a lease two weeks like they used to. They want to go out three or four days, eat nice meals and be taken care of. As hosts, we want to facilitate their hunting success."
Toward that goal, Foulkrod created 12 hunting sites across the ranch. Each has an elevated gun blind and bow blind, a water source and a camera, plus protein and corn feeders. All of the blinds on the ranch have been redesigned to better accommodate hunters. By next fall, an elevated blind with a chair lift will be available, as well.
"Hunters in wheelchairs are limited to blinds at ground level," Foulkrod says. "I want to make hunting accessible to everyone, so I'm designing a special blind for hunters with disabilities."
Each October, the ranch also hosts a youth weekend when kids can hunt.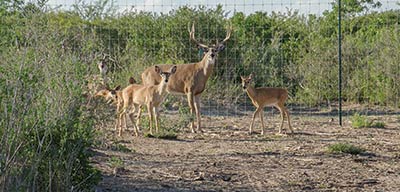 Something Different
Past a gate, Foulkrod drives into the "pig pen," a 30-acre fenced area of brush where he keeps Russian boars that he only makes available occasionally for hunting.
"Everyone says I'm crazy to have pigs, but then they love to come and see them," he says, chuckling. "When you have something that no one else has, that makes your place more special. Everyone wants what they don't have."
Along the ranch's northern and eastern boundaries, he set aside a 300-acre "sanctuary," where hunting is off limits and which he seldom visits.
"Like people, deer need a haven where they're not pressured," Foulkrod says. "In the sanctuary, does can bed with their fawns, and big bucks can go there and not be bothered."
Later, atop a high point on the ranch, he brakes and gets out to survey the surrounding vistas, covered with mesquite, tasajillo, mountain laurel, whitebrush and cenizo.
"I could sell this place and hunt all over the world," he reflects. "But I love to create. When I'm gone, whoever has this place will have a great ranch. It won't be the biggest, but it'll be the best ranch in South Texas."
Ranch Stars in a TV Series
This fall, the Outdoor Channel will re-air a "Winchester Legends" episode starring Jim Foulkrod's uncle, celebrity hunter Bob Foulkrod, and the L J Blessings Ranch.
"Texas Whitetail" (Episode #2), televised earlier this year and filmed in 2012, brings the Foulkrod family together for Thanksgiving hunts at the South Texas ranch. The program primarily focuses on Bob, his son and two grandsons. Another episode, to air in 2014, follows hunts made by Jim Foulkrod, his father, Thomas Foulkrod, and Jim's daughter Leah Foulkrod.
Bob Foulkrod will revisit the L J Blessings Ranch in a future program to be sponsored by Bass Pro.
---