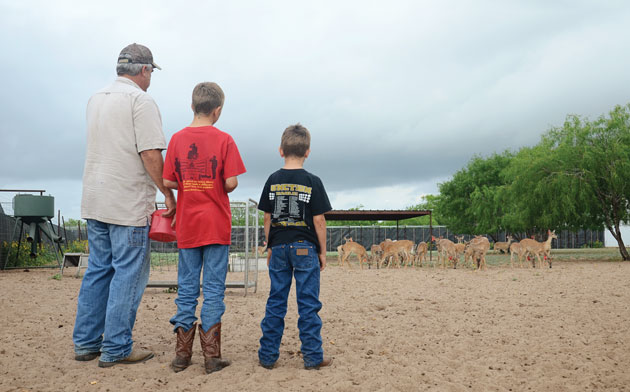 ---
The morning routine varies little at the Gist Kinsman Ranch (GKR), a scientific deer-breeding operation located south of George West, Texas. After breakfast with his wife, Carrie, ranch foreman Lynn Collard and the couple's two young sons, Cody and Caden, head out to the metal barn, where Lynn dumps unshelled peanuts into a five-gallon green bucket.
Then the trio climbs into a dusty utility vehicle and takes a bumpy ride to the ranch's breeding pens. For an hour or so, they motor along, stopping at each pen and tossing out handfuls of the nutty treats to wide-eyed deer.
"The peanuts calm them so we can work with them," explains Lynn, who's worked in deer management for 12 years. "I know these deer. I see them every day. If an ear's not right or an animal looks different, I need to know right away because deer can get sick real fast."
Lynn's keen knowledge of white-tailed deer so impressed Dr. Greg Gist and his wife, Beth, that they hired him two years ago to move to their breeding operation and run it. "Lynn has developed a solid reputation in the deer business as a straight shooter with an easygoing personality," says Greg, who works as a cosmetic/restorative dentist in Southlake, a suburb of Dallas–Fort Worth. "He and his family are the backbone of the GKR and a major reason for our early success in the business."
A Lifetime of Hunting, Fishing
Long before the GKR came into the Gists' lives, Greg fished and hunted whenever he could. "We were sweethearts in high school, and there were some weekends when we didn't have dates because Greg went fishing," Beth says with a laugh. "After we married, he and his buddies always found a way to go fishing and hunting."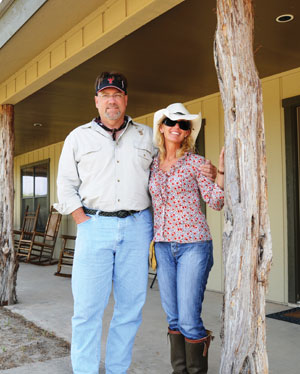 As soon as their three sons were old enough to hunt, the Gists bought a small camper for hunting getaways near Brady, Texas. "For six years, we shared a lease with another family," Beth recalls. "That's where Greg introduced hunting, a love for the land and animals, and a conservation ethic to our kids. After that lease, we got on another ranch with a different family for six years. We've got great memories of sitting in the blind, tracking animals in the dark, and sharing stories around the campfire."
Once the boys were in their teens and beyond, family time together dwindled, so Greg accepted an invitation to hunt in the brush country of South Texas, a region well known for growing trophy white-tailed deer. Ultimately, this opportunity in deep South Texas would lead to a new endeavor for the couple.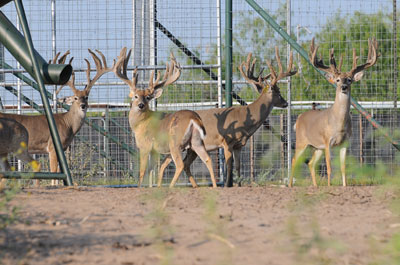 A New Endeavor
"We got word of a ranch for sale next door to the property that Greg had been hunting," Beth says. "So we drove down to see it and instantly fell in love with the place. We sat on the front porch of the ranch's dilapidated house and saw all the possibilities. Then we held hands and asked God to bless the land and our vision for it."
That vision focused on a scientific deer-breeding operation, an idea that Greg first conceived while attending a Texas Deer Association convention with the same neighbor in August 2006. "After he got home," Beth recalls, "Greg told me, 'I've just met some people who are taking the deer-hunting business to a whole new level!'"
Capital Farm Credit Lends a Hand
In January 2007, the Gists financed their purchase of the 177-acre ranch — in part named "Kinsman" after a term repeatedly used in the biblical book of Ruth — through Capital Farm Credit in Kenedy. The bank also financed other improvements, including total reconstruction of the rundown ranch house into guest quarters. In April 2011, the couple bought an adjoining 265 acres, which supports a small commercial hunting operation. In the near future, they plan to build a larger family lodge.
Richard Harris, Capital Farm Credit vice president of lending, admires the couple's foresight and dedication. "The ranch is a beautiful place, with great deer genetics," he says. "The Gists have been a joy to work with, and I look forward to helping them grow the ranch even more in the future."
"We've really relied on Capital Farm to get us up and running," Greg says. "We couldn't have done it without their help."
From the start five years ago, "Beth and I wanted to set a benchmark for growing some of the biggest typical-framed deer in the country," he continues. "For three years, we traveled the state in search of very specific does from what we considered to be proven genetics that had the look we personally loved."
Proven Genetics, On-Site Management
Then they hired Lynn and Carrie Collard. "With their knowledge and experience, we really began to upgrade our deer-breeding program," Beth says.
An impressive array of trophy whitetail mounts and racks — all produced on the GKR — hang above the ceiling-high rock fireplace in the guesthouse. At the dining table, Cody and Caden squirm a little while their parents talk about their passion: overseeing close to 300 whitetails in 20 breeding pens. The ranch sells bred does, fawns and bucks to breeders in Texas and Mexico, as well as semen from their breeder bucks to buyers across the country.
"Our goal on the Gist Kinsman is to produce big typical deer that are pretty and clean-looking, not freakish," Lynn says.
Quality Breeder Bucks
Toward that goal, the GKR has acquired exclusive rights to the semen of Maxbo Danger, a breeder buck owned by Cougar Ridge Whitetails in Adair, Okla., which had a Boone and Crockett score of 305 inches at age 3. Because Maxbo Danger is one of the most popular breeder bucks in North America, the business deal was the biggest so far for the ranch.
The Collards' efforts are paying off. In 2010, Abilene — 206 inches with an inside spread of 382.8 inches — was the widest-horned buck in North America. This year, Jim Bowie (272 inches on a typical 7x7 frame at 2 years old) was named to "Texas Top 40 Whitetails," a publication released annually by Vamos Productions.
This summer, the Collards and their sons will stay extra busy, caring for 100 or so fawns. "We hold them and tag them," says Carrie, who's a registered nurse by training. She also handles the operation's record- and book-keeping. "They're used to us, and that's what gentles your deer. You have to be with them every day," she says.
"This is not a job," Carrie adds. "It's a career. And we feel very blessed to be here." The Gists would agree.
For more information, visit gistkinsmanranch.com
A Hunting Ministry for Marines
On the Gist Kinsman Ranch (GKR), foreman Lynn Collard limits the number of annual commercial hunts as a herd management practice. But not when it comes to the Combat Marine Outdoors, a hunting ministry that offers outdoor adventures across Texas to wounded warriors returning from Afghanistan and Iraq.
Greg Gist
At a Texas Deer Association meeting in 2011, Lynn's sons, Cody, 11, and Caden, 8, met Franklin Powell with the U.S. Marine Corps. "They fell in love with him and decided they wanted to collect money for him. So they did," says Lynn. Later that year, the GKR hosted a hunt for Franklin through Combat Marine Outdoors, and he harvested the biggest buck (203 inches nontypical) among his fellow Marines for 2011.
In January 2012, the GKR hosted Marine Corporal Kenny Kalish, who lost his legs and left arm in Afghanistan in April 2011. Kenny harvested a 165-inch typical buck, the biggest deer of his life.
"Those are the best hunts I've ever done in my life," Lynn says. "Ever. Period! And I've hunted since I was 18."
---