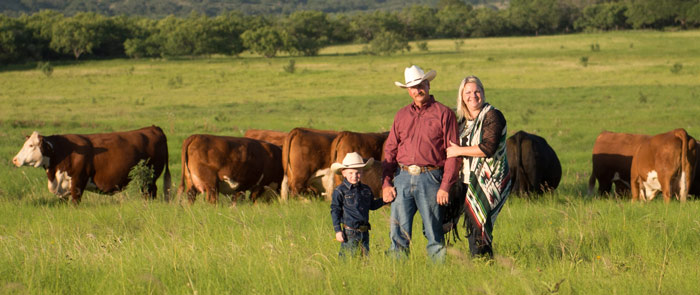 ---
At age 5, Jarrett Worrell already is preparing to become a cattleman like his parents, James and Shannon Worrell, and several generations before them.
Whether his mom and dad are fitting purebred cattle for a stock show, coaching junior exhibitors on showmanship techniques, or checking newborn calves on the family ranch near Mason, Texas, little Jarrett is right beside them, often with his border collie at his side.
It's a sight that would make his great-great-grandfather George Kasper proud — proud to know that the 200-acre farm he worked hard to establish nearly a century ago continues to provide a home and a business for his descendants.
Purchased in 1919
Kasper and his wife, Meta, purchased the property at Mason Mountain in 1919, after he returned home from World War I. Finding interest rates high and repayment schedules inflexible at commercial banks, the couple joined the newly established Mason National Farm Loan Association (NFLA) and applied for financing from the Federal Land Bank of Houston.
The Land Bank's loan terms were just right — $40 twice a year, which matched their goat-shearing schedule.
"My daddy always said to us that they would not have what they had if it were not for the Land Bank," Doris Grote, the Kaspers' daughter, said many years later. "He was always very happy with [the Land Bank] because they really understood what it was to be a farmer."
Doris and her husband, Oliver Grote, bought the property from her parents, reared four sons and became prominent Angus cattle breeders. When their youngest son Glen wanted to go into ranching, they sold the place to him.
"I went to the Mason FLBA, walked up to the president and said I needed a loan. I remember him scratching his head and saying, 'Glen, that's a mighty high-priced piece of property you want to buy.' But we were able to work out a deal for me to get that loan," said Glen, who later served on the cooperative's board of directors.
Grote Angus Ranch Expands
Glen soon decided to raise cattle full time under the family business name, Grote Angus Ranch, and purchased more land with Federal Land Bank Association financing. When he wanted to buy ranchland in Oklahoma as well, he returned to the association again.
Glen and his wife, Patty, who died in 2002, passed their love of the purebred cattle business on to their children, Will and Shannon. Will took over the Oklahoma division of Grote Angus Ranch, while Shannon and her husband, James Worrell, moved to the homestead at Mason and established Worrell Enterprises, where they raise purebred Angus and Hereford cattle. The multifaceted business includes show and sale cattle, a breeding and embryo transfer facility, and a private sale ring.
The Worrells also are carrying on another tradition — they are the fourth generation to do business with Farm Credit. With each expansion or improvement to the ranch, they have turned to Capital Farm Credit for financing. Shannon even worked for the association for five years after college.
"We still go with Farm Credit because of the family's long relationship with them and the ease of doing business — and we like receiving our patronage dividends," she says.
In a clan that upholds tradition, it's likely that the property purchased by great-grandfather Kasper nearly a century ago will stay in family hands for at least a few more decades.
"We have the fifth generation in training right now," says Shannon, as Jarrett tugs on her arm and heads to the barn.
– Staff
---