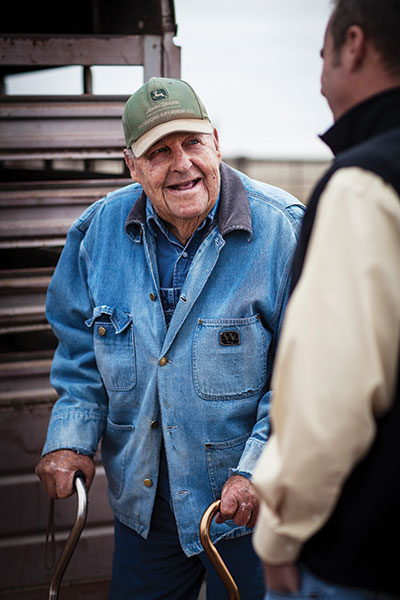 Loyalty can be hard to find in today's world of online mortgage lenders and virtual banks. But it is alive and well at Farm Credit financing cooperatives throughout rural America. Nowhere is this truer than at Great Plains Ag Credit.
In March, the co-op celebrated a lending relationship with 93-year-old Clarence E. Bertrand of Amarillo, Texas, that has lasted three-quarters of a century — longer than most banks have been in business.
"Clarence likes to say he has 'trained' many of the loan officers who have ever worked here," says Brad Thacker, Great Plains assistant vice president. "And that's true. We've all learned from his wisdom and experience."
First Loan at 18
Buster, as Bertrand's friends call him, was just 18 years old in 1938 when he received his first operating loan from Great Plains Ag Credit, known then as Amarillo Production Credit Association (PCA).
At the time, Franklin D. Roosevelt was president and the Great Depression was in full swing, with unemployment at close to 18 percent. Back then, the minimum wage was 40 cents an hour, and an average house cost $3,900. This was also the year that Superman was introduced in Action Comics, the first Looney Toons cartoon with Porky Pig and Daffy Duck was seen in local theaters, and Seabiscuit won the Triple Crown.
For agriculture, 1938 was a volatile time in commodity markets. The price of corn was 49 cents a bushel, down from $1.19 two years earlier. It wasn't easy for farmers to get financing. Luckily for Bertrand, PCAs had been established five years earlier to help solve the credit shortage.
Recalling his start in agriculture, Bertrand tells how he and his father would borrow money to purchase 40-pound pigs for $5 apiece. They would fatten them up and sell them to Pigmy Packing Company during the Amarillo Fair for a 5-cent premium at a little over $3 per hundredweight. Early on, he and his dad also purchased a broadcast binder for less than $1,000, and then partnered with a neighbor who had a tractor and cut wheat for local farmers.
Working From "Sun to Sun"
No stranger to hard work, Bertrand earned his first wage at age 12, driving a neighbor's tractor for 50 cents a day, "and that meant sun to sun," he recalls. Sometimes, to help build capital and ensure he could meet his PCA loan commitments, he would take jobs such as unloading a railcar full of 100-pound feed sacks alone and driving a school bus during the drought of the 1950s.
Bertrand and his wife, Margaret, raised four sons and two daughters, starting in a 24-by-24-foot house that they expanded as the family grew. In March, his children attended the Great Plains annual meeting to see him honored.
"PCA has always been good to me and my wife, all the way through. There's no better place to do business," Bertrand says. "I've always had a good relationship with the people who're there."
Good Friends
Bertrand has known every association chief executive officer from the first, Sid Powers, to the more recent CEOs: James Van Pelt, Carroll Haygood and now, Tim McDonald. He even introduced current Great Plains Director Danny Detten to the association.
"Great Plains Ag Credit is honored to have played such a long role in Clarence's farming and ranching operation over the years. His loyalty has been responsible for bringing in many new customers to Great Plains, and we couldn't ask for a better co-op member or a finer friend," says McDonald.
---