A hardworking, everyday hero with a big dream and a little luck turns a backyard garden into a million-dollar farm. It sounds like a fairy tale or a movie script, except this story is true.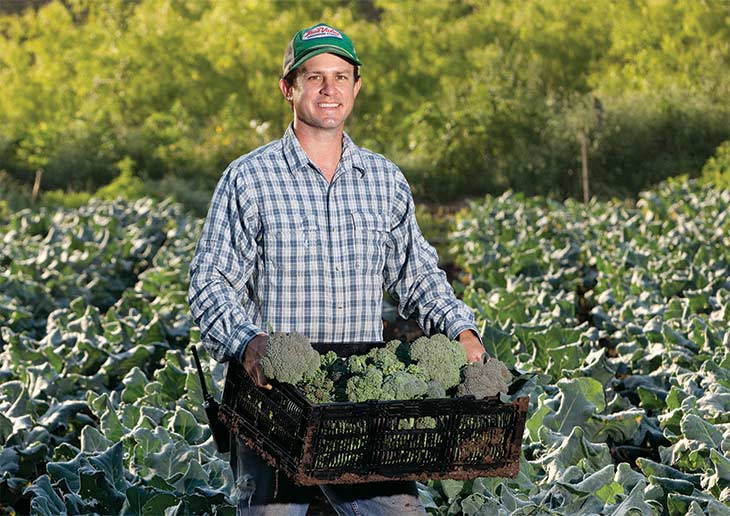 ---
Five years ago, Brenton Johnson planted a 30-foot by 50-foot garden in his backyard. Today, he operates a 70-acre organic vegetable farm, the largest Community Supported Agriculture (CSA) farm in the southern United States. Johnson's Backyard Garden has 20 employees, more than 1,000 members and gross sales exceeding $1 million annually.
But we're getting ahead of ourselves. To really appreciate the story, you have to understand the drama, humor and character development that took place along the way.
How the Garden Grows
We'll pick up the story about five years ago. The main character is Alabama native Brenton Johnson, a government employee with a passion for the environment, fresh produce and live music. Fortunately, he is living in Austin, Texas, the self-proclaimed "live music capital of the world," with a warm climate and year-round growing seasons.
He plants a backyard garden, which proves to be extremely productive because of fertile soil, abundant sunlight and his green thumb. As soon as he harvests one crop, he adds organic fertilizer or compost, and immediately puts in new transplants. "Pretty soon I was growing more than our family could eat, so I started selling at the Austin Farmers' Market," Johnson recalls. "We didn't even know what to charge the first time we were there."
He made $80 at that first farmers' market, and that was all it took. It was nice to have a little extra income, but more than that, the weekly market sales became an incentive for success.
"I have a competitive streak and am pretty driven by nature," Johnson says. "The garden started to take over the whole yard. I started planting in the front yard and the side yard. We had trellises of grapes around the perimeter. Every square inch of the yard was taken up by the garden."
Before long, his children had no place to play. "They had a tire swing on the porch, but it would swing out over the garden," Johnson says, laughing. "I was kind of obsessed with gardening."
It was time to cut back or grow bigger. And cutting back is not in Johnson's entrepreneurial nature.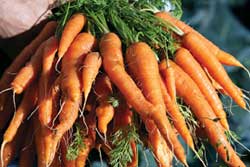 "I love what I do. I get up every morning with a smile on my face, ready to start the day."
— Brenton Johnson, organic farmer
Looking for Land in Unexpected Places
Johnson started looking for more land, where there would be enough room for the kids and the vegetables. Plus, he had already started dreaming bigger.
"I saw some property for sale that said it had 'riverfront land and views of downtown.' It was listed for $2 million. I knew it was out of my price range, but I went to see it anyway," Johnson says.
While he was there, he talked with a neighbor, who was sitting outside on her porch. At the end of their conversation, the older woman offered to sell Johnson her 20 acres for $275,000.
"My wife was happy when we found this farm," he says. "She told me if I could figure out the financing, we could buy it."
Fortunately, Johnson had a perfect source to go to for advice.
"My dad spent his whole career working for the government, making loans to farmers, and so did his dad. As a kid, I always wished he did something more exciting," Johnson says. "After trying to figure out my own farm financing, I was so glad that my dad did what he did for a living."
His father helped him understand the policies and procedures regarding the government loan programs and advised him to go to the USDA Farm Service Agency (FSA). He also recommended Farm Credit.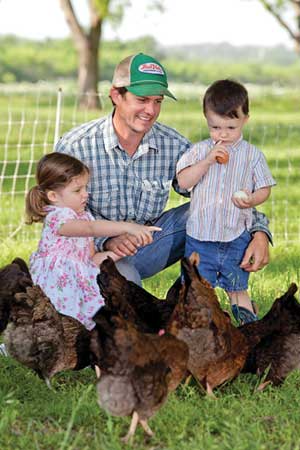 Johnson chuckles about the first farm visit by his FSA agent at his home in East Austin. "She pulled up to my house, and I showed her the backyard and the front yard," Johnson says, with a smile. "At that time, that was the farm. I had been selling at the farmers' market, so I did have farm receipts."
Living the Dream
Rob Randig, vice president in Capital Farm Credit's Austin office, remembers the first time he met Johnson.
"You can't talk to Brenton for very long without seeing how passionate he is about what he's doing," Randig says. "But he is also a good businessman. When he first approached us about a loan, he had a good business plan lined out."
With the combination of financing from Capital Farm Credit and an FSA loan, Johnson was ready to farm. He got the 20 acres ready with a hand tiller and a lawn mower.
Since that auspicious beginning, the farm has continued to grow. It wasn't long before Johnson realized the farm was profitable enough — and his plans were big enough — to quit his job with the Bureau of Reclamation, where he had worked for 10 years, and become a full-time farmer.
He never wonders whether he made a good choice. "I love what I do. I get up every morning with a smile on my face, ready to start the day," he says.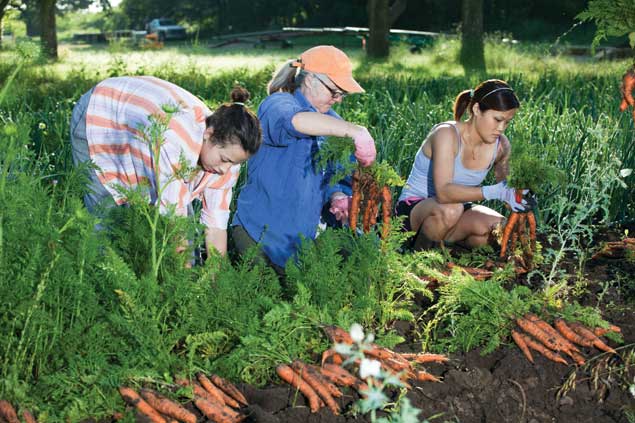 ---
Community Supported Agriculture
Johnson structured the business as a CSA farm, a model in which members pay in advance for a share of the upcoming harvest. The farmer is ensured a consistent market, and the consumer is ensured high-quality local produce. Vegetables are picked, packed and delivered to a neighborhood pick-up location all on the same day.
It's a model that works especially well in Austin. The city has a large population that is supportive of organic and locally grown food.
At first, he recruited 10 members and operated with a volunteer staff of two people and a lot of help from his wife, Beth. As the farm grew, so did the membership. Today the farm provides weekly vegetable boxes to more than 1,000 members, a list that continues to grow, and each box offers enough vegetables to feed three to four people. Members can pick up their food at one of 24 locations throughout the greater Austin area, and new pick-up sites are being added as needed.
Fortunately, Johnson has an eye for talent and a knack for attracting help. He asked his brother, Aaron Rice, a computer programmer in Alabama, to develop database systems to better track the crop cycles and the members. Rice created systems that perfectly met the farm's needs.
Members can access their own accounts online and make changes to their schedules or pick-up locations. The online system was especially good news for Beth, a busy mother of four, who had been spending hours each day interacting with customers and manually entering changes to their orders.
"My dad spent his whole career working for the government, making loans to farmers, and so did his dad. As a kid, I always wished he did something more exciting. After trying to figure out my own farm financing, I was so glad that my dad did what he did for a living."
— Brenton Johnson
Rice also developed a program that maps the farm's acreage and creates an annual schedule, which is tweaked regularly.
At any time, the farm staff will know which plants are growing in the greenhouse, which are being planted and which are being harvested.
His systems have provided the opportunity for the extreme growth the farm has experienced in the past five years. In fact, Rice now is a full-time employee at the farm in Austin.
Members Make It Possible
The CSA members also have been critical to the success and rapid growth of Johnson's Backyard Garden. The farm accepts volunteers four mornings a week to hand-harvest the produce. Interest in working on the farm has been overwhelming — so overwhelming, in fact, that they've had to limit the number of people they can accept each day. Volunteers are rewarded with a regular CSA share of vegetables.
One member in particular had a family history of vegetable farming and wanted to be more involved with the farm. It was his involvement that made their more recent expansion from 20 acres to 70 acres possible.
"He bought land about 10 miles from our original location, and he is selling 40 acres of it back to us at terms we can afford," Johnson explains. "We're also renting an additional 10 acres from him."
Eventually, Johnson plans to purchase the remaining 150 acres of the old dairy on which the new farm is located and consolidate operations on the larger plot of land. Part of the land fronts the Colorado River, and the land purchase would also include a water right. As an added benefit, because the soil has not been in production for more than 30 years, Johnson will be able to get organic certification immediately.
Raising "Slow Money" Fast
With the additional acreage, Johnson and his staff could no longer complete all the land preparation and planting by hand. It was time to purchase some specialized equipment, and time to go back to Capital Farm Credit.
Together, Randig and Johnson agreed to the terms: Capital Farm Credit would finance 70 percent, after the farm paid the first 30 percent.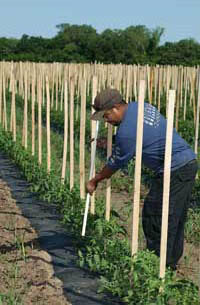 To raise the farm's portion, Johnson turned to an innovative movement called "slow money." The slow money concept promotes the idea of using your capital to support local agriculture and local food systems. While your money might earn a smaller return, such loans and investments strengthen local food systems and enhance the community at large, thereby providing both personal and social benefits.
Johnson gave farm members the opportunity to lend money to the farm. Members made loans for $5,000 to $10,000, and Johnson's Backyard Garden offered a return of 4 percent, paid back monthly over seven years.
"When Brenton told me how he planned to pay for his 30 percent, I thought it might take a while for him to raise the money," Randig says. "But a couple weeks later, he was already back in my office with the money."
Sharing His Experience With Interns
Johnson believes strongly in teaching the next generation of organic farmers. The farm established an intensive, hands-on internship program. Currently, six interns are living on the farm and learning the ropes.
"We tell people only to do this if they're willing to work hard. It's really geared toward people who want to do it full time," Johnson says. "We're working on strengthening the program because there is such a need. We only accept four to six interns at a time, and we get applications every week."
The internship equips them to work all aspects of the farm, from marketing to greenhouse operations to field planting.
Previous interns have gone on to start their own farms, and several are now full-time employees of Johnson's Backyard Garden. In fact, the internship program has been so successful that Johnson is considering enhancing it, perhaps by creating a nonprofit foundation.
A Complex Business
When Johnson first started farming, his father gave him some key advice: Treat your farm like a business. "Being able to be in business is not just about production," Johnson says. "You have to be good at everything."
In addition to growing high-quality crops, Johnson's Backyard Garden involves managing customers, teaching interns, repairing equipment, marketing and many other aspects of running a farm.
With an agricultural engineering degree from Auburn University, Johnson is able to handle many of the farm's hands-on tasks. "I might not be the best at every job, but I enjoy every aspect of the farm," he says. "With other jobs, I've typically gotten bored pretty soon, but farming has kept my interest."
Johnson also believes in sacrificing personal comforts to foster the growth of the business. He plans to build a home on the property, but right now the family lives in a double-wide mobile home, because he is more focused on reinvesting profits back into the business.
It's a somewhat humorous perspective from someone who admits he once thought farming was "easy work." Although his grandfather farmed in Alabama, Johnson, as a child, was more interested in skateboarding and riding freestyle bikes.
In college, he was majoring in mechanical engineering when he started losing interest in industry and gaining interest in farming. He changed majors to agricultural engineering, and for the first time, was part of the "truck crowd."
"When test time came, I realized those guys are really smart," Johnson says. "Now I really know how smart. This is the hardest job I've ever done — and the best one."
– Staff
For more information, visit jbgorganic.com.
---